One step that can significantly increase your listening process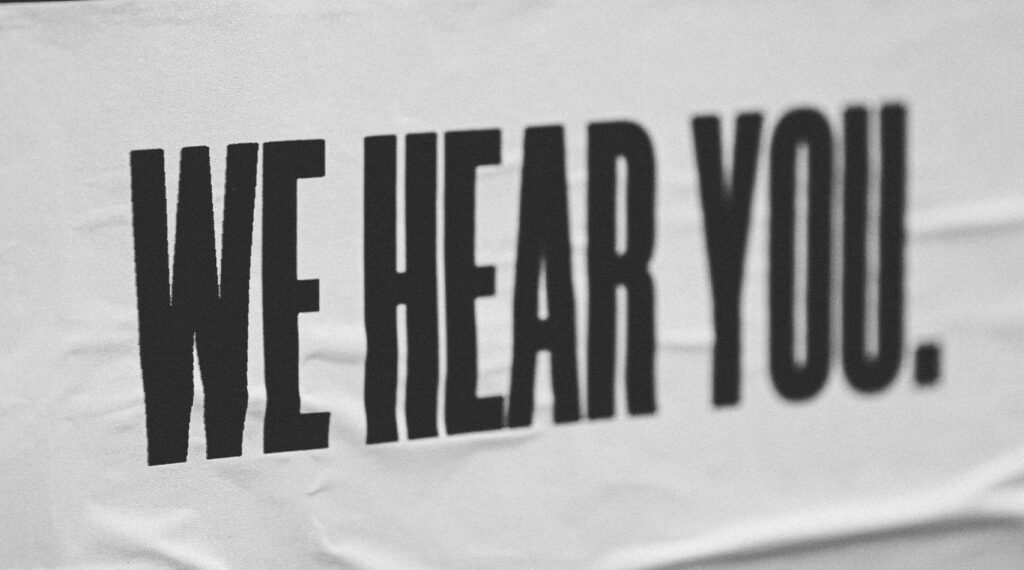 When foundations publicise that they listen to the ones they support, do they also publicise how the voices heard were addressed? How do those voices influence decision-making? Those questions were the starting point of my year working as a researcher, after working for 10 years on the grantee side in Brazil. I wanted to discover and understand foundations' practices on listening. And more than just the listening methods, but also the process behind it, the best and the bad practices, and what could improve the relationship between grant and grantee organisations in order to maximise social transformation.
A complex process, step by step
Listening is a complex issue. Multiple layers influence how your foundation listens to those at the heart of your work, and especially, how the information is processed. In order to understand and be able to qualify and classify their listening process, the interview script was built upon the work of organisations that are advocating for better listening practices: Keystone Accountability (UK) and its Constituent Voice Methodology; Feedback Labs (US) and its Feedback Loop Methodology; and the Ekouté Consulting (US) report called "Bridging the Gap: A Review of Foundation Listening Practices," written by Threlfall and Klein. The staff of European foundations involved in programme and grants management and experts were interviewed. And in March 2023, Philea will publish what I have learned in the form of a 23-page report for practitioners: How Foundations Listen – A Qualitative Review.
There are no easy or simple solutions, but we prepared an easy-to-read report that offers reflections, learnings and recommendations about different aspects of the listening process, such as: why foundations listen; the phase where listening occurs; most listened-to stakeholders; methods used to listen; feedback in the listening process; reporting back in the listening process; power imbalance in the relationships and actions to mitigate it; most relevant skills in the listening process; challenges of the listening process; and level of participation of the foundations.
The report provides myriad findings, insights, takeaways and recommendations, and you will be able to jump in on what interests you the most, but if one asked me the most pressing aspect to improve a foundation's listening practice, I would focus on this one: reporting back.
The reporting back phase in the listening process is mostly not institutionalised or is non-existent within the foundations interviewed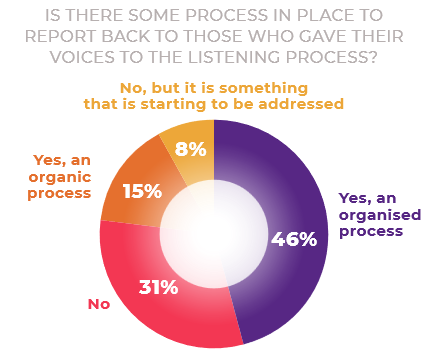 According to the Feedback Methodology, reporting back is an essential part of the listening process, also known as the "closing the loop" phase. To report back to those who gave their voices does not necessarily mean that foundations need to report only the positive
aspects of steps taken after listening. The organisation should still close the loop by communicating limitations and sharing what they are or are not able to tackle. This way, those offering their feedback know that their voices were heard.
When it comes to qualifying the level of participation of foundations according to the International Association of Public Participation, foundations at the "Inform" level are due to the fact that, besides having methods of listening, there is no institutionalised form to report back on the decisions made after listening.
Organisations falling into the consulting level are mostly the ones practising institutionalised forms of reporting back, such as one or more of the following practices: sharing grantee perception reports; learnings and course corrections with respondents; having a fixed place inside the monitoring, evaluation and learning process where the foundation and grantee discuss together the results of monitoring and evaluation and this effort automatically informs new strategy; sharing internal strategy and decisions in events with primary constituents; and sharing evaluation reports. This level also includes organisations that, while not having a specific mechanism to report back, do include grantees and participants in the decision-making body (board of the foundation), in addition to publicising their strategic choices annually.
Besides being just one step, having an institutionalised reporting back phase is a big step that involves different layers of organisational governance, individual and collective staff skills, and much more. There is no silver bullet that will save or solve all foundation listening practices, all learnings and insights you will find in the report can be, if your foundation wants to be more than informative, a way to start to address it.
If you are interested in understanding the various aspects of foundations the listening process, we invite you to take a look at the brand new: How Foundations Listen – A Qualitative Review and to join our webinar on 23 March at 14h30 CET, where we are going to present the findings.
Authors

Luisa Bonin
Visiting Researcher, Maecenata Stiftung