Data Science Talks – Data driven enterprises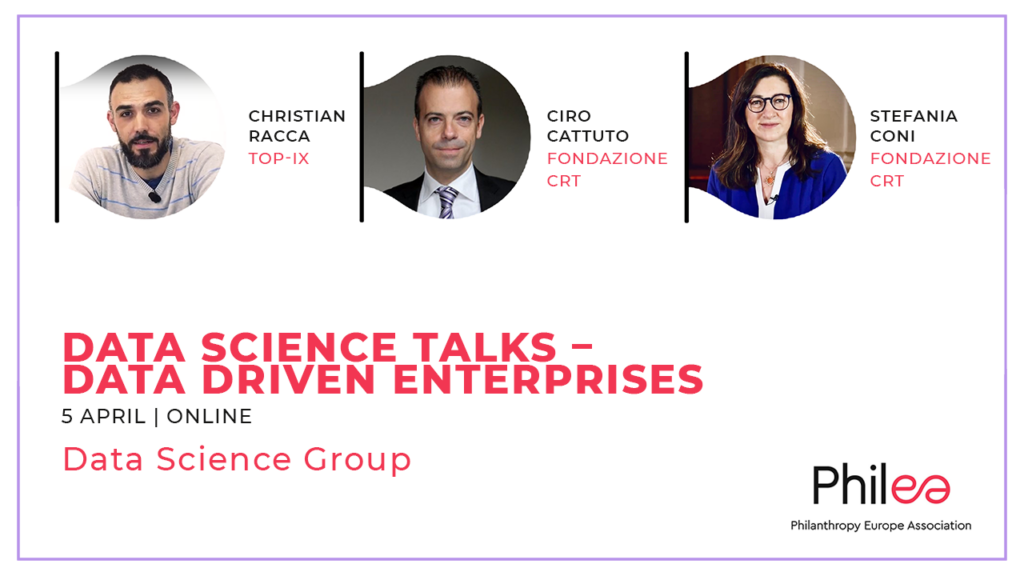 The Philea Data Science Group, bringing together data scientists and data enthusiasts working within the philanthropic sector, will host the next edition of its Data Science Talks on 5 April, this time focussing on data driven enterprises.
The field of Data Science is experimental and requires constant novel approaches. This mindset is required when considering the goals and strategies of a data driven enterprise. Adding to this, Impact Enterprises (whether profit or non-profit) need to set their own measurable objectives towards an effective long-term impact. This is especially relevant for enterprises with a social and environmental missions.
Ciro Cattuto, Steering Committee Member, Fondazione CRT and Director, Data Science for Social Good Center at OGR Torino, will set the scene by explaining the wider picture of data driven enterprises. Stefania Coni, International Projects Coordinator, Fondazione CRT, and Christian Racca, Program Manager, TOP-IX, will then provide an overview of the Impact Deal, the first acceleration programme for social and environmental impact enterprises at the European level, of which the first call for proposals will end just before the webinar takes place.
The Philea Data Science Talks provide a unique forum to discuss different themes in a safe space. The last session focussed on Data Trusts, which provided the opportunity for members of the Data Science Group, and participants from foundations, to learn more on data trusts, the role they can play, and the issues faced with their implementation.