PEXcommunity launches What if? Reimagining philanthropy series
by Dr. Hanna Stähle, Dafne and Next Philanthropy
The PEXcommunity has launched the What if? Reimagining philanthropy event series, a new format bringing together 50 researchers, funders, representatives of philanthropic organisations and networks, social movements and media, next generation of donors, technology experts, policy- and decision-makers from across Europe and the US to discuss how technology impacts marginalised communities.
The first event focused on "Biased Algorithms: AI ethics and digital rights in Europe, and why philanthropy should care?". Benjamin Ignac, a Romani technologist, Research Fellow at the Roma Initiatives Office at OSF and Public Policy alumnus from the University of Oxford, opened the conversation with an inspiring and thought-provoking presentation on why AI has become such an important, yet widely neglected, issue in the philanthropic space. Benjamin offered insights into the opportunities and threats of emerging technologies such as AI for Roma people, one of the most marginalised and discriminated communities in Europe.
Watch Benjamin's talk on Algorithmic bias and philanthropy here:
While privacy is of a big concern to many of us and more regulation is needed, the lack of data is no less worrisome: the case of the Roma people is a vivid example of how this lack of information and, thus, representation can have negative impact on marginalised communities – today, and even more so in the years to come.
In the late 1980s, Ian Ayre and Peter Siegelman assessed whether women and black people got the same deal when buying a new car as white men, and the finding was disturbing, yet little surprising to many. White male paid significantly less, while black women paid on average € 900 more for the same car deal. Technology has advanced since then, and the hope emerged that discrimination would disappear once decisions were made not by people but by machines and algorithms.
However, machines and algorithms are designed by people. As, by extension, are their historic views and perspectives, or simply the lack of data or biased, non-representative data – which is the case for many marginalised groups such as ethnic and religious minorities. The lack of data leads towards 1) biased politics – since decision-making and predictions are based on incomplete data 2) discriminatory profiling and 3) prevention of access to social and other services.
The aim of our What if? was to
Take a closer look at biased AI and how it impacts Europe's most marginalised communities
Why we need a sense of urgency around AI and digital rights
How philanthropy can re-shift its focus on advancing digital rights and ethical algorithms and
How Europe can lead the conversation on ethical AI and technological shift and
The concept of "questioning" is at the very heart of Next Philanthropy. There are no ready-made answers and simple solutions, but we can raise relevant questions and keep asking questions to reimagine ways for transformative change and test emerging ideas in innovation sandboxes.
Some of the questions that emerged during the inaugural What if? Reimagining philanthropy series were a) how to go beyond funds? b) what alternative platforms can we create to counter discrimination and bias and c) how to engage vulnerable and marginalised communities in the process by initiating coding academies, offering scholarships and overcoming the supply shortage.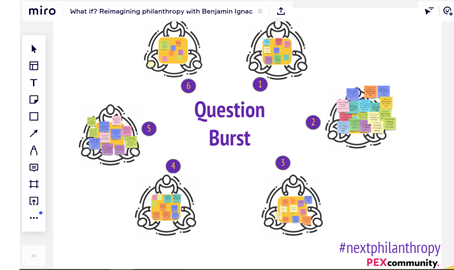 The What if? Reimagining philanthropy event series has been designed by the Next Philanthropy partners of the PEXcommunity. Next Philanthropy provides an inclusive space for a thought-provoking debate and exchange of practices on the current stay of play and what's next in philanthropy in Europe. The aim is to generate new possible routes for philanthropic, social and political action and to shape the field and orient it.
Next Philanthropy is driven by partners from across Europe who are part of the PEXcommunity: Alliance Magazine, Austrian Foundations Association, Beacon Collaborative, Dafne – Donors and Foundations Networks in Europe, Assifero – the Italian national association of grant-making foundations and private institutional philanthropy, Rockefeller Philanthropy Advisors, Renewable Freedom Foundation, EDGE Funders Alliance and TUSEV – Third Sector Foundation of Turkey. You can read more about Next Philanthropy here.
Would you like to share your thoughts or relevant news, write a blog post, suggest a speaker for one of the What if? Reimagining philanthropy events, contribute resources to the Next Philanthropy Knowledge Hub, offer funding or become a partner of Next Philanthropy? Get in touch with us: hanna.staehle@dafne-online.eu.
Read our blog posts:
What can philanthropy do to engage with this topic? Read the blog post by Lisa Rose from Beacon Collaborative with a ten-step guidance on AI and marginalised communities and what philanthropy can do to support better and fairer practices.
In this blog post, Ruth Williams from Austrian Foundations Association asks what biased AI mean for philanthropy and share a note of optimism.
Useful resources: