The Swiss Foundation Code sets international standards for good foundation governance
In June 2021, SwissFoundations published the fourth edition of the Swiss Foundation Code in three languages. The Code is one of the most renowned set of good governance guidelines in philanthropy in Europe and serves as an orientation framework for all types and sizes of foundations. Its users include not only prospective founders, foundation board members and foundation employees, but also service providers, supervisory authorities and philanthropy organisations.
From the sector for the sector
The Swiss Foundation Code was first published in 2005 and updated in 2009 and 2015. In 2021, SwissFoundations is publishing the completely revised fourth edition. The publication was made possible by the broad participation of people active in the foundation sector. In addition to the three co-authors, Dr Dr Thomas Sprecher, Dr Dr Philipp Egger and Prof. Dr Georg von Schnurbein, more than 40 experts also contributed to the Code by providing their expertise during hearings across Switzerland. For the first time, this collective knowledge is now accessible free of charge thanks to the financial support the project received from more than 30 SwissFoundations members.
Foundations are essential actors of the civil society. In order to use their full potential for effective and proactive operations in society, internal soundness and efficiency is necessary. Through its continuous adaptation, the Swiss Foundation Code offers a practical and contemporary guidance. I congratulate SwissFoundations to this persistent effort to increase visibility, transparency, and legitimacy of foundations.

Max von Abendroth, Executive Director of Dafne – Donors and Foundations Networks in Europe
An application-orientated tool for foundations
With over 13,000 charitable foundations, there are six times more charitable foundations per capita in Switzerland than in the USA or Germany. Foundations in Switzerland can rely on liberal and stable framework conditions, which underpin the growth and dynamic development of the philanthropic sector. Despite their excellent reputation, charitable foundations in Switzerland also face pressure to prove their legitimacy because of the tax privileges they enjoy. This a good thing since the actions of foundations always need to be reflected upon. The Swiss Foundation Code provides an orientation framework for good foundation management and serves as an application-oriented tool for foundations.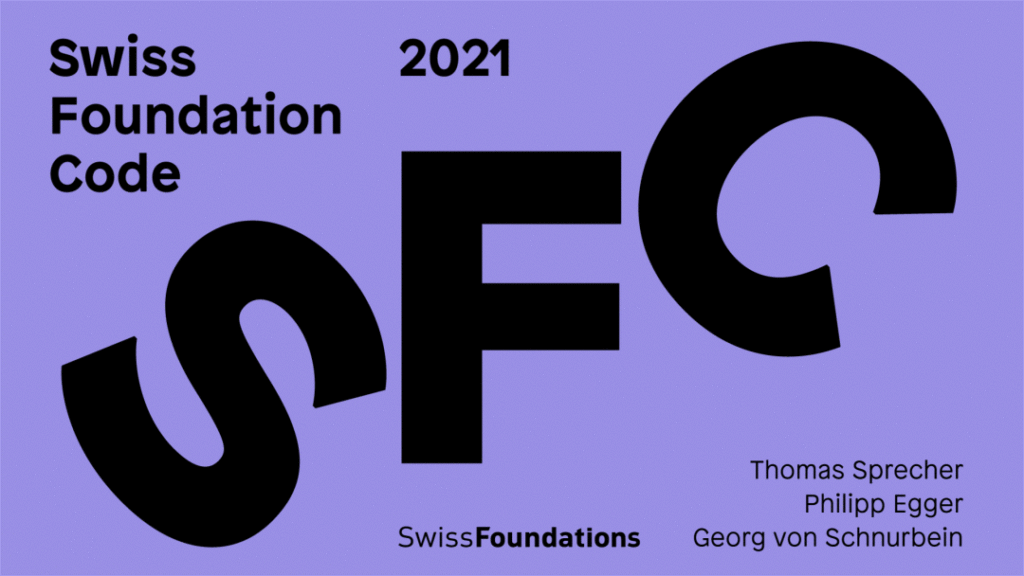 The Swiss Foundation Code is constantly evolving
Owing to the dynamic development of the foundation sector, the Code needs to be regularly adapted; it now consists of four principles and 28 recommendations. The principles previously included were effectiveness, checks and balances, and transparency. The additional, fourth principle integrates the highly relevant issue of social responsibility and emphasises the special function of foundations as charitable organisations that pursue a social purpose. In the fourth edition, the authors made effort not to increase the length of the Code, meaning recommendation 29 "Transparency in financial management" could be broken up and integrated into other recommendations.
Commenting on the new Code, Georg von Schnurbein, Center for Philanthropy Studies (CEPS) at the University of Basel, said:
The significant change to the Swiss Foundation Code is the fourth principle of 'social responsibility'. Foundations do not work in isolation; they are connected to society in myriad ways. Therefore, they should – within the scope of their purpose – also advocate for issues such as climate change or migration, which are current social concerns.

Prof Georg von Schnurbein, Center for Philanthropy Studies (CEPS) at the University of Basel
A best practice standard that reaches beyond Switzerland
The Swiss Foundation Code also takes into account the international dimension of philanthropy. Although foundations are subject to numerous legal regulations in different countries and various national foundation cultures exist, there are still many commonalities across the sector internationally. This ensures that each national code, as well as the Swiss Foundation Code, also has an international dimension and relevance. Given that the Code is trilingual (German, French and English), it is also accessible and useful to readers outside Switzerland. Furthermore, there are plans to create an Italian version.
Philipp Egger, Senior Managing Director at SwissFoundations recommends the new Swiss Foundation Code for all foundations: "What a toolbox is to a craftsperson, the Swiss Foundation Code is to all people working in or for foundations – in whatever capacity. The Code is comprehensive, clearly laid out and easily accessible".
About SwissFoundations
Founded in 2001, SwissFoundations is Switzerland's largest network of charitable grant-making foundations and one of the founding members of Dafne. The members and associated partners affiliated with SwissFoundations invest over CHF 1 billion annually in charitable projects and initiatives. This allows SwissFoundations to represent more than a third of all estimated foundation distributions in Switzerland. www.swissfoundations.ch
Order and download:
You can order the printed edition of the Swiss Foundation Code 2021 from Stämpfli publishers: in German, in French and in English.
The free e-book is available on the SwissFoundations website.