Registration open for Philea Forum 2022
Registrations for the Philea Forum 2022 "Philanthropy United – The Time Is Now" in Barcelona from 30 May to 1 June, hosted by "la Caixa" Foundation, are now open.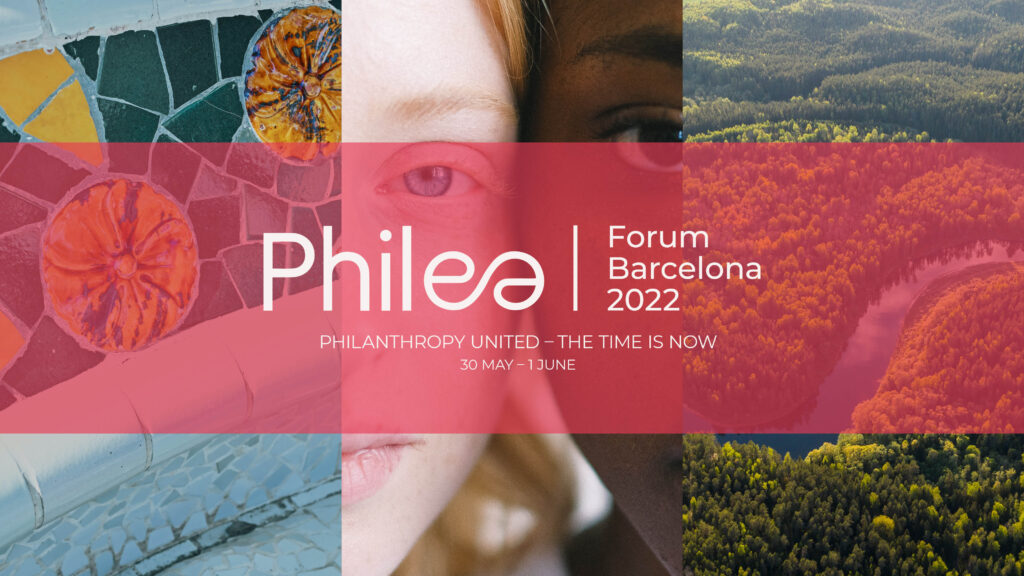 The night is darkest just before the dawn.
Against the backdrop of the humanitarian crisis in Ukraine, and with just eight years remaining to meet the targets set by the 2030 Agenda for Sustainable Development, there has never been a more opportune time for philanthropic institutions to join the dots – with each other and across sectors. Only by pulling together can we hope to see the dawn of a new era with sustainable solutions to the complex and interconnected challenges we face regarding health, climate, culture and inclusion.
Through dedicated sessions and plenaries, the 2022 Philea Forum will also be a chance to discuss with Ukrainian philanthropy leaders working on the ground about how our sector can best help mitigate the humanitarian crisis, and what strategies can be employed to address the crisis in the short, medium and long term.
The Forum will be the first to be organised as a "converged" event, involving foundations and national associations alike. In this new context, the diverse European philanthropic landscape retains its distinct role – as a catalyst for change and builder of bridges between communities, sectors and generations, connecting learnings of yesterday with aspirations for tomorrow. Furthermore, as 2022 marks the European Year of Youth, the Forum will engage participants in a conversation around three overlapping strands, while ensuring the voice of and focus on young people remains a constant throughout:
One planet, one health
The COVID-19 pandemic has painfully underlined how human, animal and planetary health go hand in hand. Challenges such as the climate emergency, food security and global health are intrinsically linked. To face them, new, open scientific knowledge from various disciplines, as well as coordinated action between different sectors, is needed. So how can philanthropy help better understand and strengthen these key relationships?
This strand will look at what contribution philanthropy can make towards supporting the ambitions of the Paris Agreement and the Green Deal, and how foundations can apply a critically important climate lens across their current portfolio of activities. Also it will look into the role of foundations in contributing to the prevention of future pandemics and other health and social threats, many of which are related to increased pressure on the natural resource base.

United in diversity
Existing inequalities have only been aggravated in the context of the COVID-19 pandemic. As the virus disproportionality impacted those already marginalised – including persons with disabilities, elderly people, unemployed youth, ethnic and racial minorities, women, LGBTQ+ – philanthropic organisations mobilised to rebuild more inclusive societies.
This strand will address how philanthropy can contribute to building resilience in the face of such challenges, and what kind of relationship we need from North to South and South to North to increase social inclusion.

Culture and creativity catalysing change
Philanthropy has long been engaged in preserving and fostering culture, not only for the sake of culture itself, but also as a sector vital to democracy, social cohesion and all other fundamental rights and freedoms. At a time when fractures in society are growing, and in a context of digital transformation, how can philanthropy promote the value of diversity in culture, and the ability of culture to boost democracy and bring people together?
This strand will look at how philanthropic organisations can work with young people in creating a brighter, more sustainable narrative for the future, discuss space for creativity in their activities, and reflect upon the role of culture in our new world. It will also look into the value of education and data science in driving this change.
Our 2022 Forum will be an opportunity to think forward on where we go next, how we engage new generations of philanthropists to face the challenges ahead, and how from our diverse perspectives we can jointly contribute to the creation of a new, uniting paradigm for the world.