PEXforum 2022 – The Road to Istanbul
The 2022 PEXforum, co-hosted by Philea and the Third Sector Foundation of Turkey (TÜSEV), brought together 106 participants representing 69 organisations from 20 countries to jointly advance the European philanthropy ecosystem. Held 24-26 August in Istanbul, this collaborative event aimed to:
Strengthen a community of like-minded professionals committed to building a stronger philanthropy sector in Europe
Provide peer exchange for philanthropy infrastructure organisations
Identify tangible opportunities for collaboration
The event was co-shaped with the PEX Co-creation Council and moderated by SenseTribe.
"When we come together, when we open ourselves to new methods, new approaches and innovative thinking, we have an opportunity to achieve systems change"

Rana Kotan, TÜSEV
Powerful keynotes to challenge, inspire and motivate
Whispering the future into being
Indy Johar, Dark Matter Labs revealed the nearly unimaginable scale of the climate and systems crisis – challenging us to go bigger even than the Marshall Plan – because that's what's needed to truly address this problem.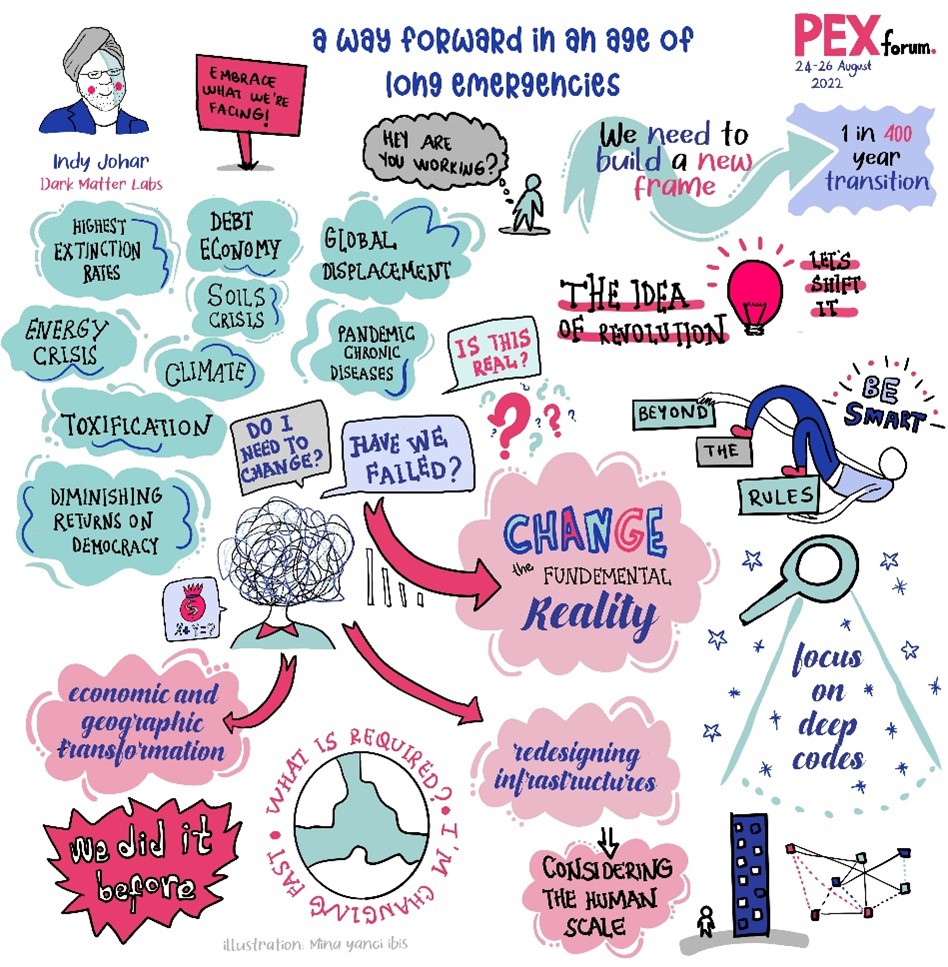 The art of making the impossible possible
"Systems are not broken. They are perfectly designed to achieve what they were designed to achieve." That's why we need to break them up and develop new ones for the world we need. Karin Haselbock, Ashoka Europe, broke down what systems are, and how to transform them.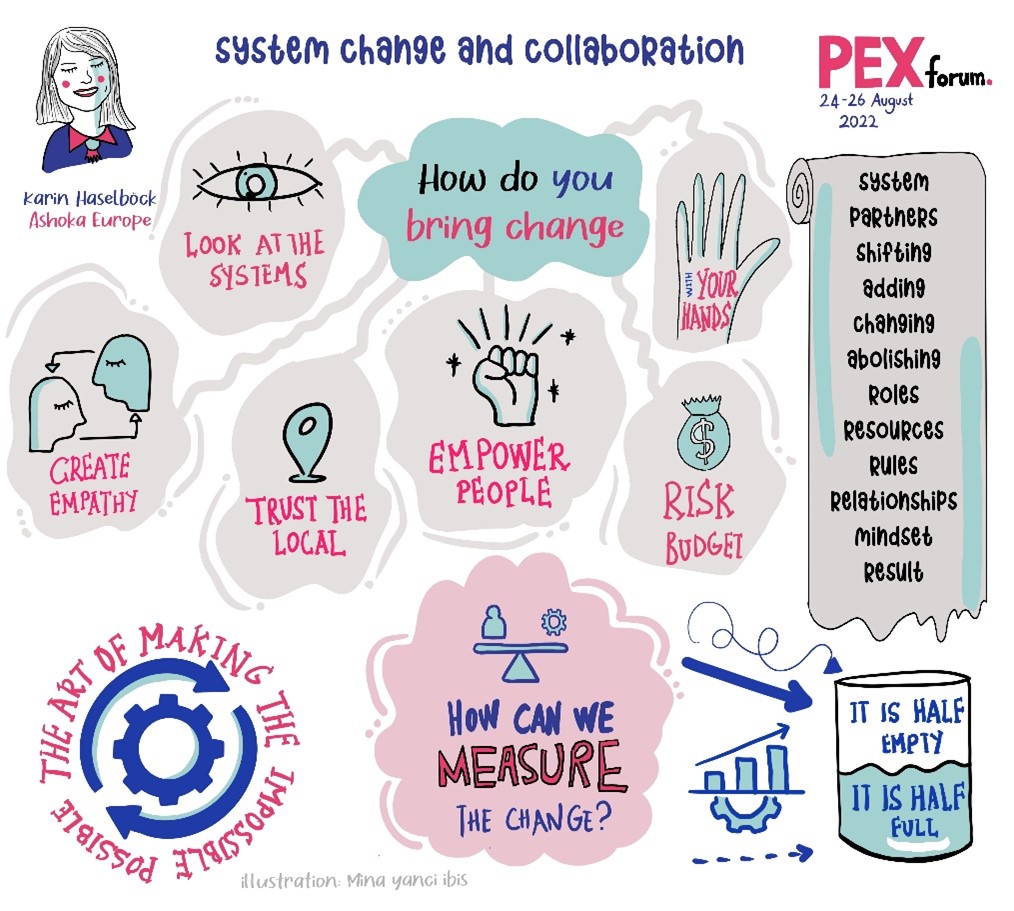 Supporting radical change
Joris Levernik from the Guerilla Foundation's Activist Council highlighted the risk of palliative philanthropy, urging the sector to address the root causes of issues. He also called on philanthropy to use its privilege to leverage and fund social movements and volunteers who cultivate and prepare the ground for change.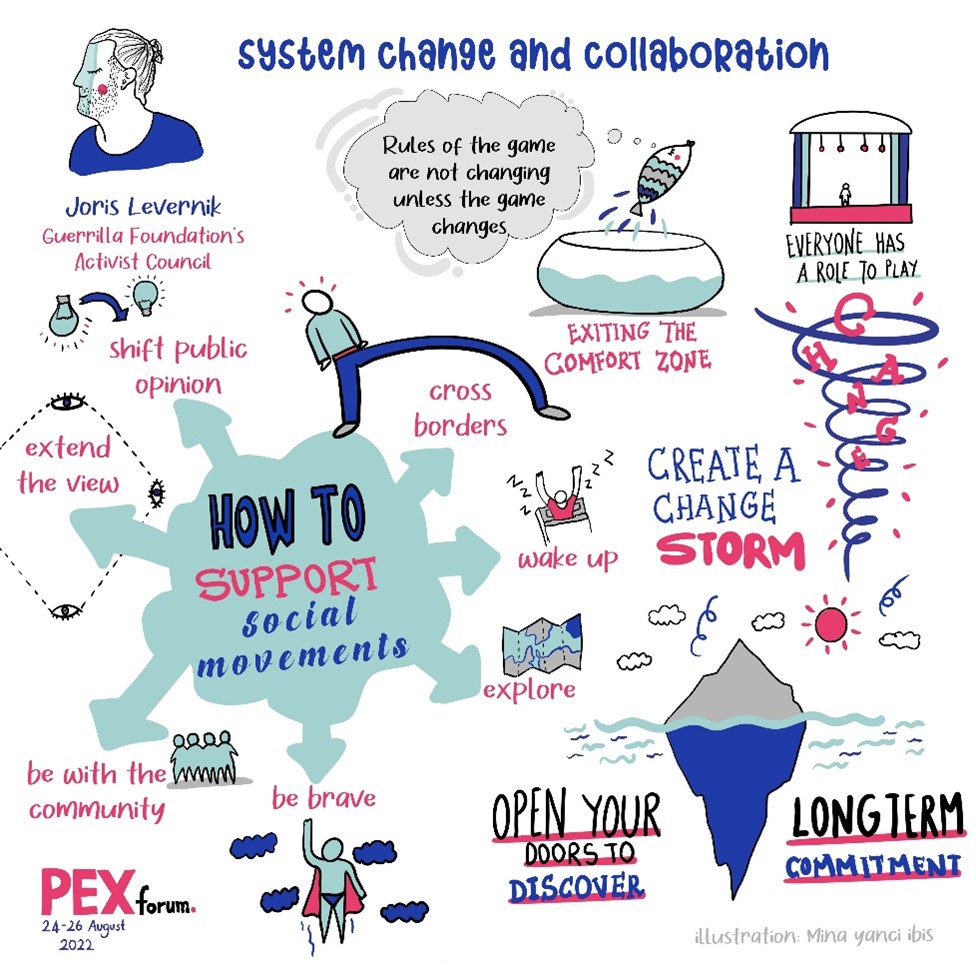 "If there was a takeaway at the #PEXforum2022 for philanthropy, I think it was this — a call to rapid, collective action based on radical solidarity."

Chandrika Sahai, PSJP Network
Focus: Turkey
Being in Istanbul gave us the privilege of learning first hand from our friends on the ground.
Burcu Bingöllü, Truth, Justice, Memory Center (Hafiza Merkezi) spoke about Defending Civic Space in Turkey. She highlighted how despite the challenges it has faced, civil society has come up with new methods of working and making change via communications technologies, collaboration and building a feeling of community, as well as building on the hope stemming from the long history of civil society.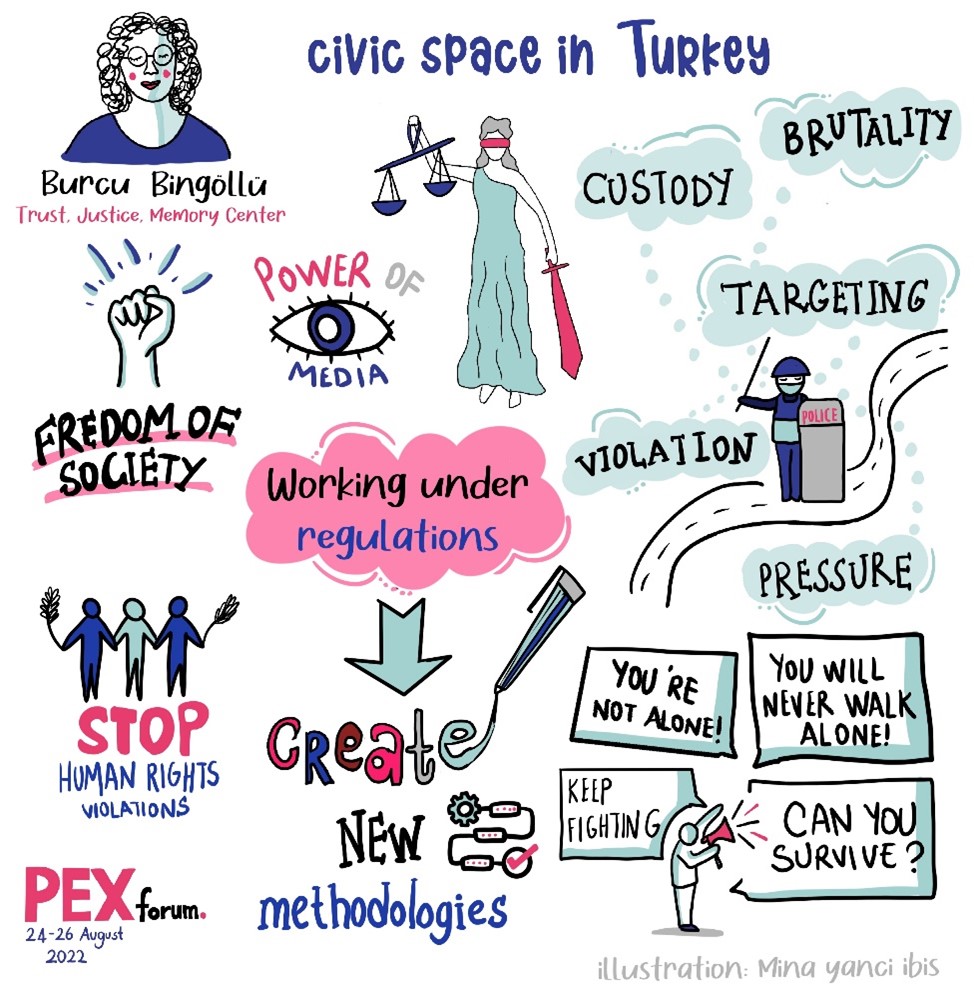 Birce Altay, TÜSEV engaged participants in a snappy quiz to learn about the state of individual giving and philanthropy in Turkey. We learned the most substantial giving was to disaster relief, and that people preferred giving in cash or volunteering.
As part of the selective storytelling session, we heard from Erdem Vardar, Yuva Association on the experience of Syrian refugees in Turkey. We also had the chance to learn the ways in which we can support increasing opportunities for disenfranchised youth in Turkey from Filiz Bikmen, Esas Sosyal & EMpower Foundation.
Cihan Özsönmez, Vehbi Koç Foundation shared about the Turkish social entrepreneurship network experience. Finally, Burcu Gündüz, Maşalacı Suna'nın Kızlar spoke about the catalytic role of philanthropy in girls' empowerment in Turkey.
Learning from peers
Over the course of the forum, participants learned from their peers via nutshell talks, parallel workshops and case studies covering issues ranging from funding, advocacy, tackling the climate crisis, grass-roots organising in Ukraine, addressing the mental health crisis, Muslim philanthropy, racial justice and so much more.
"By bringing together our connected creativity, we have a better chance at turning the future shock we have experienced into a positive future for the world."

Delphine Moralis, Philea
A deeper dive:
For a deeper look at the topics and content discussed, we encourage you to check out Alliance Magazine's coverage of PEXforum Istanbul.
"At the end of the road is the beginning of a new adventure."
The next PEXforum takes place in January 2024 in Rome, Italy. It will be co-hosted by Philea, ACRI and Assifero.