PEXforum 2021 – The good, the great and the surprising!
Being in Madrid last year for the first PEXforum was a treat at the time, and an even bigger treat retrospectively. Knowing that the PEXcommunity has met regularly online throughout 2020 and has achieved a degree of collaboration greater than any other conference has managed after its culmination, brought a high level of curiousity and enthusiasm for the online edition of the PEXforum 2021. Would participation be high? Could we keep our attention on the screen and the speakers? Can we make meaningful connections with people we don't yet know? These were a few of the questions to which I sought answers.
Overall, I think the design of the sessions and the thought that went into it paid off. Personally, I tried to be intentional whenever I found myself in small groups with one or two people that I knew well as not to monopolise the conversation into familiarity and exclude 'newcomers', but I wasn't always successful in it. I think that we have a responsibility as participants to create space for dialogue and inclusion as much as the organisers. The meditation part was harder for me to go along with, but I think the poem, the singing and the lights waving gave us a sense of unity and community by allowing ourselves to be slightly ridiculous in our own homes and be seen as such by our familiar and less familiar colleagues.
The great part of PEXforum 2021 in my view was the possibility to attend for people working in the field who would not normally travel to such events. By encouraging participation of up to five people within one organisation and not having costs associated with travel and accommodation, PEXforum 2021 was a more inclusive space where programme assistants and interns could perhaps share an intimate breakout session with the CEO of European Foundation Centre or the European Cultural Foundation. Or, by joining the social space, they could 'drop in' on a conversation with people they would not normally mingle with during coffee break. I know we like to think of us as a less hierarchical sector than the private or public one, but there is still work to do across cultures and organisations to make that happen.
To me the surprising was how inspirational the keynote speakers were even through this online medium. Michael O'Flaherty reminding us on the importance of honouring human dignity and the agency of all human beings to Geoff Mulgan's keynote on what philanthropy could be doing more of: shared scanning, shared evidence, intelligence assemblies, imagination as well as cooperation and collaboration. And his brilliant analogy of philanthropy infrastructure as the job of a plumber, doing the necessary, unglamorous, work with humility.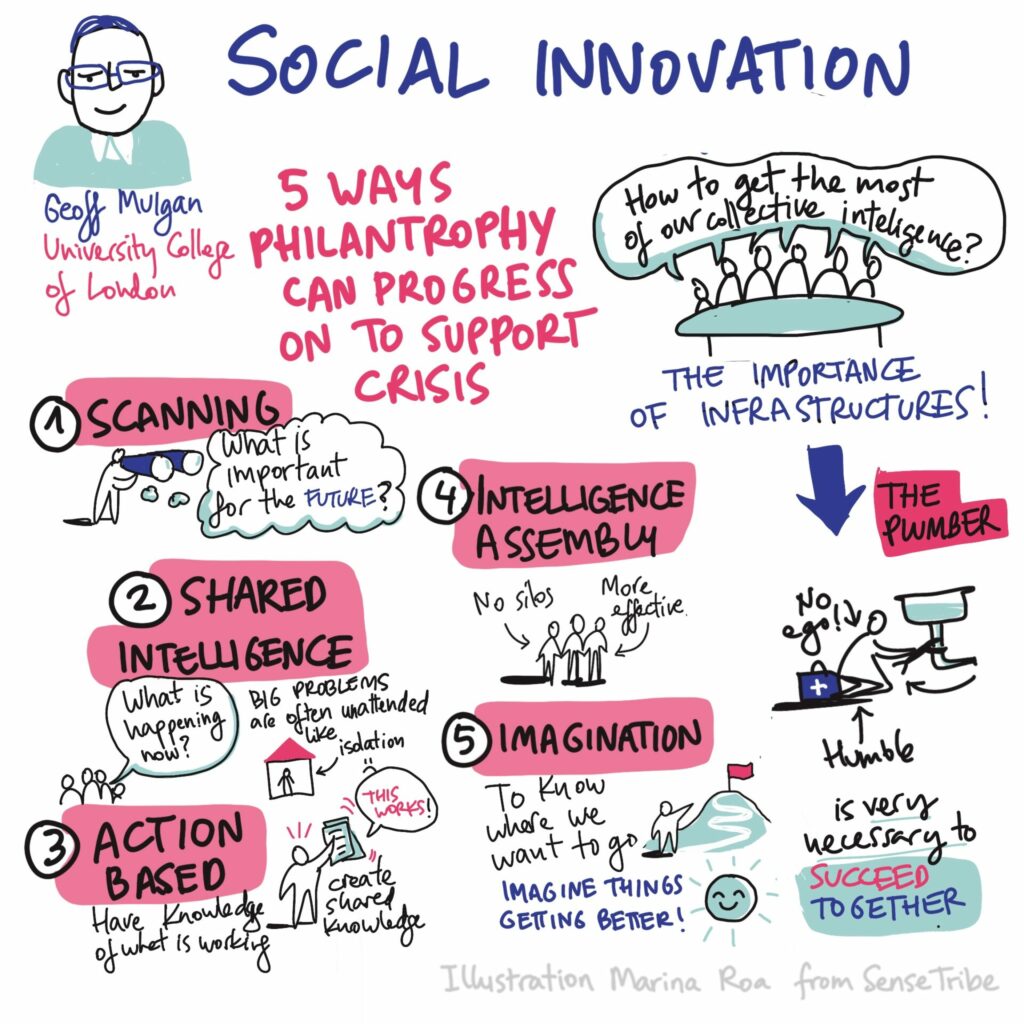 The last part helped me reflect on the work of community foundations, who are the 'local plumbers' for the communities they serve, who support grassroot organisations, stimulate civic engagement, foster local philanthropy and create cultures of giving, build trust and bridges across divided areas, mostly with 'old, rusty tools', scarce resources, understaffed organisations, volunteer boards or burned-out staff and no national or international spotlight. My goal after this year's event is that we get in touch more frequently with our local plumbers for evidence and scanning and support them with modern tools for cooperation and collaboration.
I believe in the RPR triangle where we not only look at results – the goal or task to be accomplished – but at the process – the spirit or the way in which work is carried out – and relationships – the quality of the connections between the people involved. I am not sure there is a single task, or goal or a shared vision that we convene upon (or if there should be!)- as indicative by the session that explored European values of philanthropy – but what PEXforum is doing in terms of process and relationships is surely laying the groundwork for 'better plumbing works across Europe".
Michael Giurgiu
Peer Learning Expert, ECFI