PEXforum 2021 – 'All is present, all is here'
PEXforum 2021 was like a pleasurable meander through an enchanting woodland. One where philanthropy support organisations are represented by the trees in the ecosystem – characterised by diversity in species but also their interdependence, and which collectively create a habitat in which fauna (foundations) can thrive. We were encouraged to 'Stop, look, go', to take time to absorb the atmosphere, to observe the vegetation around us and to track a path through the philanthropy forest.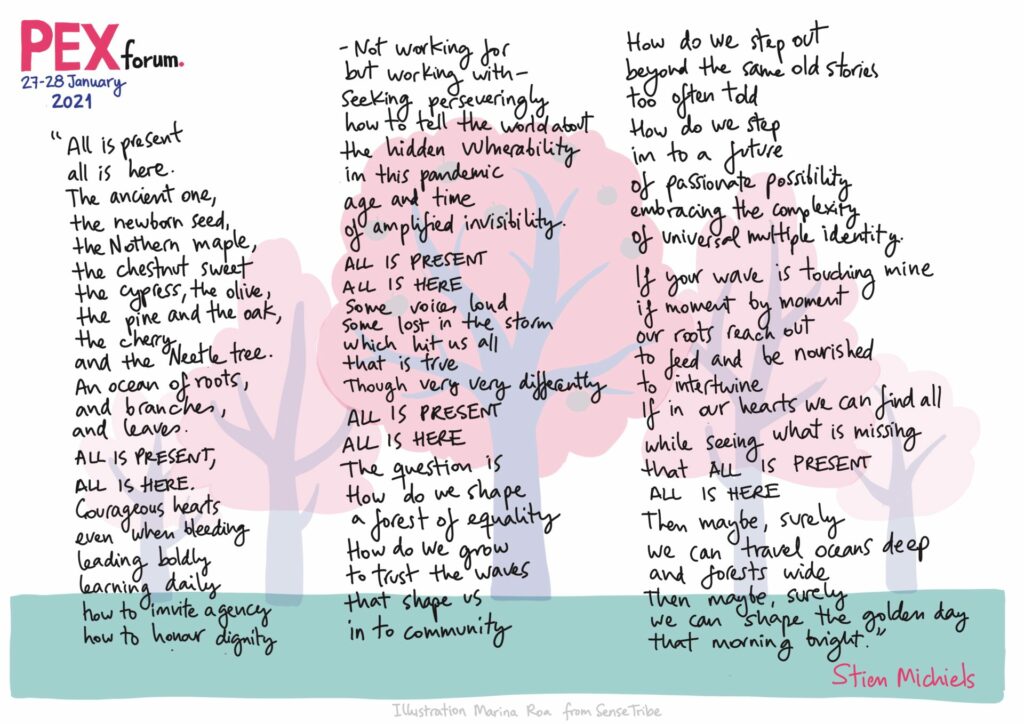 The trusted relationships established through the PEXcommunity are contributing to its sustainability and utility. They allow for shared understanding of issues and challenges, foster connections, build collective intelligence and promote collaboration – all of which make us more effective and valuable to our respective constituencies. There is already evidence of the value added of PEX, not least in helping each other navigate our way through the last year, but also through examples of how collective thinking impacted on our work e.g. in respect of Resilience Building and Climate Action and where collaboration exploited synergy e.g. Philanthropy Advocacy and Unitus Europe.
PEXforum 2021 took this to another level – an event intended to bring us to Istanbul was delivered into our own homes. Creativity in the design and content made up to some extent for what was lost by not having a physical gathering. Indeed, by using a variety of platforms and techniques for engagement this was like no other on-line event. It was both very productive and enjoyable – with spaces for plenary presentations, numerous small group discussions, and wonderful harvesting on well-structured whiteboards as well as in art, poetry, and music. And more, there were ingenious spaces for informal chats which were easier to jump in and out of than any real conference venue. The PEXforum offered a lesson in how to shape and deliver such an event, not only in the tools and techniques but also in participatory leadership, with use of Four-Fold Practice.
Discussions, prompted by keynotes from Michael O'Flaherty, Director, EU Agency for Fundamental Rights and Geoff Mulgan, Professor of Collective Intelligence, Public Policy and Social Innovation, University College London, were built around the big questions relating to the European philanthropy identity and the future of philanthropy. No conclusion was drawn on defining a European philanthropy identity – rather the feeling was that European philanthropy is characterised (and enriched) by diversity with a variety of identities bound together around common values. With regard to the future of philanthropy, there were lively discussions and ideas about how support infrastructure can help philanthropy be ambitious and effective in contributing to a just and sustainable future. Specific ideas emerged, all of which were based on collaboration among support organisations, around unlocking social imagination through for example 'innovation sandboxes'; exploring and exploiting the potential of digital infrastructure; creative use of assets and investment of endowments; shifting funding practice towards organisations (not projects) and systemic change. What this all served to demonstrate was the real value of the PEXforum, which is best articulated in a quote again (as I have done in the title) from Stien Michiel's poem reflecting on the PEXforum 2021, 'moment by moment our roots reach out and inter-twine'.
James Magowan
Co-Coordinating Director, ECFI