Together, for a desirable future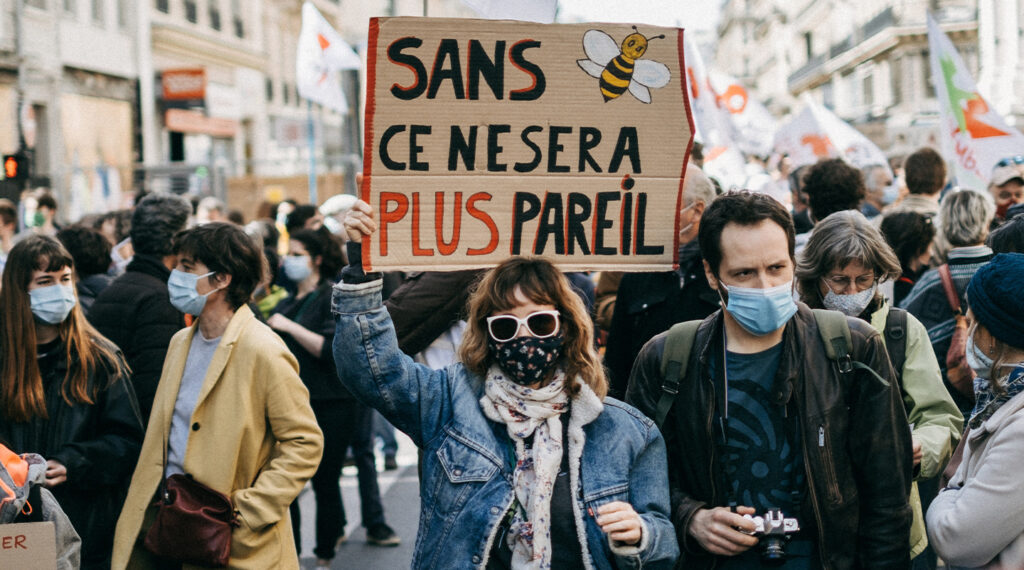 The summer of 2022 will remain in French memories as the (first?) year of the mega fires. Beyond the scorching temperatures that are hitting Europe, the spectacular fires which until now have ravaged California or Australia, have arrived in France and not only in the South, even Brittany ‒ a region known for being rainy ‒ is under attack.
These summer temperatures and their dramatic consequences on water, forests, agriculture and livestock will unfortunately no longer be the exception, but the norm.
As a reminder, IPCC researchers estimate that within two decades, the Earth will warm up by 1.5°C, while the Paris Agreement says that we will not exceed this threshold or even 2°C by the end of the century. However, we are already observing climate impacts that are more widespread and more serious than expected ‒ with "just" a 1.1°C rise.
"If temperatures rise above 2°C, climate-resilient development will become impossible in some parts of the world," the report said. "The scientific evidence is unequivocal: climate change is a threat to human well-being and the health of the planet. Any further delay in concerted global action will be a missed opportunity to secure a liveable future," confirmed Hans-Otto Pörtner, co-chair of IPCC Working Group II.
It is therefore no longer urgent, but vital for our survival, that all individuals and private and public organisations integrate climate challenges and their effects into their activities. This applies in particular to philanthropy players ‒ all the causes we support, or will support in future, are impacted by these challenges.
The first steps of the Coalition
In August 2019, in a column published by the European Foundation Centre (now Philea), I called on foundations to come together to respond to the climate emergency with a view to social justice, whatever their field of action is. A group of British foundations made the same observation by writing a practical pledge, calling for action from their peers. From these "climate awakenings" was born the international #PhilanthropyforClimate movement (led by Wings), the European one (led by Dafne, now Philea) and the national coalitions in France, Spain, the United Kingdom, Italy and Canada. By August 2022, nearly 570 foundations around the world had signed the Coalition's pledge calling on them to integrate climate issues into their operations, investments, programmes and advocacy, while joining a community of practices and exchanges.
It is only a first and small stone. We must continue to address foundations, raise their awareness, train them, and involve them to help them embark on their own climate journey. Our movement must be able to reach and convert thousands of foundations, which, themselves, will support tens of thousands of non-profit organisations in reaching hundreds of thousands, even millions of vulnerable beneficiaries directly impacted by the effects of climate change. The challenge is daunting, but within our reach, because we as foundations are closer to social and environmental transformation in action, with more responsiveness, flexibility and risk-taking than public or private for-profit actors are.
Towards a philanthropic strategic review
To do its part, the Daniel and Nina Carasso Foundation, in France and Spain, has set itself new ambitions. Thus, after joining the Divest Invest initiative in 2015, the foundation gradually developed its low-carbon investments, going from its commitment of 5% to almost 10% today, and it will not stop there. The foundation is also reviewing the programmes of its two areas of intervention (Sustainable food, and Art in the Community), with climate and social justice challenges as a common thread in its next strategy (2024-2028), as well as a significant increase in its spending budget ‒ because the foundation's board considers the time to act is now.
The year 2022 gives us time for reflection and consultation on new subjects (e.g. resilience of food systems in the face of climate change, soil health, climate migration and agricultural expertise, mutations in the food chain workforce), the year 2023 will allow us to experiment and then to deploy new actions from 2024 on. We will also take advantage of these new orientations to test new philanthropic approaches, better suited to the context of the multiple crises we are experiencing (pandemic, climate, war, democracy, energy). We will experiment a philanthropy based on trust, which redefines the relationship with the beneficiaries of our grants, for example by supporting them over the five years of our strategy; by financing capacity building rather than only targeted projects (i.e. bringing flexibility to the grants); and by simplifying reporting rules. The teams will also be reinforced with new skills within our areas of intervention, in particular in ecological and environmental issues.
Storytelling for a positive future
Another line of action seemed essential to us, which is using storytelling to convey positive solutions and developing new narratives. We are at the heart of an unprecedented sequence of major and global crises, which connect to one another, and our future is the object of high anxiety, especially among the younger generations. We, foundations, are a crucial source of ideas, innovations, solutions and above all tremendous human mobilisations that give faith in humanity every day. It is also our responsibility to experience, to support, to show, to tell, to give a voice to these "desirable futures" for the purposes of awareness, communication, training and advocacy… and to prove that, together, we can face positively these environmental and social challenges.
Authors

Marie-Stéphane Maradeix
Executive Director, Fondation Daniel et Nina Carasso