The pandemic showed what foundations can achieve by working together. Now let's think collaboratively about the future.
This month, the Association of Charitable Foundations (ACF) launched the next stage of the Funders Collaborative Hub. Originally piloted as a response to Covid-19, the Hub is now helping funders achieve more together for the long-term.
Of course, some funders have always seen the value of collaboration. When ACF developed its Stronger Foundations best practice guidance, 'connection' was a major theme. Stronger foundations tend to be aware of their role within the wider ecosystem. Covid-19 amplified the importance of connection. Since 2020, foundations have collaborated in new ways and on an unprecedented scale. Three key ingredients made this possible: relationships, tools and collaborative mindsets.
The importance of relationships
Early in the pandemic, funding partnerships quickly formed to meet emerging needs. The Live Work Fund was one example – four funders combined their resources to support artists whose livelihoods were threatened by lockdown.
This collaboration was possible because the funders were connected through the Arts Funders Group. As Lilli Geissendorfer, Director of Jerwood Arts put it, this group's Zoom meetings "became a lifeline during Covid-19".
Relationships built around shared geographical interests also took on greater importance in the pandemic. Existing information-sharing networks like the Wales Funders Forum transformed into spaces for funders to coordinate activity. In other areas, like Greater Manchester, similar forums were created.
Networks like these offer simple ways for foundations to build awareness of their context. More connected funders can make decisions with a better understanding of their role within the wider landscape. They also enable funders to form new relationships – multiplying the opportunities for closer collaborations to develop when needed.
Tools for collaboration
If funders do decide to collaborate more closely, what practical things might they need?
In London, between March 2020 and March 2021, 67 funders worked together to distribute more than 3,000 grants totalling £57million. By sharing a single online application system, they could coordinate decisions quickly and easily, as well as simplifying processes for those seeking funds.
This was possible because London Funders had built on learning from previous emergencies – particularly the 2017 Grenfell Tower tragedy. London Funders also made their system available to other funder collaborations who wanted to take similar approaches.
One such collaboration was the Community Justice Fund. Formed by a group of funders in March 2020, this distributed £15million to meet the urgent need for specialist advice to help people with housing, debt and other issues exacerbated by Covid-19. But its impact is likely to be even more far-reaching. The funders are now reflecting together on the long-term needs of the advice sector and how they can collectively meet these over the next decade.
Technological tools – like London Funders' system, or Lightning Social Ventures' new application portal for grants to individuals – can make funder collaboration more efficient, particularly when operating at larger scale. But they don't replace the role of relationships and trust in creating the conditions for collaboration to happen in the first place.
That usually starts with conversations, like the one that The Dulverton Trust is looking to start, using the Funders Collaborative Hub to invite other funders to explore ways to streamline their processes together.
Dulverton's proposal is just one of more than 70 collaboration opportunities currently shared on the Hub. One of the problems we identified when developing the Hub was that, because lots of funder collaboration happens informally, there is often little publicly available information about it – until now!
The Hub offers funders a single source of information about existing collaborations and emerging opportunities. With this new tool, we hope to increase the number of connections between funders, helping them sustain the benefits that collaboration brought to their work in the pandemic.
Collaborative mindsets
The final vital ingredient is a collaborative mindset.
Foundations often worry that collaborating is more time-consuming and complex than working alone. Others fear that collaborating will compromise their independence. Yet funders' responses to Covid-19 showed that collaboration can get money where it's most needed, quickly and efficiently – a time-saver, rather than a cost.
It's true that if funders want to join forces to tackle large, complex issues together, that can be hard work. They will need to make conscious choices to invest in the process of collaboration as a necessary part of how they achieve their goals.
The Cornerstone Fund is a collaboration working to transform London's civil society infrastructure. As one of the fund's partners, City Bridge Trust, put it: "Without collaborating, the ambition of our goal would simply be impossible, because systems change needs collaboration."
But what about the fears concerning compromising independence? Independence is rightly seen as one of foundations' greatest strengths. It gives them wide-ranging freedom to choose how they pursue social impact. But collaboration arguably multiplies, rather than reduces, the choices foundations can make. When, why, how and with whom to collaborate – and what specific contribution they can make – are independent decisions for every funder to take. By interpreting 'independence' as meaning 'acting alone', might some foundations actually be curtailing their own freedom?
Again, Covid-19 broke the mould. Many funders realised that going it alone was simply not an option. As one said: "We'd always seen collaboration as risky. Faced with Covid-19, we realised that sticking to old ways was a bigger risk than doing things differently."
360Giving recently analysed the Covid-19 grants awarded by 174 funders. They noted that funder collaboration – particularly where it involves re-granting – complicates this picture. The diagram below shows how Covid-19 funding flowed through various intermediaries.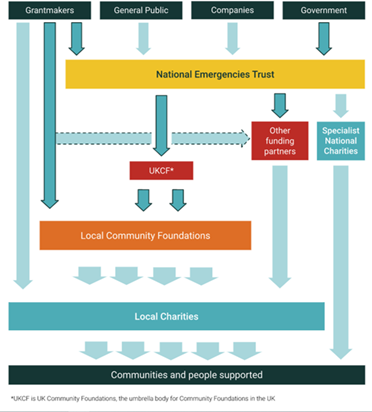 To me, what might look like a complex process diagram actually tells a story about humility and trust.
As a funder, it takes humility to recognise that having money doesn't always equip you to know where it is most needed or how it can most effectively be deployed on the ground. And it takes trust to delegate control of your resources to others who have different kinds of expertise to your own.
If funders continue to demonstrate the humility many have shown over the last two years, and if they continue to nurture trusting relationships, it is likely that they will retain and develop their collaborative mindsets beyond the pandemic.
We can't take this for granted though.
That's why, as well as providing tools to help funders connect, the Funders Collaborative Hub will offer them sources of inspiration. By sharing learning from what funders have achieved together – like the examples I've mentioned in this article – we hope to encourage more collaborative thinking about the future.
Authors

Jim Cooke
Head of the Funders Collaborative Hub, Association of Charitable Foundations (ACF)