KoneKtor: Highlighting resilience in times of crisis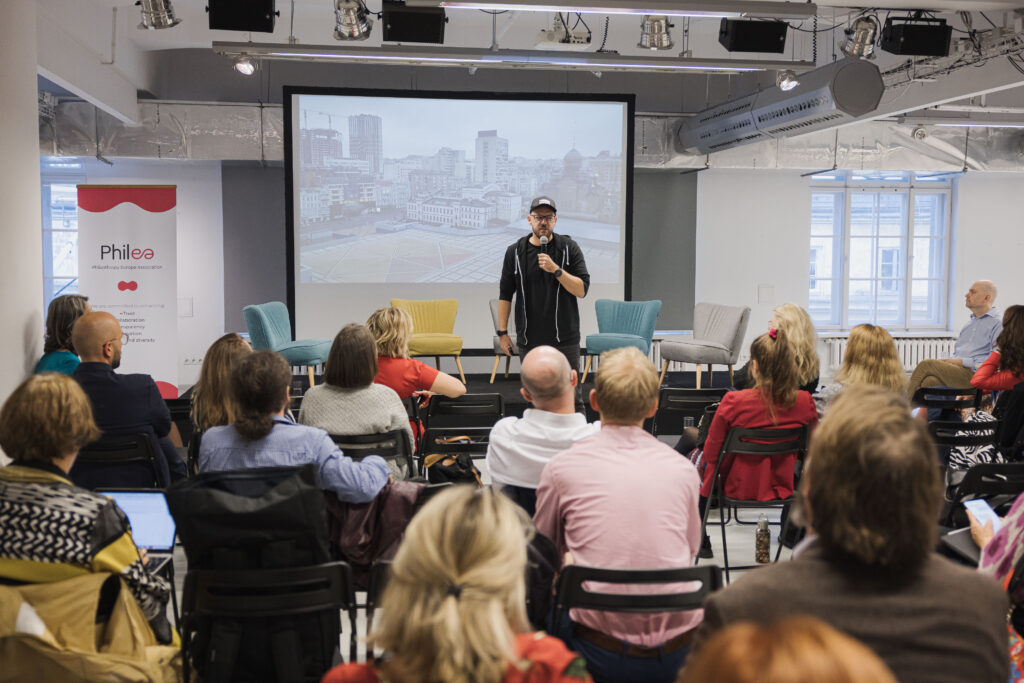 Against the backdrop of the multiple crises facing societies across the globe, KoneKtor – Philanthropy East Forum took a deep dive at our annual event held this year at the end of September in Warsaw into what it means to have "Resilience in Times of Crisis". The focus reflects the most pressing challenges civil society organisations, activists, and communities are facing as they adapt to a world increasingly defined by uncertainty and unpredictability in the midst of Europe's democratic crisis, climate change, the energy and economic crises, and war.
KoneKtor aims to provide a safe space for participatory and community-driven debate, discussion, and the development of solutions to protect democracy and support peaceful and just societies at its annual Forum. It brings together and connects a diverse philanthropic community from Central and Eastern Europe and beyond, including donors, local and international NGOs, journalists, scholars, artists, and activists.
This year's gathering also marked the 25th anniversary of the Grantmakers East Forum ‒ Philea's working group focused on philanthropy in the Central Eastern Europe region and gave us an opportunity to launch the group as the newly renamed and reframed KoneKtor – the Philanthropy East Forum.
Civil liberties and political rights have declined dramatically around the world. Many countries that were on their way to establishing democratic societies are now on the verge of authoritarianism. Poland is a well-known example of declining democracy, with fundamental democratic values such as an independent judiciary and the rule of law eroding. The important role of civil society and philanthropy in bringing together democratic forces to reimagine democratic governance and its institutions as more accountable, participatory, collaborative, and empowering for more just and prosperous societies was widely discussed at the KoneKtor event.
The challenges we face affect everyone, but because the consequences will disproportionately impact younger generations, we invited many speakers to this year's Forum representing youth voices and activists fighting for climate, democracy, women's rights and LGBTQ rights. We have heard stories from activists in Georgia, Bosnia and Herzegovina, Hungary, and Poland who have reached out to and mobilised thousands of citizens in societies where trust in political elites and democratic institutions has been shaken. According to participant feedback, bringing in the perspectives of young people ‒ not only in specific sessions but also through the participation of various activists ‒ was one of the most valuable aspects of the event to the participants.
We were able to examine and reflect on resilience from a variety of perspectives, including that of individuals, organisational structures, management, leadership, and, finally, communities that live and work in increasingly turbulent and rapidly changing environments. The importance of individual well-being, as well as our ability to contribute to the well-being of others, were common threads in many of the sessions and workshops.
Resilience of communities was discussed in the context of Europe's refugee crisis, which has been exacerbated by Russia's aggression in Ukraine. Hundreds of thousands of Ukrainian refugees have fled to neighbouring countries, with over 7 million crossing the Polish border. Activists and representatives of non-governmental organisations working in the neighbouring countries and developing amazing community responses shared their experiences on the tactics and strategies of coalition building, mobilising resources, and engaging citizens.
Many lessons have been learned over the last couple of years from the previous refugee crises caused by corrupt governments, conflict and climate change. The most important issues raised during the event were that in order to sustain the community response long term, the investment in building organisational capacity is needed, as well as focus and resources dedicated to protecting individuals fighting on the front lines from burning out. Creating positive narratives highlighting respect for the personal dignity of individuals (especially children, including rights of image use and right of publicity), and avoiding "charity porn", were underlined as crucial in order to engage citizens and counter disinformation that targets refugees directly and the organisations and activists helping them.
Given how many challenges, but also opportunities, are now associated with digital activism, examples of successful campaigns in Slovenia, Romania, Georgia, and Hungary were shared, and a group discussion was held about ways to support NGOs and activists in becoming more resilient to digital threats, cyber-attacks, and defamation campaigns. Cybersecurity is critical to the overall resilience of civil society. The threat of malicious cyberattacks and the spread of misinformation has grown exponentially. As cyberthreats become more sophisticated, all organisations have required assistance in defending themselves, especially in times of war, which is also occurring online.
The most striking and moving moments of KoneKtor in Warsaw were the voices of Ukrainians during difficult discussions about the war and the future of Ukraine. Documentary footage from the Displaced film (a feature documentary by Ukrainian director Olha Zhurba) was shown which served as an introduction to discussing the important work of journalists, who risk their lives to document war atrocities and crimes. The film captured a collective portrait of Ukrainians fleeing the war, as well as those who remain and must adapt to life under constant shelling. There were also footages showing how art, satire, and humour are being used to make life bearable, as culture is an important symbol of humanity. This inspiring presence of artists, filmmakers and journalists made us laugh and cry, allowing for some measure of relief in these incredibly challenging and tense circumstances, enabling us to open a discussion about the most important and sensitive issues affecting not only Central and Eastern Europe, but the whole world.
KoneKtor created a safe and trusted space for bringing together Ukrainian's civil society leaders with donors to address the long-term needs to rebuild the country in an inclusive, sustainable, and democratic way. Among the challenges that Ukraine is facing as a candidate for accession to the European Union were democratic transformation; education and mental health; arts and culture; needs linked with reconstruction; and transparent, efficient, and innovative ways to invest in the future of the country.
We wanted to stress the seriousness of the situation and the risks we face, which can seem overwhelming at times. Even in the midst of hardship, KoneKtor's Steering Committee felt it was important to spread optimism and inspiration. The early support provided by self-organised Polish citizens to Ukrainian refugees, and to refugees on the Belarusian boarder without any support from the government or international organisations was tremendously motivating, especially to me as a Polish person, because it reminded me of the power of people's kindness and solidarity.
That gives me faith and trust in people. I was happy to be a part of the community of kindness, and solidarity that permeated KoneKtor.
We look forward to continuing the connections and conversations initiated at the next Konektor at the end of September 2023 in Sarajevo – now more than ever we need to work together to come up with solutions to the existential threats that we as people, organisations, civil society and Europe are facing today. Please feel free to reach out to me if you are interested in joining the KoneKtor community.
The Forum was organised by the KoneKtor Steering Committee: ERSTE Stiftung, Europe Foundation, Mozaik Foundation, Open Society Foundations, Porticus, Rockefeller Brothers Fund, Vehbi Koç Foundation, ZEIT-Stiftung Ebelin and Gerd Bucerius, as well as the host – TechSoup, in close collaboration with Philea.
Authors

Anna Sienicka
VP Europe, TechSoup