CaixaForum+ – access to culture for all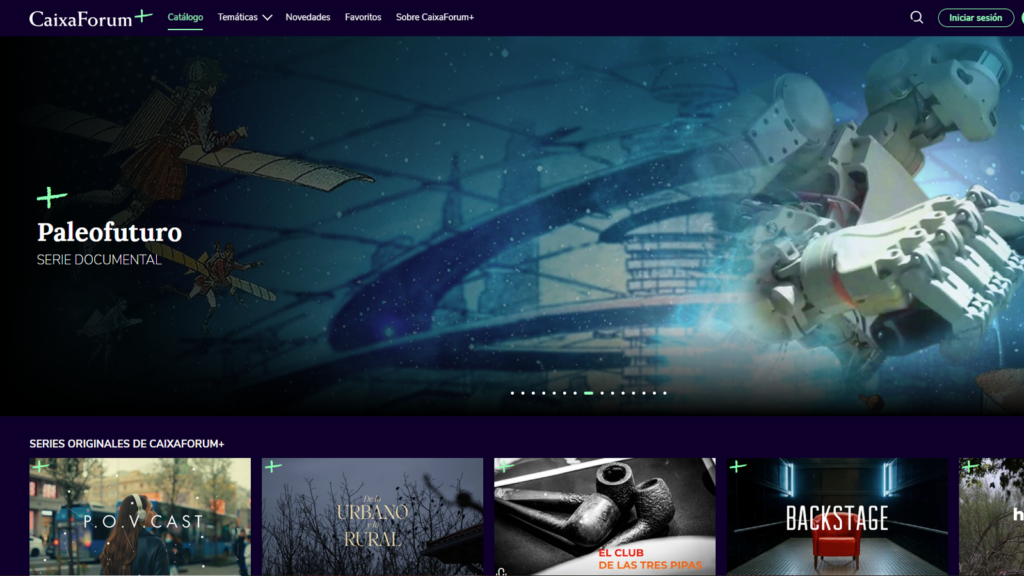 The 'la Caixa' Foundation has opened their newest CaixaForum location, though this time, its online. CaixaForum+ will provide all the culture and science of CaixaForum, at your fingertips, and comprise a large catalogue of video and podcast content for all generations and for all tastes. We spoke to Ignasi Miró Borràs, Corporate Director Culture & Science Area at 'la Caixa' to hear all about it.
CaixaForum makes culture accessible to all audiences through a wide variety of initiatives, from exhibitions to workshops, lectures, cinema, debates and family activities. How will CaixaForum+ be different?
IMB: CaixaForum+ is a pioneering digital platform wholly dedicated to the dissemination of culture and science. The platform contains exclusive content that complements and enriches the offer at "la Caixa" Foundation's CaixaForum centres, which are distributed all over Spain. This is its main distinguishing feature: CaixaForum+ is not merely an extension of the physical centres. We do not want simply to transfer our face-to-face activity to the digital world. CaixaForum+ is much more than that. It is, as its name suggests, an addition. It represents the addition of a new way of disseminating culture and science, new content and new formats. New voices and new audiences. We believe that CaixaForum+ will become a benchmark among digital platforms thanks in part to its pioneering approach to culture.
Why is access to cultural content via an online medium so important?
IMB: Our commitment to digitising cultural and scientific content dates back to the autumn of 2019. It was then that we began to weigh up the possibilities open to us. We were driven by a powerful reason: that digitisation enables us to exponentially expand the scope of our cultural action. And that is one of our main priorities: to enable all types of audiences to gain access to culture. Because we see culture as a tool for social cohesion and integration. We firmly believe this, and reaffirm our conviction in all our activities: the dissemination of knowledge strengthens personal development above all. And it is also a driving force for social transformation. As you know, the Covid-19 pandemic accelerated this digital transformation. It was then that "la Caixa" Foundation became whole-heartedly engaged in creating digital content linked to the programmes at our CaixaForum centres and the CosmoCaixa Science Museum. And the response was highly positive. Because, during the hardest moments in the pandemic, culture provided an antidote to uncertainty. And there is no doubt that it continues to do so. That is why we are so determined to take full advantage of all the possibilities that technology offers us in this field.
What will users find when they access CaixaForum+ for the first time?
IMB: CaixaForum+ launches with more than 100 projects and over 1,000 content capsules. And we plan to generate 400 new content capsules by 2023, with new ones appearing weekly. The platform provides on-demand content, without advertising, divided into three blocks: in-house productions (which make up 50% of the total); rights licensing; and partnerships with leading cultural institutions. Video and podcasting are the two main formats available, providing a huge range of content including documentaries, series, concerts, podcasts, films, interviews, lectures and operas. The running time of content also varies greatly: users can find everything from two-minute micro-documentaries to ten-hour talks by great creatives. All this content is divided into nine thematic blocks: fine and visual arts; performing arts; music; architecture and design; life sciences; physical sciences; thought and history; literature; and cinema.
One of the strong points of CaixaForum+ will be its partnerships with leading cultural institutions. What will these partnerships entail?
IMB: CaixaForum+ has the same seal of quality and excellence that covers all "la Caixa" Foundation's cultural activities, and is supported by our solid trajectory in this field. One of the distinctive features of this trajectory is precisely the strategic alliances established with leading national and international cultural institutions. We have been building these partnerships for years, with outstanding results. Proof of this are the first-class exhibitions that we have organised at our CaixaForum centres in cooperation with the British Museum, the Prado Museum and the Pompidou Centre, to name but three institutions. There is no doubt that the new digital platform will enable us to expand and strengthen these alliances from a new perspective, with new challenges, all of which promises to enrich everyone involved. The institutions with which CaixaForum+ cooperates already include the British Museum, the American Museum of Natural History, the Guggenheim Museum Bilbao, the Gran Teatre del Liceu, the Teatro Real and the Palau de la Música, among others. I would also like to highlight the collaboration with referential European cultural platforms like Ikono TV and Medici TV.
Authors
Ignasi Miró Borràs
Corporate Director Culture & Science Area, 'la Caixa' Foundation