Map of Giving in the Czech Republic – Making Trends Accessible
By Klára Šplíchalova, Executive Director at Czech Donors Forum
Monitoring and analysing donations and the entire charitable foundation sector is an important task for any organisation associated with foundations and endowment funds. Only a deep insight into the sector and its operation makes it possible to effectively protect its interests and adopt systematic measures to support its development. The data on foundations and philanthropic activities that we collect continuously is very closely followed by experts over the long term.
Data collection and analysis is not sufficient on their own – therefore we also wanted to make sure that the collected data will be efficiently communicated. We aimed to engage with the most important media outlets and share the information about foundations and giving with the widest possible audience; to this end, we had to find a simple way to communicate the results of our enquiries and surveys to the public in a plain-spoken way. We chose a user-friendly map that allows us to structure our unique data and include regional information. We started to publish annual editions of the Map of Giving, which quickly became popular with journalists as well as the general public. It has become a useful source of comprehensive information on Czech philanthropy that is regularly referred to by the media.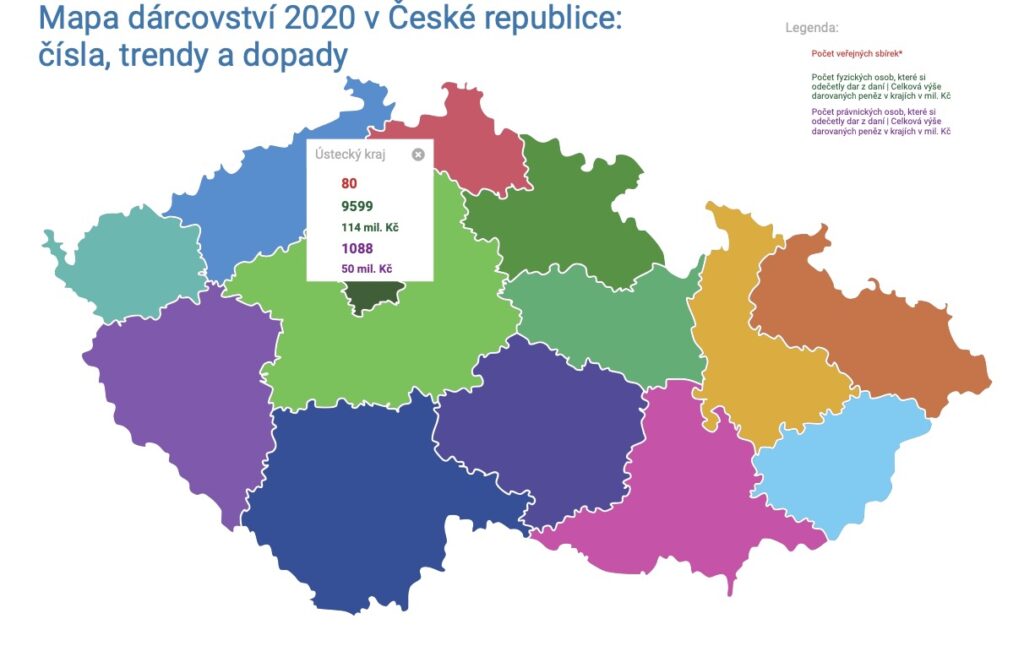 We start by analysing annual reports of charitable foundations
There are about 2500 foundations and endowment funds in the Czech Republic. The Registry of Foundations data shows that approximately 10% of these are incorporated by companies and the rest are private entities. About one-fifth of the charitable entities are incorporated as foundations and the remaining four-fifths are established as endowment funds. The public registry data also indicates the size of foundation endowments. Unlike foundations, endowment funds are not required to deposit endowment money. Corporate foundations do not make use of their endowment either. Most often, they only deposit the required minimum amount necessary to incorporate a foundation, and the funds that are distributed by them or used to finance their activities are provided by the incorporating company.
For our Map of Giving, we analyse annual reports published by foundations and endowment funds, as they are the only source of information to scope out the trends in Czech philanthropy, the volume of donations and the most popular focus areas.
We also monitor public charitable collections. There are around 2000 public fundraising campaigns currently open in the Czech Republic which are organised by legal entities, most often non-profit organisations. Organising a fundraising campaign by individuals is not allowed.
At the same time, the regional view is also important, as many interesting and inspiring public benefit projects emerge on the ground.
Research into individual giving helps us to get a full picture
We have a long-standing cooperation with InsightLab, an agency specialising in online surveys. These surveys supply us with unique and up-to-date data on charitable giving. On an ongoing basis, we ask the public about their various philanthropic activities, giving, public collections and the willingness to help. For example, we know that every second Czech donates to a charitable cause at least once a year. 80% of respondents find non-profit organisations to be important and their work beneficial. It is also apparent that every tenth respondent has been approached to donate to an obscure or untrustworthy fundraising campaign.
Online information sourcing is very flexible and has proven to be very useful during the pandemic. We have been able to conduct our surveys and ask the public about the most current topics.
Foundations mobilising during the COVID-19 crisis
Every year, we focus on a selected topic related to giving and the foundation sector, which makes our map unique. Last year, there was no way of avoiding the consequences of the pandemic and how foundations and endowment funds reacted to it. Although the foundation sector has been severely hit by the crisis (loss of income, suspended cooperation, the ban on organising charitable events as an opportunity for individual giving), the Czech foundations as professional donors immediately mobilised and launched a number of special grant programmes to support their beneficiaries. The foundations greatly benefited from their in-depth knowledge in the field and were very confident that they could optimize the setting up of support schemes – their fast emergency grants as well as ongoing systematic support.
Collections supported by individual donors play an important role
The pandemic has indeed affected the full fabric of society and its charitable activities including public collections (traditional and crowdfunding collections alike). Our survey for the Map of Giving indicated that people have had more encounters with untrustworthy collections. At the same time, the pandemic has severely hit many people's quality of life and work. Despite a huge wave of solidarity when people started making home-made face masks, working as volunteers in hospitals and engaged in many support activities, the survey indicates that due to the overwhelming effects of the pandemic people are concerned that they will not be able to donate the same amounts as they did before the pandemic.
As corporate giving faces huge pressure due to the COVID-19 crisis, individual giving is bound to become even more important. It is, therefore, vital to create conditions for individual donors and address their possible concerns, to make sure that the tools for giving are transparent and giving itself is easy.
That is why the Alliance of Responsible Philanthropic Collections Organisers was formed last autumn on the Czech Donors Forum platform that brings together 60 members. The Alliance is an independent initiative aimed at maintaining high standards of giving and supporting individual donations.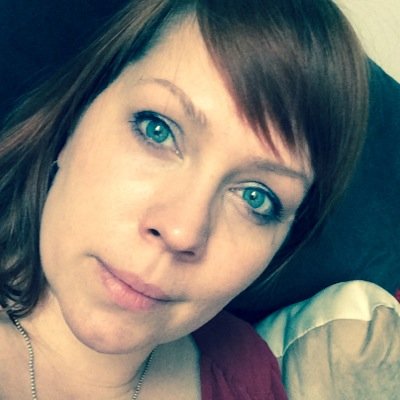 Klára Šplíchalova, Executive Director at Czech Donors Forum