Philanthropy Coalition for Climate
We aim to create a powerful movement for change to mobilise philanthropy across Europe and beyond to address the climate crisis and social inequalities.
Philanthropy Coalition for Climate
The science is clear: humans are causing global warming with dire consequences for the planet and those who inhabit it. The good news? There are solutions and if we act now with sufficient urgency, we can limit future warming and its potential consequences. Already today, the consequences of climate change are visible across the globe and are hitting the most disadvantaged people. We believe that philanthropy has a unique role, responsibility and potential to act now and ensure the protection of people and the planet. Our ambition is to encourage and empower philanthropy to drive bold climate action in Europe and beyond.
Who are we?
The Philanthropy Coalition for Climate is led and hosted by Philea as part of PEX. Our aim is to create a powerful movement for change to mobilise philanthropy across Europe and beyond to address the climate crisis and social inequalities. You can find the full presentation of our work here.
To stay up-to-date on the latest climate news from the philanthropy sector and beyond, subscribe to our weekly climate & philanthropy newsletter.
In 2021, the Philanthropy Coalition for Climate is funded by the Daniel and Nina Carasso Foundation, the Laudes Foundation and Stiftung Mercator. Robert Bosch Stiftung is a friend of the Philanthropy Coalition for Climate.
Our vision
Philanthropy is about mobilising private resources for public good yet today an overwhelming majority of philanthropic resources are used without reflecting their impact on climate change. At the same time the impacts of climate change put philanthropic missions at risk everywhere and in every field. If we don't act now, how can we be sure that we can act tomorrow?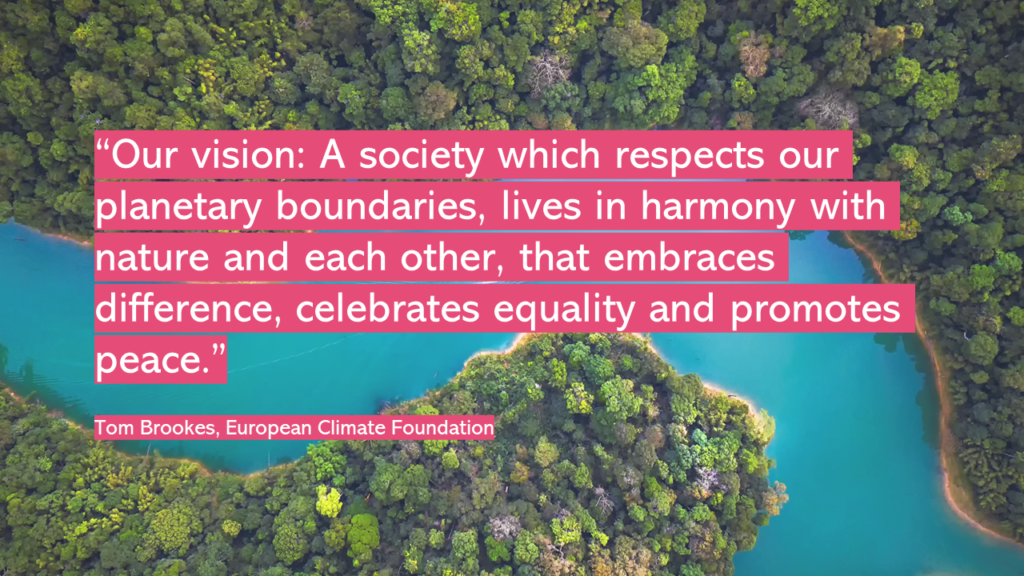 How do we act?
Our aim is three-fold:
Encourage.
Encourage foundations of all types to integrate the climate lens into their portfolio for climate action to become mainstream
Empower.
Empower philanthropy support organisations to drive climate action across the philanthropy sector.
Engage.
Engage partners and allies to shape the climate agenda across Europe.
What do we do?
National
We build climate support infrastructure and coordinate climate action in national, European and global philanthropic contexts.
We facilitate the peer exchange for national associations of foundations across Europe to build national climate support infrastructure.
Climate commitments have been rolled out at a national level in the UK, France and Spain by Dafne members, ACF, CFF and AEF respectively which, combined,  have over 215 signatories. In April 2021, ACF published its first progress report, which tracks the progress of signatories across the five pillars of the Funder Commitment. Click on the images below to find out more on the individual commitments.
Europe
We promote climate action across more than 60 national, European and thematic philanthropy networks, through the PEXcommunity.
We have mapped the climate philanthropy networks and platforms and connect them through peer exchange.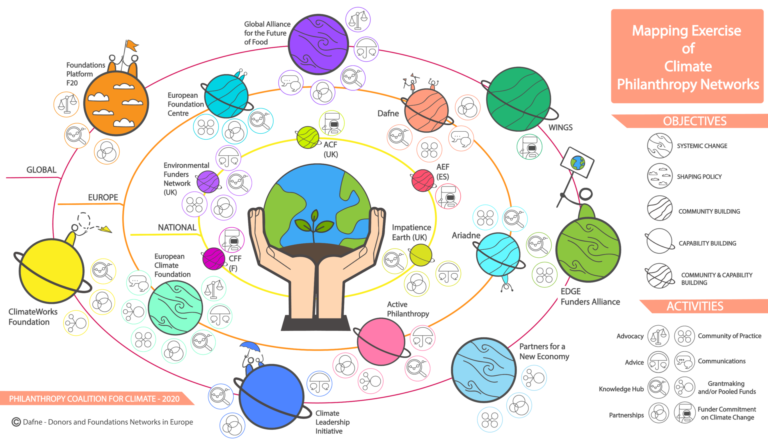 We are providing European intersectional peer exchange in collaboration with Active Philanthropy for foundations and funders to learn, imagine and act on climate collectively.
We coordinate the climate voice and engagement of European philanthropy vis à vis EU and multilateral institutions.
Our call to action?
Get in touch, get involved and share your foundation's climate journey using #PhilanthropyForClimate
We send out a weekly Climate & Philanthropy Newsletter. Please subscribe here. You can find past editions of the newsletter here. We have also curated an open source knowledge hub to further facilitate communication, information-sharing and collective thought in order to maximise the impact we can have as a sector. Click the icon above to discover the Climate & Philanthropy European Knowledge Hub.