European Philanthropy Coalition for Climate
Our aim is to create a powerful movement for change by mobilising the philanthropy sector to address climate change as a cross-cutting, societal issue. We believe that all foundations, regardless of their mission, can and should commit to meaningful climate action. We consider philanthropy infrastructure organisations to be critical multipliers who can increase our impact across Europe and accelerate much-needed action.
European Philanthropy Coalition for Climate
Already today, the effects of climate change are felt by people in every part of the world. We need to act now and with sufficient urgency to minimise its impacts on our planet and its inhabitants. The climate crisis does not affect us all equally – instead, the poorest countries and people, who are responsible for the smallest share of emissions, also face the greatest risk. As such, tackling this crisis requires far-reaching transformational changes to policies and behaviours at an unprecedented speed and scale.
A growing number of foundations and philanthropic organisations are committed to taking urgent action on climate change. Philanthropy's independence and resources offer a unique potential to unlock catalytic changes and support the much-needed transition to sustainable societies. Climate change is a health issue, a gender equality issue, a racial and social justice issue, an intergenerational issue, educational issue, an economic issue, a cultural issue, a security issue, a human rights issue, and a local community issue. Fundamentally, it erodes the basis of all funding areas. As such, we need an 'all-of-philanthropy approach' with foundations of all types integrating the climate lens across their programmes, operations and investments, regardless of their mission. Join the International Philanthropy Commitment on Climate Change today.
To stay up-to-date on the latest climate news from the philanthropy sector and beyond, subscribe to our weekly climate & philanthropy newsletter.
Who we are:
The European Philanthropy Coalition for Climate is led and hosted by Philea and was co-initiated by the PEXcommunity. We connect a diverse group of foundations, philanthropy infrastructure organisations and other partners in order to accelerate transformational change. Our ambition is to encourage and empower philanthropy to drive bold climate action and transformational change in Europe and beyond. You can download an overview of our work here.
In 2022, the European Philanthropy Coalition for Climate is funded by the Daniel and Nina Carasso Foundation, the Laudes Foundation and Stiftung Mercator. The Robert Bosch Stiftung is a friend of the European Philanthropy Coalition for Climate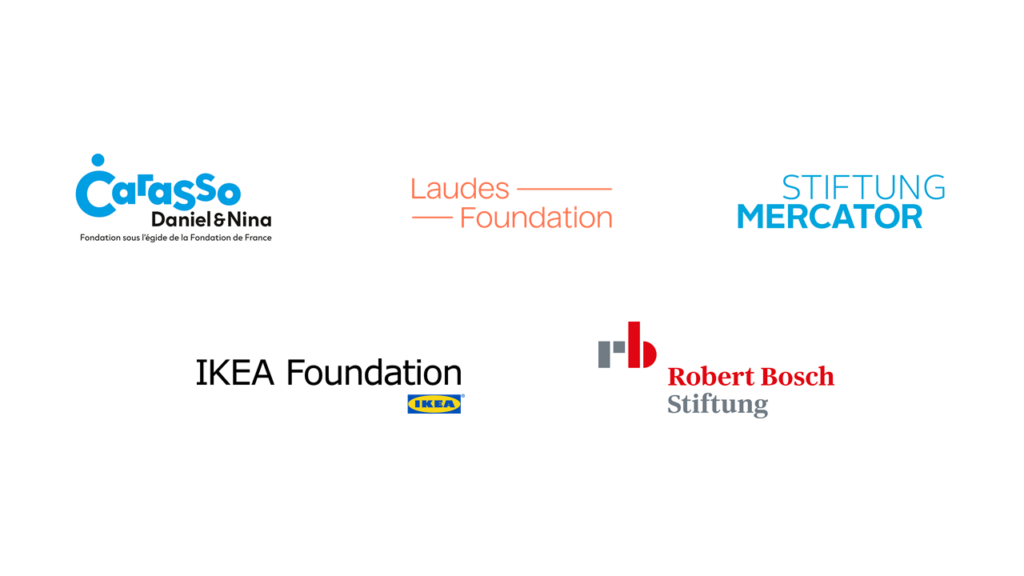 What we do:
Encouraging foundations of all types to integrate climate action across their portfolio:
We champion #PhilanthropyForClimate:
#PhilanthropyForClimate is a growing global movement of over 450 foundations which, regardless of their mission, status or geographic location, are committed to taking urgent climate action.
International Philanthropy Commitment on Climate Change
We support WINGS in setting up and implementing the International Philanthropy Commitment on Climate Change. The International Commitment provides a framework for all types of foundations to integrate a climate lens across their work.
National Philanthropy Commitments on Climate Change across Europe
Philanthropy commitments on climate change have been rolled out at a national level in the UK, France, Spain and Italy by Philea members; ACF, CFF, AEF and Assifero. These combined, have over 400 signatories. In April 2021, ACF published its first progress report, which tracks the progress of signatories across the five pillars of the Funder Commitment. Click on the images below to find out more about the national commitments.
We provide safe spaces to learn and take action:
Health & climate peer group
We co-host a regular peer exchange for European funders and foundations interested in exploring the intersections between health and climate in collaboration with Active Philanthropy.
Public engagement peer group
By funding public engagement initiatives relating to climate change mitigation, European foundations can increase their impact in a chosen area. With the Calouste Gulbenkian Foundation UK and the Hour is Late, we are looking to explore how foundations can increase their impact in their chosen area by funding and collaborating around public engagement initiatives.
We empower philanthropy infrastructure organisations:
We host a climate peer exchange for national associations
We host a quarterly peer exchange for national associations to discuss how they can encourage foundation' climate action within their membership and networks at a national level.
We engage with the PEXcommunity

We host a peer exchange for climate philanthropy networks
We have mapped the climate philanthropy networks and platforms and connect them through a quarterly peer exchange. By connecting these networks, we aim to encourage coordination and collaboration across the climate & philanthropy ecosystem.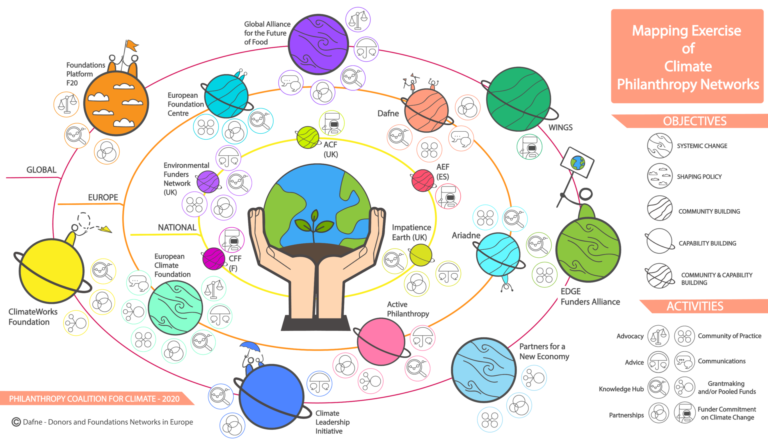 We engage partners and allies:
We work collaboratively with organisations within and beyond the philanthropy ecosystem to strengthen our work.
We coordinate the climate voice and engagement of European philanthropy vis à vis the EU and multilateral institutions.
We curate and disseminate knowledge on climate & philanthropy.
We send out a weekly Climate & Philanthropy Newsletter. We have also curated an open source Climate & Philanthropy European Knowledge Hub to further facilitate communication, information-sharing and collective thought in order to maximise the impact we can have as a sector.
Our call to action?
Get in touch, get involved and share your foundation's climate journey using #PhilanthropyForClimate.