European Philanthropy Coalition for Climate
We believe that all foundations, regardless of their mission, can and should commit to meaningful climate action. Philanthropy infrastructure organisations are critical multipliers who can increase our impact across Europe and accelerate much-needed action. We aim to foster a powerful movement for change by mobilising the philanthropy sector to address climate change as a cross-cutting, societal issue.
Our ambition is to encourage and empower philanthropy to drive bold climate action and transformational change in Europe and beyond.
How to get involved
Join the global #PhilanthropyForClimate movement
We champion and co-develop the global #PhilanthropyForClimate movement. #PhilanthropyForClimate is a growing global movement of nearly 600 foundations which, regardless of their mission, status or geographic location, are committed to taking urgent climate action through either the international or a national climate commitment.
Join our peer exchanges for foundations and philanthropy infrastructure organisations
We host regular peer exchanges for European funders and foundations on intersections between health and climate.
We host a climate peer exchange for national associations of donors and foundations to discuss how they can encourage climate action within their membership and networks at a national level including through the development of national climate commitments.
We have mapped the climate philanthropy networks active in Europe and connect them through regular peer exchange with the aim of encouraging coordination and collaboration across the climate & philanthropy ecosystem.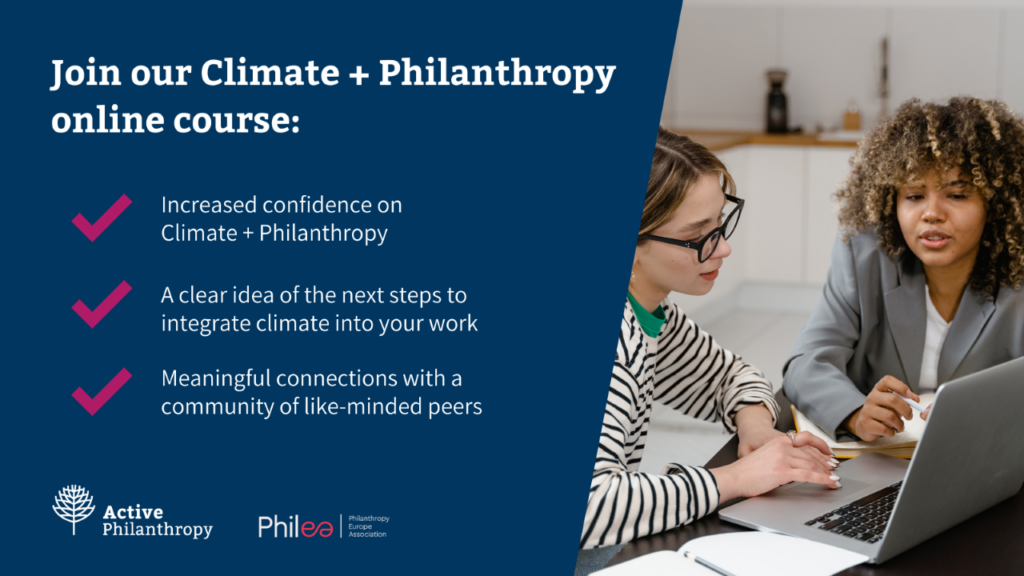 Go beyond the sector
We collaborate with organisations within and beyond the philanthropy ecosystem, including academics and policymakers, to strengthen our work on climate change.
We work with Philea's Policy and Advocacy team to coordinate the climate voice and engagement of European philanthropy vis-à-vis the EU and multilateral institutions.
The climate crisis: Why we need an all-of-philanthropy approach
Climate change is here. Its effects are felt today in every part of the world. The climate crisis does not affect us all equally – instead, the poorest countries and people, who are responsible for the smallest share of emissions, also face the greatest risk. Protecting our planet and its inhabitants requires far-reaching transformational changes to policies and behaviours at an unprecedented speed and scale.
A growing number of foundations and philanthropic organisations are committed to taking urgent action on climate change. Philanthropy has a unique potential to unlock catalytic changes and support the much-needed transition to sustainable societies. Philanthropy's independence, resources and expertise allow it to accelerate innovation and take risks which are critical for solving the climate crisis. This enables philanthropic organisations to both respond to environmental and social crises in real time and take a long-term perspective in the change it affects. Foundations convene and connect a range of actors including civil society, business, governments all of which play a vital role in ensuring a just transition.
Climate change is a health issue, a gender equality issue, a racial and social justice issue, an intergenerational issue, educational issue, an economic issue, a cultural issue, a security issue, a human rights issue, and a local community issue. Fundamentally, it erodes the basis of all philanthropic activity. As such, we need an all-of-philanthropy approach with foundations integrating the climate lens across their programmes, operations and investments, regardless of their mission, size, scope or geographic location.
About the European Philanthropy Coalition for Climate
The European Philanthropy Coalition for Climate is an initiative of Philea and was co-initiated by the PEXcommunity. We connect a diverse group of philanthropy infrastructure organisations, foundations and other partners to accelerate transformational change. Our work is guided by an Advisory Board, made up of representatives of foundations and philanthropy infrastructure organisations.
In 2022, the European Philanthropy Coalition for Climate is funded by the Daniel and Nina Carasso Foundation, IKEA Foundation, Laudes Foundation and Stiftung Mercator. Robert Bosch Stiftung is a friend of the European Philanthropy Coalition for Climate.
Let's talk about hope: Why we need a new story on climate
Curbing the climate crisis requires a systemic transformation that touches people in every area of their lives. A transition of this scale requires, above all, an answer to the question "What for?" However, our discourse on climate rarely envisions the world we want to build. A plea for more hope and imagination.
How philanthropy can drive people-centred climate action
In all of the critical talk about fossil fuels and low carbon technologies, it is easy to forget that people are central to the climate change issue. People cause it, people suffer from it, people make policy good and bad, and to see real progress people have to be persuaded to prioritise climate change among their many other pressing concerns. Kat Wilcox, Climate Outreach, highlights some important considerations for philanthropy.
#PhilanthropyForClimate: Be bold, be fast, think big
Climate change is the crisis of our time. Bending current emissions trajectories is the central task to achieve climate neutrality. This requires enhanced action and cooperation in and across all societal sectors on a global scale. Looking at recent developments in the philanthropy sector reinforces my hope that we can achieve this.