'How on earth can I get out of here?!'
In 2016, you established the MaLisa Foundation. What does the name refer to?
Maria: Elisabeth and I created the foundation together, and that is how the name came about: 'MaLisa'. For a long time, we have been involved in project work in the Global South helping protect women and girls from violence. Through my work with German Doctors e.V. – I have been the association's chair of the board of trustees for 20 years and have been affiliated with this organisation ever since – I had the opportunity to gain first-hand experience of how, in many parts of the world, women and girls are discriminated against.
The MaLisa Foundation is now mainly operating in Germany. Why?
Elisabeth: The more we educated ourselves on violence against women and girls, the more we realised that there is much to be done in Germany as well. When we considered where we could be most impactful, it quickly became clear that we needed to tackle harmful gender stereotypes. We are aware that these stereotypes are often facilitated by the media. This is the reason why our approach focuses on this field.
For some people, addressing gender issues is either unnecessary or 'going too far'. Why is there such a resistance to change?
Maria: Many people find it difficult to change existing relations, particularly power relations. It is not easy for all of us to free ourselves from our habitual ways of thinking and behaviour patterns – some of which we have been practising for many years. When it comes to gender justice, resistance to change might be even greater, and this means that we have to challenge ourselves and question our relationships, especially our close social relationships.
This, mostly unconscious, acceptance of gender stereotypes – are you yourself immune to it?
Maria: Not at all! A few years ago I had a significant experience in this respect: I was sitting on a plane when a female voice announced: 'Hello, this is Ms. Meier speaking, I am the captain on your flight to Munich today'. And my first thought was – how on earth can I get out of here? Then I was shocked about myself. Why could I not trust a woman? Why was it difficult to imagine a female pilot safely flying an airplane? It became clear to me that, in all the movies that I saw and children's books that I read, there were only male pilots. In that moment I suddenly realised the tremendous power of images – and role models.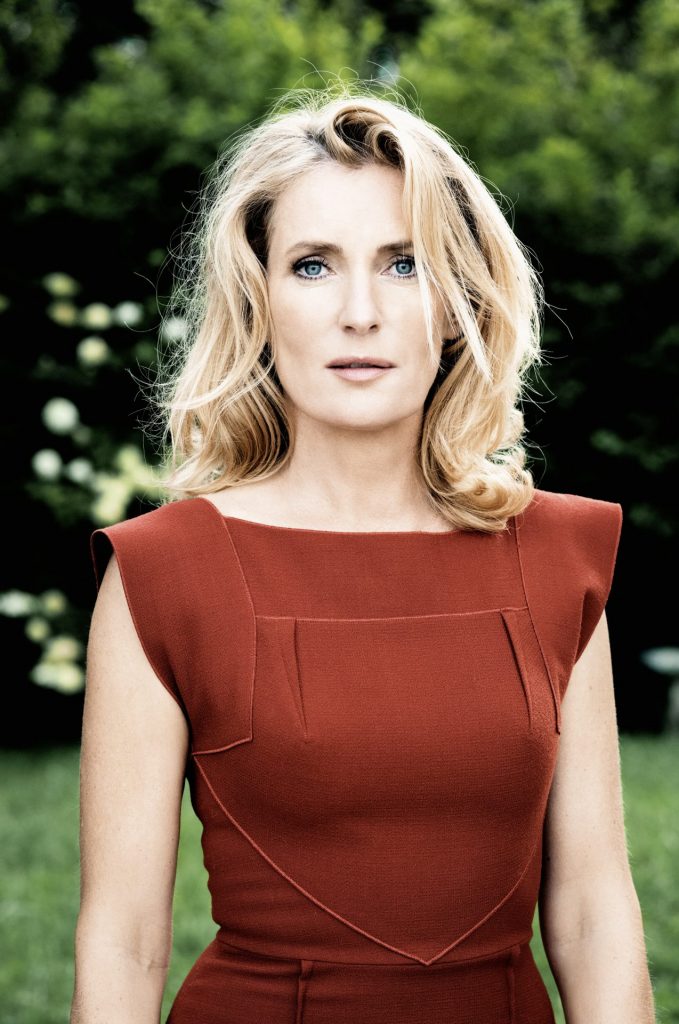 You are often on stage as a singer and songwriter, among other things. What about gender equality in your industry – is there anything you do differently from your colleagues?
Elisabeth: I try to be conscious about the images that are conveyed to me in music videos and try to understand what my feelings tell me. There are pictures of naked women with perfect bodies in countless music videos. With regard to the way they present themselves, I think every artist needs to listen to what feels right to him or her, and that is not always easy. A music video of a popular American singer whom I like had a lasting impression on me. In that video, she kidnapped a woman and tortured her. I was disturbed by these images and wondered why a successful artist would glorify violence against women in her own video.
We want to encourage people to critically reflect on such images. Another important question to me is how artists can support each other. We all have so much to offer. Would it not be great if we used all our creativity to the full, without being restricted by stereotypical role models? This would help us expand the imagination of our listeners. The impact of the images conveyed through media to us is enormous. A 2010 survey among young people showed that TV played a much greater role in their career choices than school or career counselling. Another study found out that young girls increased their interest in technology after watching the TV series 'Annedroids' featuring a girl building robots as the main character. That is why gender representation in the media is the main focus of our work.
What does your foundation do to tackle these issues?
Elisabeth: Instead of addressing the issue of gender representation in the media based on our perceptions, we wanted to engage with the topic on the basis of concrete data and facts. Therefore, we started by initiating a study on gender representation in German television and film. Can you imagine that such a study has never been conducted in Germany! In 2016 we approached TV channels and film funding institutions and invited them to collaborate with us in the study.
What were the responses?
Elisabeth: They were very positive.
Maria: Yes, we were welcomed with open arms, so to speak: our partners, the four major broadcasting companies – both private and public – and three major film funding institutions thoroughly engaged with the results of the study and subsequently introduced a series of measures, for instance, to work towards a balanced gender representation of invited experts in news programmes or talk shows, or took measures to raise awareness about the stereotypes in fictional storytelling.
Early this year you presented the results of the study 'Female (self-)representation in social networks'. What are the main findings?
Maria: We asked ourselves whether social media and other online platforms that are popular among young people such as YouTube, Instagram or music videos, are more diverse that the 'traditional' TV. We found that in most popular online platforms and music clips women were underrepresented in a ratio of 1 to 2, similar to the results we found for TV. Furthermore, women were represented performing predominantly traditional roles, while the spectrum for male roles was much broader. In music videos women were often sexualised and staged as passive objects, while the most successful bloggers on YouTube and Instagram usually dealt with traditionally 'feminine' topics such as beauty and needlework. And this despite the fact that there are so many other interesting topics, among them politics, music, comedy, science… The range is much wider than what young people get to see today.
Elisabeth: It is important to advocate for more diversity in the content that is offered.
Maria: And for more media literacy. If young people, as well as adults, became aware of the fact that the supposedly 'natural' and 'authentic' images and representations are in fact being staged and are often the result of underlying commercial interests, they could better contextualise the content.
As an actress, you have an insider view of an industry that has been under much scrutiny in the recent years, for example through #MeToo. What is your impression, have there been any structural changes in your sector?
Maria: Structural and cultural changes take time. The media industry is no different from the rest of the society we live in. More than half of women in Germany have already experienced sexual harassment; there is much more to do to stop it. Last year Themis was established in Germany, an organisation that provides help and assistance in cases of sexual harassment and violence in the film and media industry. Thanks to the #MeToo movement, the discussions around gender equality in the media industry have intensified. There is now more awareness of the bigger context, the power dynamics and what can be done to bring about change. We see that broadcasters, production companies and film funding institutions show genuine willingness to change this, and not only willingness but also action. And yet, Germany is lagging behind other countries. As a result of #MeToo, celebrities in the US and UK have shown solidarity with less prominent survivors of sexual violence and also made financial commitments to this cause. They created the Time's Up 'Legal Defense Fund' in the US as well as Time's Up 'Justice and Equality Fund' in the UK that aims to bring an end to the culture of harassment, abuse and impunity by resourcing an expert network of advice, support and advocacy organisations and projects. There is no such movement in Germany yet.
Back to your foundation. What surprised you most since you established MaLisa?
Elisabeth: That there are few German foundations tackling the issue of gender justice, while there is still so much to be done: women earn less than men; the percentage of women in the German Bundestag has decreased in the last elections; women are underrepresented in the media, higher education and business; every third woman in Germany has experienced physical and/or sexual violence.
Philanthropy in other countries seems to be much more advanced. Before establishing the foundation, we consulted the members of the international network Philanthropy Advancing Women's Human Rights (PAWHR). For the Bill and Melinda Gates Foundation, for instance, it is clear that poverty reduction can be only successful if one integrates a gender perspective into the work and that it is relevant to base one's own work on data. Recently, Melinda Gates announced her commitment of $ 1 billion to promote gender equality in the US. In Germany, we are of course in dialogue with Ise Bosch, winner of the 'philanthropist of the year' award in 2018. She inspires us, and we are very grateful that she shared her many years of experience with us. We wish to have an intense exchange with other foundations in Germany and would like to co-operate with others to promote gender equality.
By Nicole Alexander and Mario Schulz. Translated by Hanna Stähle.
Photos by Mathias Bothor (Maria Furtwängler) and Jorinde Gersina (Elisabeth Furtwängler)
Maria Furtwängler is the founder and board member of the MaLisa Foundation, physician (Dr. med), actress and producer. Her personal mission is to empower and support girls and women across the world who are exposed to humiliation and discrimination. She is President of the Board of Trustees for the aid organization German Doctors and co-founder of the Digital Life Design conference series DLDwomen. She has also received many awards for her charitable work, including the Order of Merit of the Federal Republic of Germany, the Bavarian Order of Merit, the Leibniz Ring Hannover 2016 and the Karl Kübel Prize 2017.
Elisabeth Furtwängler is the founder and board member of the MaLisa Foundation, musician and art historian. After her high school certificate, Elisabeth travelled through Cambodia and the Philippines. In personal encounters and conversations with those affected, she became aware of the effects of human trafficking and sexual exploitation. With the help of German Doctors and local aid charities, she set up the MaLisa Home with her mother, Maria. She has studied history of art in Cambridge and music in Los Angeles. Elisabeth Furtwängler performs as a singer-songwriter under the stage na