What if every foundation cared about climate?
27 October 2021, 15h00-16h45 PM CET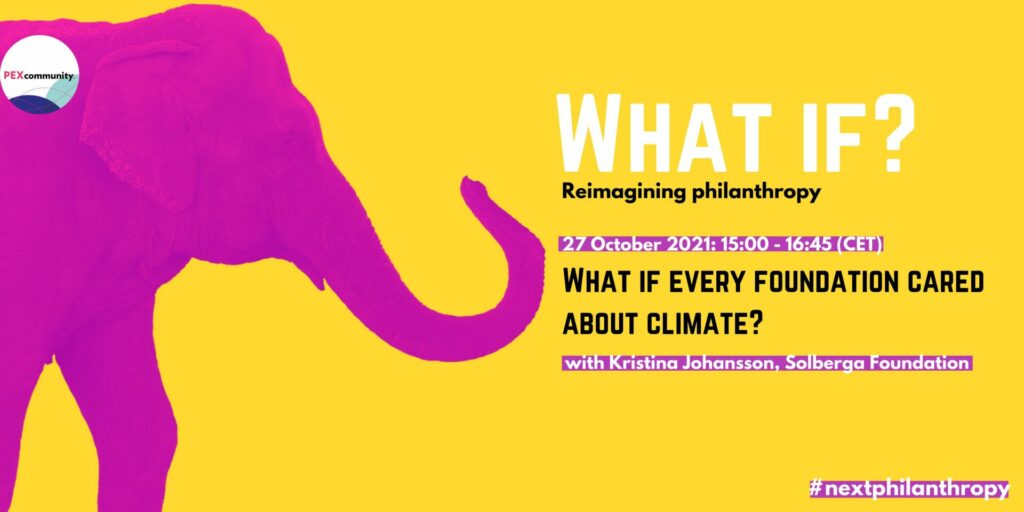 Philanthropy is about mobilising private resources for the public good yet today an overwhelming majority of philanthropic resources are used without reflecting their impact on climate change. The climate crisis affects every aspect of human life, and by extension, all areas of philanthropy activity. With its independence and resources, philanthropy has the potential to support the bold and urgent transformative change required across our societies. So, what if every foundation cared about climate?
We invite you to our second event of the What if? Reimagining philanthropy event series where we will explore, build knowledge, and inspire action with regards to how funders and foundations can apply a climate lens to everything they are doing, and what are the opportunities that can emerge from it.
We will be joined by Kristina Johansson, Director of the Solberga Foundation and activist for racial, gender and climate justice.
The What if? Reimagining philanthropy event series has been designed by the Next Philanthropy partners of the PEXcommunity. Next Philanthropy provides an inclusive space for a thought-provoking debate and exchange of practices on the current state of play and what's next in philanthropy in Europe. The aim is to generate new possible routes for philanthropic, social, and political action and to shape the field and orient it.
The concept of intentional learning, experimentation and inclusive participation through "questioning" is at the very heart of Next Philanthropy. There are no ready-made answers and simple solutions, but we can raise relevant questions to reimagine ways for transformative change and test emerging ideas in innovation sandboxes.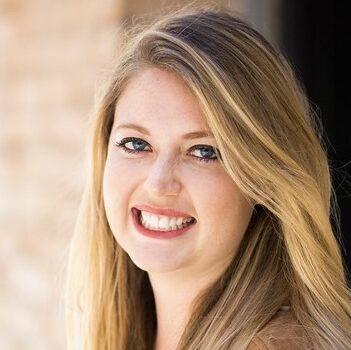 About Kristina Johansson:
Kristina is the founder of the Solberga Foundation, a family foundation that supports transformative grassroots movements for climate justice. Solberga Foundation was established in 2018 in the UK and gives grants globally. For over 10 years Kristina has been engaged in activism for racial, gender and climate justice. She holds a bachelor's degree from Middlebury College. She worked for Planned Parenthood and the United Nations Peace Women Program. She co-founded Resource Justice in the UK, a community of young people with wealth committed to the equitable distribution of wealth, land, and power. She is a proud trustee of the Vagina Museum in London and recently joined the EDGE Funders Alliance board. She is originally from the UK and Sweden and now resides in London.
About PEX:
PEX is a community of people working in the European philanthropy ecosystem. PEX provides a unique space to create a European philanthropy identity as common ground to jointly advance the philanthropy ecosystem in a changing world. PEXcommunity, jointly co-created at the PEXforum 2020 in Madrid, stands for collaboration, diversity, creativity and exchange in the European philanthropic sector. It unites more than 60 philanthropy networks, among them national, regional and thematic organisations. Read more.
About Next Philanthropy:
Next Philanthropy is driven by partners from across Europe who are part of the PEXcommunity: Alliance Magazine, Austrian Foundations Association, Beacon Collaborative, Dafne – Donors and Foundations Networks in Europe, Assifero – the Italian national association of grantmaking foundations and private institutional philanthropy, Rockefeller Philanthropy Advisors, Renewable Freedom Foundation, EDGE Funders Alliance, the National Lottery Community Fund and TUSEV – Third Sector Foundation of Turkey. Read more.
Join the conversation about the future of philanthropy in Europe by sharing news and thoughts under #nextphilanthropy.