Webinar | EU elections 2019: Is a Eurosceptic sentiment a threat to philanthropy?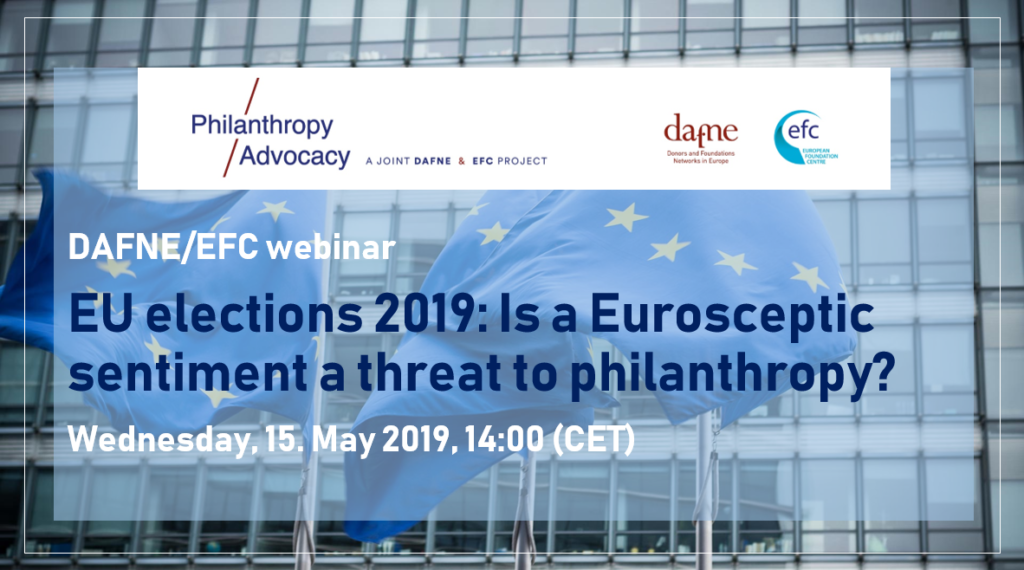 What is this webinar about?
With only a few weeks to go until the European elections on 23-26 May, a new study from the European Council on Foreign Relations (ECFR) anticipates that 30% of the newly-elected MEPs will represent Eurosceptic parties. The study provides an analysis of what such a scenario would mean for the EU in terms of the rule of law, foreign and trade policy, social policy, migration and more generally the impact on the capability of the European Parliament to promote or hinder further developments of a free, competitive and multilateral-minded EU.
The joint DAFNE/EFC Philanthropy Advocacy initiative is holding a webinar that will put these issues into the context of philanthropy. Participants will discuss the ECFR study and analysis with experts and explore how the new European Parliament might impact European philanthropy as well as the legislative framework for philanthropy, namely the implementation of the European Philanthropy Manifesto.
Who is this webinar for?
This webinar is intended for foundations, civil society organisations, philanthropy support organisations and the wider public interested in European affairs.
Who are the speakers?
Susanne Baumann, Project Director, Unlock Europe's Majority, European Council on Foreign Relations: "What to expect from an EP with 30%+ Europe sceptical MEPs?"
Ludwig Forrest, King Baudouin Foundation: Analysing potential impact of such a scenario on the way foundations can work across Europe
Hanna Surmatz, EFC, Philanthropy Advocacy: Introducing the European Philanthropy Manifesto
The webinar will be moderated by Max von Abendroth, DAFNE, Philanthropy Advocacy.