COP26 Philanthropy Roundtable
It is our great pleasure to invite you to the virtual Philanthropy Roundtable "#PhilanthropyForClimate: How can philanthropy galvanise local action for global impact?" hosted by Dafne, the European Community Foundation Initiative, Foundation Scotland, the Foundations Platform F20 and WINGS. The virtual event will take place on November 9, from 2PM-4PM UTC/3PM-5PM CET in the context of the COP26.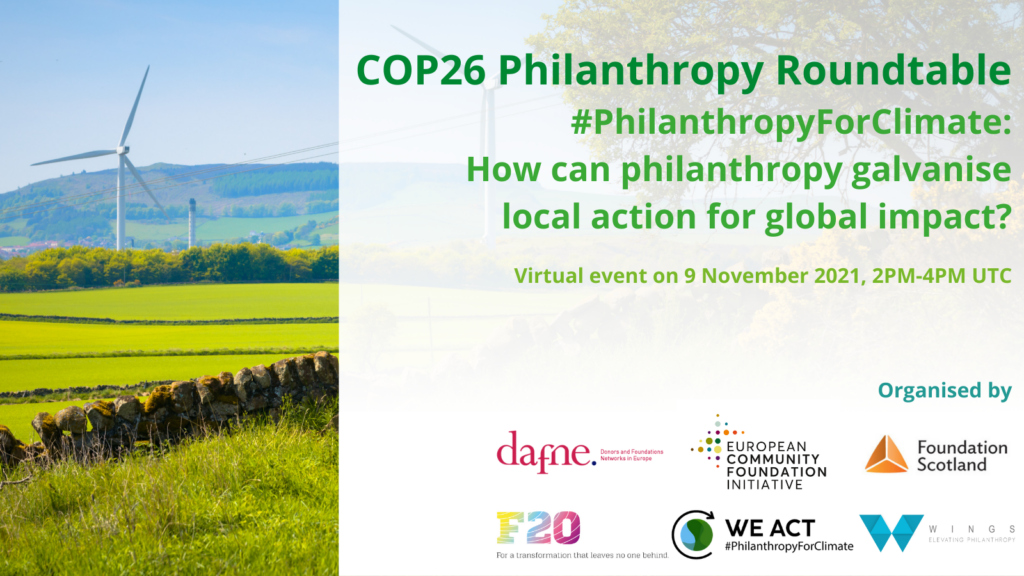 In light of unprecedented global crises encompassing the COVID-19 pandemic and the biodiversity and climate crises, the concept of 'Think global – Act local' which emerged from the first Rio Earth Summit in 1992 is still of great relevance for the COP26. It is a timely and accurate description of how to respond to the global challenges within our immediate local environments, whilst being aligned with globally agreed frameworks such as the Sustainable Development Goals (SDGs) and the Paris Climate Agreement.

Philanthropy plays a crucial role in galvanising local action for global climate impact. With the virtual roundtable we would like to shed light on the role of philanthropy in connecting the local and global dimensions and building sustainable solutions required for addressing our global crises effectively and holistically.
The virtual event consists of three parts:
Views from COP26: Can we tackle the climate crisis in time?
Invitation to join the #PhilanthrophyForClimate movement
Panel discussion: How can we build resilient communities and sustainable solutions to the global crisis at the local level?
Please register here by 8 November.

We very much look forward to you joining us for this important discussion.