Dafne Winter Meeting: How can philanthropy leave its comfort zone?
For too long, philanthropy has largely been sheltered from societal and economic crises and, as a result, has often lulled itself into a comfortable feeling of complacency. As the world grapples with overlapping crises, philanthropy needs to step up more boldly and respond to the challenges of today and tomorrow. For this reason, helping foundations put forward effective and ambitious philanthropy was at the core the Dafne Winter Meeting, as suggested by Hanne Rasmussen, CEO of the Danish Foundations' Knowledge Centre.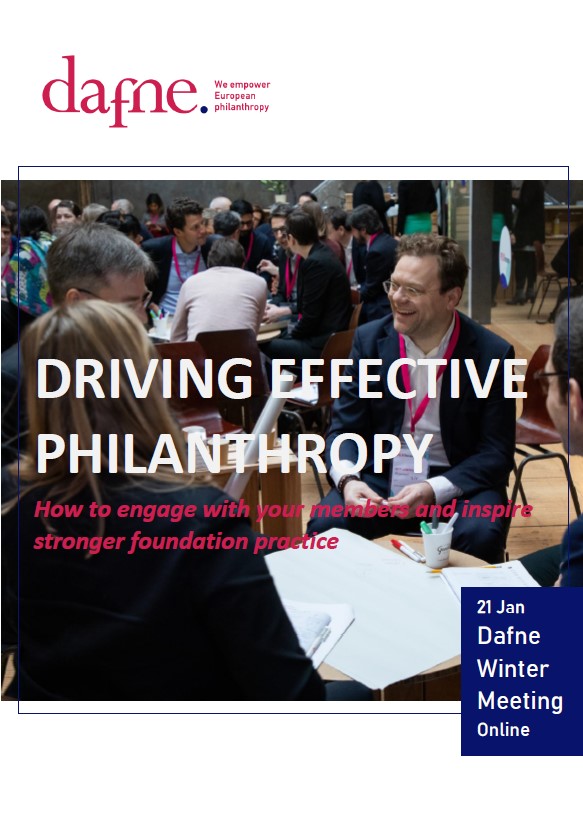 Participants were first encouraged to think about what philanthropy leaving its comfort zone meant to them: a sense of discomfort, responding to new challenges, bold and daring philanthropy, asking critical questions, cooperation within and beyond philanthropy and involving the 99% of people currently not involved in philanthropy were some of the answers that came up. These reflections highlighted the need for radical and systemic change. Hanna Stähle, quoting Felix Oldenburg, former Chair of Dafne, said: "It is not about giving someone a fish, nor even about teaching them to fish, it is about changing the whole fishing industry."
"It is not about giving someone a fish, nor even about teaching them to fish, it is about changing the whole fishing industry."
But this raises a fundamental question: what can national associations concretely do to encourage an ambitious, bold and effective foundation practice? This is the question that UK's Association of Charitable Foundations (ACF) tackled through its flagship Stronger Foundations project. This initiative aims at helping grant-giving charitable foundations identify and pursue ambitious practice so that their resources are allocated for social good, maximising the potential benefit to the people, communities and societies they support. To these means, ACF set up six thematic working groups focusing on Diversity Equity and Inclusion, Impact and Learning, Strategy and Governance, Transparency and Engagement, Investment, and Funding Practices respectively. Members were closely involved in shaping and contributing to this process, with over 100 foundation representatives sitting in the working groups and external contributors were engaged throughout to bring a different, sometimes critical, perspective. So far, this project has resulted in six thematic reports, one cross-cutting report, a report aimed at the Chairs of foundations and a self-assessment tool for foundations.
Most foundations inherently hold power and with power, comes responsibility.
Carol Mack, Chief Executive of ACF, and Max Rutherford, Head of Policy, shared with the Dafne members what cross-cutting pillars of stronger foundation practice have emerged so far, notably:
Mission: The importance aligning values, resources and behaviours with 'mission,' a reflection of the foundation's strategic choices, values, motivations, and history which gives the direction and purpose, and a public articulation on what it seeks to achieve.
Knowledge: The use or acquisition of knowledge characterises most foundations and these require a culture of learning featuring the support, opportunities and mechanisms to act upon lessons learnt.
Power: Most foundations inherently hold power and with power, comes responsibility. A stronger foundation understands its power dynamics and how they might influence funding relationships and takes steps to redress the potential for causing harm.
Accountability: Foundations are uniquely placed with often few to hold them accountable; this is positive as it enables great flexibility but can draw criticism and should not lead to complacency or poor practice.
Connection: It is essential for foundations to understanding the ecosystem in which it operates and the importance of external engagement and collaborative thinking, with collective efforts often leading to impact greater than the sum of its parts.
These themes seek to inspire foundations to pursue a stronger practice. This initiative provides an excellent starting point for other national associations to consider their role in promoting ambitious and effective practice in their countries.
Participatory engagement with their members is central for national associations in their ambition to foster positive change within the philanthropy ecosystem. Max Rutherford, Rosa Gallego from the Spanish Association of Foundations (AEF), Jean-Marc Pautras and Beatrice de Montleau of the French Foundation Centre (CFF) shared their insights on how to drive such processes. In hindsight, the Stronger Foundation project highlighted the importance of consulting members to uncover the broadest scope of views, creating clear terms of reference and ensuring a transparent recruitment process for the foundation representatives most closely involved in the projects.
Max Rutherford shared how members were empowered to take ownership through the appointment of member chairs to each working group. These chairs acted as a public-facing spokespersons, writing the report forewords and representing the project externally. Also, he emphasises the importance of frequent outputs in the public domain to sustain engagement and interest. Beatrice de Montleau underlined the necessity to ask members the right questions and allowing them to shape the work of national associations. In CFF's case, these were "What are you doing?" and "How can we support you in this?" Rosa Gallego elaborated on the methodology used by AEF to create a sense of community and help their members contribute to climate action. Using ACF's Funder Commitment on Climate Change as a basis, they translated this linguistically and culturally into the Spanish context to create something meaningful for the foundations. It was useful in this example for a single member to take the lead, also in terms of funding.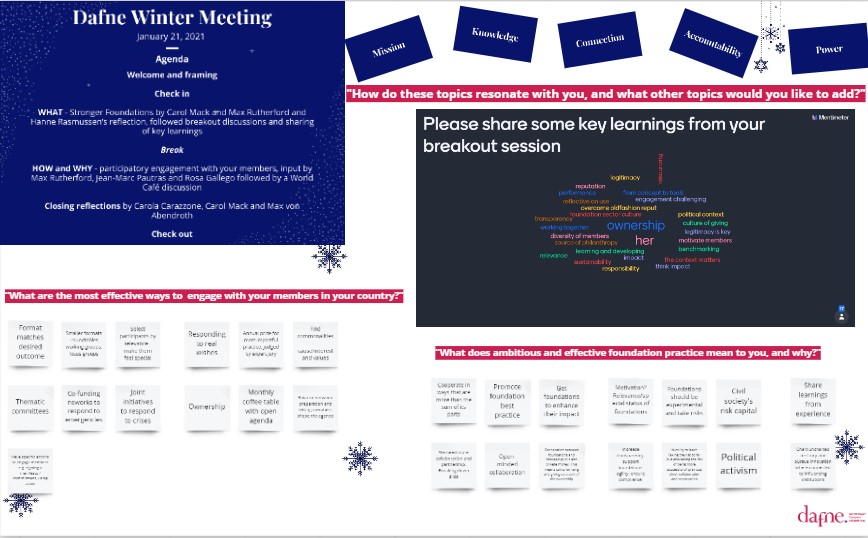 This fruitful discussion reinforced the importance of Dafne members coming together and sharing their successes and, perhaps more importantly, their setbacks. Carola Carazzone, Secretary General of Assifero and now Dafne Chair, shared the benefit on being able to build on the shoulders of her Dafne peers. What resonated from this meeting was the value of not starting from scratch but rather adapting and contextualising the initiatives and lessons learned by other national associations.
Although it is important to foster an ambitious philanthropy ecosystem, this cannot be uncoupled from a stern sense of realism which applies to every national and international context. The issues broached in this meeting are cross-cutting and relevant across Europe and beyond which implies an inherent complexity that cannot, and should not, be overlooked. The challenge for Dafne is reflecting and tackling this complexity in an ambitious, effective and realistic manner.
Useful resources: