Community foundations – Opening space for civil society in Hungary
by James Magowan, ECFI
Despite a challenging operating environment, community foundations in Hungary are providing a space for civil society engagement, building trust, and mobilising resources. They are strengthening a culture of participative democracy by being inclusive and encouraging involvement in planning and decision-making. They are advancing social justice by empowering those in difficult situations with the active support of the whole community and through promoting cohesion. They are connecting people who can give their time, money and talent to causes they value and to change at the local level.
A recently published ECFI / Roots and Wings Guide on Community Foundations in Hungary refers to evidence of a small but growing movement of community foundations that are credible, locally supported organisations; strengthening local trust and identity; providing visibility and credibility to local people and issues; and inspiring people to find joy in community work.
This development has not been without its challenges. Tamás Scsaurszki, a trustee of the Roots and Wings Foundation, which has played a critical role in the development of the field, says "When we started, we had bold and big dreams of what we could achieve quickly, both in 'soft' impact and in hard numbers. We learned the hard way to manage our expectations! Hungary has turned into one of the most frequently discussed and analysed examples of a populist, authoritarian, illiberal state with growing fear in society and shrinking space for independent civic action. It is not easy to support community foundations nowadays, but people's love for their communities, their energy and courage can compensate the challenging context".
The Guide describes the systematic dismantling of the civil society sector over the last decade. It highlights the challenges that arise when credibility is undermined; the legal framework is tightened; and the opportunities for independent civic action are restricted.
Despite this, Roots and Wings sees room for optimism. The Guide states "there are new energies in society, as evidenced by many successful civil society campaigns, popular and effective community initiatives, and the growing popularity of volunteering. There is hope that people will be trying to find new forms of social involvement, especially where they have been frustrated by the lack of success against government policies using traditional civil society techniques. More people are finding that participating in community-based initiatives enables them to have a direct impact on their own environment and contribute to solving local problems."
In additions the Guide tells the success stories of those working in community foundations and how they developed. The Roots & Wings Foundation, established in 2014, supports financially and professionally the established community foundations and new initiatives to start additional community foundations. Like all philanthropy support organisations they help in the areas of building capacity, capability, connections, and credibility, at individual organisation level as well as for the field nationally.
Roots and Wings attempts to get closer to the causes of societal problems. The Hungary Uncovered event helped people explore and develop a better understanding of important, underreported trends and issues within Hungary, such as internal migration and women's rights and to hear alternative voices such as those of migrants and foreigners in Hungary. The event also presented how NGOs and communities are responding to these trends and how they are fostering cooperation and forward thinking by bringing together different players from different parts of society.
In addition, Roots and Wings has made efforts to connect with grass roots by reaching individuals who are interested in the community foundation concept and are willing and capable of attracting others, and then forming themselves into a group. It has also been important for Roots and Wings and Hungarian community foundations to be aware of and feel part of a wider International community foundation movement.
It is widely known that the establishment of community foundations takes time; requires sustained financial and technical support; will not be linear; and may not always be successful. In the case of Hungary, the need for community foundations is clear and their place in civil society all the more critical. It has been due to the unfailing hope and patience of a committed group of people, against all odds, that this young movement has survived and continues to develop.
Dr. James Magowan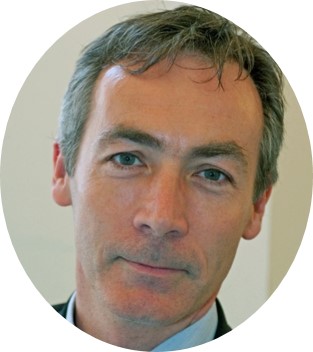 Co-coordinating Director, ECFI