Climate & European philanthropy infrastructure: where do we stand ahead of COP26?
We believe that philanthropy has a unique role, responsibility and potential to act on climate change and ensure the protection of people and the planet. Philanthropy infrastructure organisations can drive conversations and accelerate action within the sector by providing safe spaces to share learnings, strengthening frameworks for climate action and encouraging collaboration.

On the eve of COP26, which is due to be held in Glasgow on October 31 — November 12, we are shedding the light on how infrastructure organisations in Europe contribute to mobilising philanthropy across the continent and beyond
to address the climate crisis and social inequalities.

All eyes are on climate.

Active Philanthropy
Active Philanthropy's climate philanthropy guide is a key resource for foundations around the world to learn how they can integrate climate change into their funding strategies, regardless of their mission. Active Philanthropy facilitates funders' and foundations' entry into climate philanthropy with several new projects: To be launched in fall 2020, the interactive Climate Mitigation Tool will provide an educational, personalised experience to translate technical information into funding strategies. Users can dive into emission-producing sectors and systems and browse almost 200 corresponding climate solutions, all while applying their individual choice of philanthropic levers.
Funders interested in a more in-depth educational journey can soon participate in a 7-week online course and join peer-exchange workshops to learn about climate change and their potential roles in mitigating the latter, aligning their existing funding with climate goals, or cutting operational emissions. Also in early 2022, Active Philanthropy will launch The Climate Solutions Hub – an online platform, where funders can access tailored information about the climate crisis, learn about philanthropic intervention points and act by accessing a curated pool of 15-20 selected and reviewed climate projects to fund.
Ariadne
Ariadne have just launched a research project on how digital rights and climate justice intersect. Ariadne are have three webinars coming up around COP. The first is on climate change and finance, with a focus on what funders need to know and is open exclusively to their members. The second is on protecting the Youth Climate Movement and will take place on 4 November, co-hosted with the Human Rights Funders' Network. The third will take place on 30 November and is on climate assemblies.
Assifero
In September 2021, Assifero launched a national commitment on climate change with the aim of encouraging all foundations and philanthropic organisations to integrate climate across their work. To date, 65 Italian foundations have signed the commitment. Assifero will also be launching a resource library section for foundations on the topic of climate.
Association of Charitable Foundations (ACF, UK)
ACF hosts the UK Funder Commitment on Climate Change. As part of this, ACF hosts monthly sessions for signatories and other foundations, alternating between looking at specific topics with speakers and presentations, and discussion forums for signatories to share what they are working on. ACF also carry out an annual survey of signatories so they can report back on progress. This is published on the ACF website along with the full data tables of responses. ACF has also worked with the UK's Environment Funders Network on a resource guide on climate. Information on climate change is also included in ACF's overall communications and information for members. Alongside this, ACF is working with New Philanthropy Capital on a developing programme of work with the wider social sector to understand how climate change will affect the work of charities and community groups working on issues like health, young people and housing.
Clean Air Fund
The Clean Air Fund an event ran until 24 October, hosted by one of their partners in King's Cross, London. Pollution Pods is an installation by Michael Pinsky, replicate the environments of five different global locations to convey the experience of air pollution and its effect on human health. These pods will also be on show at COP in November.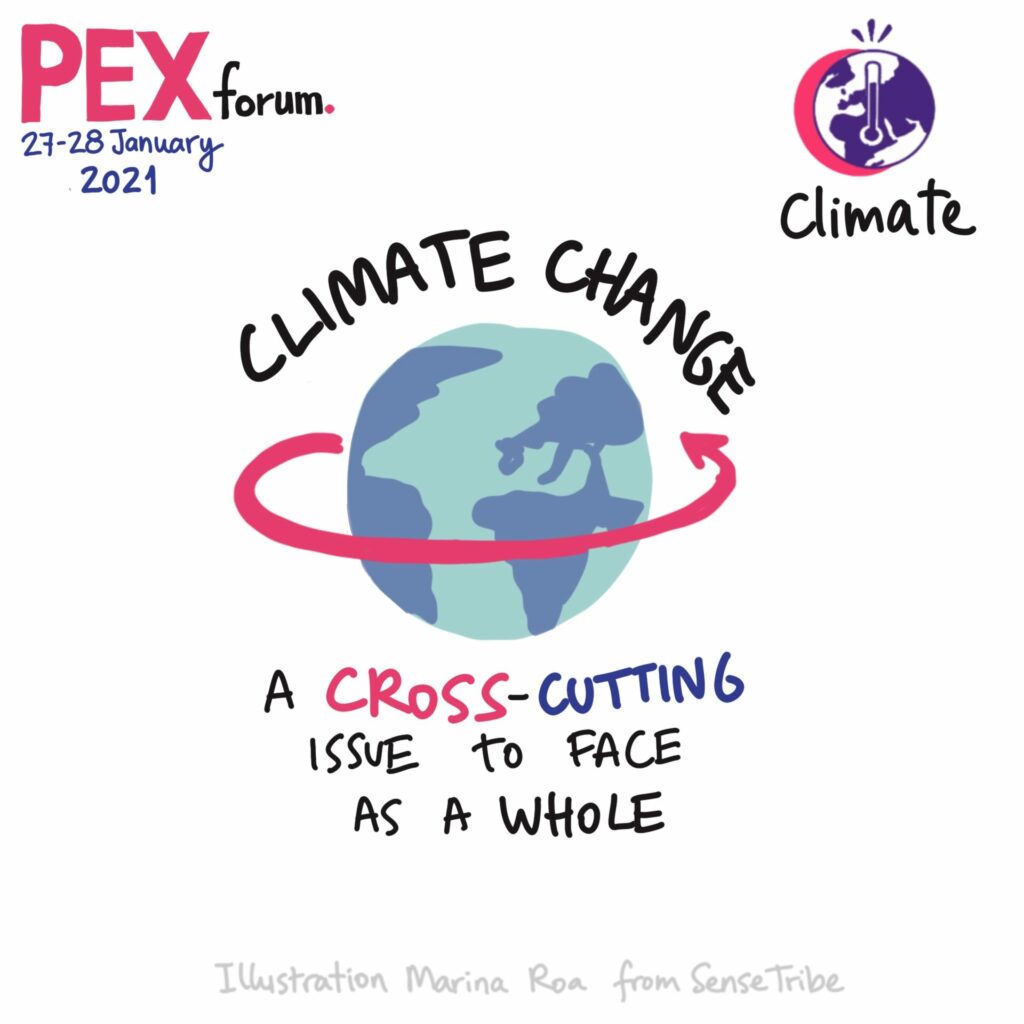 European Community Foundation Initiative (ECFI)
On 6 October 2021, ECFI hosted the "Climate Commitment – How Can We Act: Workshop" for community foundation practitioners which focused on some examples from the field and included a presentation of the #PhilanthropyForClimate movement and International Commitment. There will be a short publication from this soon highlighting examples from the community foundation field which demonstrate actions relating to the philanthropy commitment.
EDGE Funders
EDGE is committed with promoting systemic change, in this regard they had been working on fostering Climate Justice in different fields:
They created a COP26 funder and social movement Working Group meeting monthly. We've had large and diverse participation. The WG produced a funding mapping exercise related to COP and we hope this group will continue to meet after COP and become a Climate Justice Initiative/working group in 2022.
Theyare developing a Progressive Climate Philanthropy Report: we hired Edouard Morena to research & write a Report on the role of progressive climate philanthropy, the history of mainstream climate philanthropy. The objective is to uplift climate justice movement demands and do a call to action to work alongside them. They programmed two conversation spaces (the first one at the EDGE Conference and the other one at COP) to discuss the findings so far and hear from their members. The report launch will be scheduled for January 2022 and UNRISD will edit & publish it.
EDGE Gathering: November the 9th at The New Glasgow Society: a 2 Pager will be presented in person. The complete Report will be launched at the beginning of 2022.
Also, at their annual Conference, they hosted spaces in which Climate Justice was the central topic, prioritizing the movements' voices. You can see the full Conference program here: https://www.edgefunders.org/annual-conference-2021/
Dafne
Dafne hosts the Philanthropy Coalition for Climate which brings together different climate project across the field. The PCC hosts one climate peer exchange for national associations of foundations and another for climate philanthropy networks. In 2020, Dafne produced a mapping of the climate philanthropy networks. PCC is the European champion of the #PhilanthropyForClimate movement, promoting and supporting the implementation of the International Philanthropy Commitment on Climate Change. Stiftung Mercator, the PCC and Active Philanthropy host a health & climate peer group for European funders and foundations. The PCC also sends out a weekly climate & philanthropy newsletter and hosts a climate & philanthropy knowledge hub.
The PEX Next Philanthropy project is also focusing on climate for its second "What if? Reimagining philanthropy" event, "What if every foundation care about the climate?" with Kristina Johansson, Director of the Solberga Foundation and activist for racial, gender and climate justice.
Finnish Association of Foundations
In Finland, the Association of Finnish Foundations organizes regular peer meetings for its members on climate and environmental issues. Information and best practices on foundations' climate and environmental measures can be found on their new website (also available in English!) Some highlights from the most recent measures: One of the largest foundations in Finland, Kone Foundation raises in its new strategy 2021–2025 eco-social education as one of the values guiding its operations: social, cultural and ecological responsibility for people, other species and the environment. As a part of the implementation the foundation has recently measured its carbon footprint. Tiina and Antti Herlin Foundation focuses its resources in 2020–2025 on solutions for the global environmental crisis and especially on cutting emission volumes rapidly, and has just published new Environmental Programme. A growing number of Finnish foundations are also taking environmental impacts into account in one's own investment activities as part of responsible investing.
Knowledge Centre for Foundations (Denmark)
Fondenes Videnscenter has held two network meetings on climate initiatives, one for foundation CEOs and one for philanthropy programme responsibles in the field of sustainability and climate initiatives. Both meetings were well attended and included sharing of practice, background information and network dialogues on the topic. Fondenes Videnscenter has also produced a report on the state of environmental funding by Danish foundations.
Philanthropy Ireland
With increasing concern among members on issues of climate as they seek to identify how they can most effectively support climate related initiatives Philanthropy Ireland are facilitating a meeting of members in early November with a view to:
Exploring the Funders Commitment on Climate Change – Why an Irish alliance?
Transforming commitment into action – How can this be done?
Opportunities for engagement – What could that look like?
Outcomes will be taken forward with a view to supporting funders in increasing their engagement on climate and issues which could include collaborations on finding initiatives; 'climate proofing' their current funding programmes and operations; engaging with wider international forums for change, etc.
Foundations who currently have programmes supporting climate issues include:
Russian Donors Forum
Russian Donors Forum will champion the International Philanthropy Commitment on Climate Change in Russia. This was already announced by Benjamin Bellegy from WINGS at the Russian Donors Forum Annual Conference on 30 September, at the session dedicated to the intersection of social entrepreneurship and environment. The International Commitment will also be featured in the special edition of the leading Russian business newsletter Kommersant in early November which will contribute to building the momentum.
WINGS
WINGS hosts the International Philanthropy Commitment on Climate Change and work with foundation signatories across the world to support and encourage them on their climate journey. The International Commitment provides a framework for climate action for foundations in countries without a national commitment and foundations that operate in a very international background. A dedicated WINGS Climate Task Force made up of over 40 foundation networks and philanthropy support organisations from 21 countries around the world and representing around 22.500 funders is supporting the development and dissemination of the Commitment. Going forward, WINGS will continue to work closely with these national, regional and thematic foundation networks and philanthropy support organisations as "regional champions" to support foundations in implementing the pillars of the Commitment in different parts of the world.
For more information on climate philanthropy networks, check out our mapping of the ecosystem.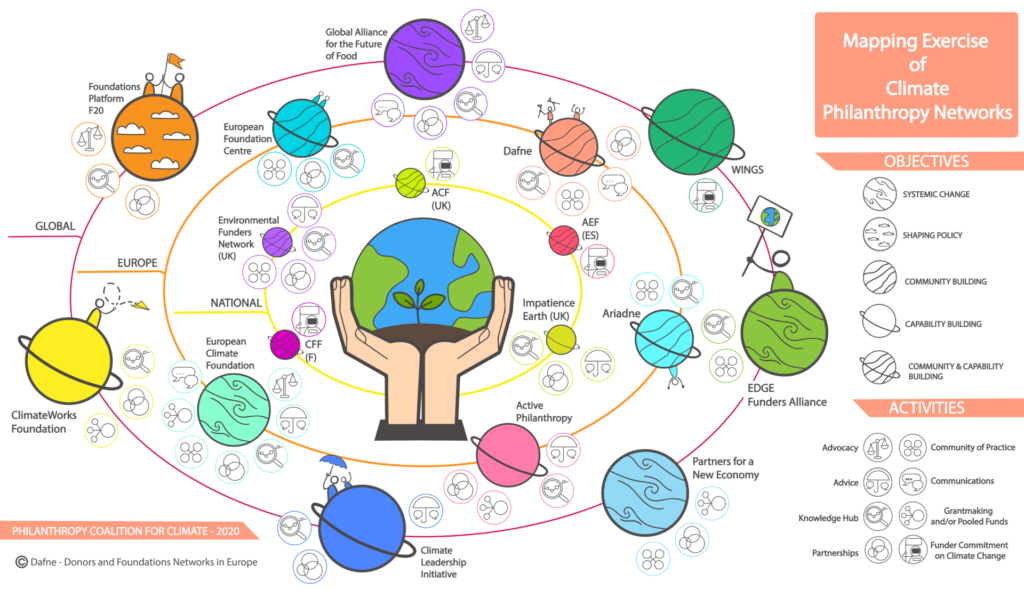 These are just some examples of climate projects and initiatives within the sector. If you represent a European philanthropy infrastructure organisation and would like to be featured, please contact karalyn.gardner@dafne-online.eu.