Biases and discrimination in the digital space, and 10 ideas on how philanthropy can act
What if? Reimagining philanthropy with Benjamin Ignac
By Lisa Rose, Beacon Collaborative
In What If? Reimagining Philanthropy, Benjamin Ignac took us on a journey through the biases and discriminations of digital technologies, specifically those using AI and the reasons that we need to tackle these injustices now. The unique position of philanthropy as risk capital can drive the solutions to the digital discrimination many of us are experiencing and we don't even know about it. With practical insight into actions philanthropy can take this inaugural What If? event successfully showed how critical philanthropy is in supporting marginalised communities and how crucial it is that we act now.
Discrimination comes in many forms: cultural, social, economic and technological. Technological discrimination is about more than access to the technology, it is also about how technology treats groups of people as amorphous and cannot distinguish between individuals because it does not have the data to be able to do so. This affects things from job applications through incorrect facial recognition to predictive policing. The effects are numerous, from incorrect suspect identification leading to wrongful arrest through continuous prejudice in the workplace to embedding a cycle of poverty as policing increases in areas predicted to be higher crime based on historical police bias.
In What If? Reimagining Philanthropy, we discovered the depth of the issues of technological discrimination and the essential ways through which philanthropy can support the elimination of this discrimination. Benjamin Ignac, with lived experience of the discrimination, talked eloquently and passionately about the issues surrounding the use of AI, but more importantly about how philanthropy can play a part in ensuring digital rights are respected for all.
Here's what we found out and how we can support better and fairer practices:
Tech is useful but also concerning…….
Technology does not have to be inherently bad: it can be used for the greater good if used well and with the right inputs. However, 2020 exposed society's weaknesses in critical areas, especially racial disparity and dependence on technology.
"Technological discrimination leaves behind many more people. Digital rights should mean digital responsibilities but the tech firms benefiting from the use of their technologies are not motivated to resolve the underlying data discrimination issues – sometimes compounding them for profit."
Philanthropy has a unique role in supporting marginalised communities in overcoming this issue. First and foremost, philanthropy can ensure that the bias is reduced in any technology that it and its partners employ.
Data collection is important and philanthropy can help with this…..
Data is the lifeblood of policy: when data is not collected for some communities, they are not represented in algorithms, and decision making omits minority groups. Therefore biased "data-driven" decisions are made. AI is particularly discriminating against women, ethnic minorities and those from lower socio-economic groups. Philanthropy can ensure that it works with data collection organisations to make collection representative.
Understanding bias is key to overcoming it……
And key to that understanding is knowing who benefits from the bias. Work to spotlight the reasons for the bias can be supported by philanthropists and grant-makers. This would enable us to understand who is most affected by the bias and find ways to overcome this using data collection and different methodologies for analysis. In turn, an empowered oversight mechanism will support the reduction of bias. Philanthropy can enhance the creation of and use of oversight and regulation that reduces bias.
"Understanding bias is key to overcoming it, and key to that understanding is knowing who benefits from the bias."
Marginalised communities must be involved in programmes that involve technology……
The more diverse the conversation, the more diverse the answers. If marginalised communities are part of the activities that create the technology, their voices are heard before bias is in place and the bias is not a part of the technology development. Philanthropy can support inclusion in technology developments by empowering marginalised communities to understand the benefits of working with technology developments and to ensure that technology companies have inclusive data collection policies.
The digital revolution dawns…… bold philanthropy can drive the revolution to be inclusive and fair Philanthropists can act: create a spotlight, raise awareness and make evidence collection important
Make ethics human centric – invest in research methods that do this
Promote safeguards and support regulation to encompass them in decision-making
Empower citizens and marginalised people to speak out
Work with data collectors from marginalised communities and ensure that this data is included in policy-making
Make digital rights a part of any programme in the same way human rights is always incorporated
Work with the tech experts and communities to create campaigns to raise awareness and participation
Help support best practice and improved regulation
Fund programmes that educate the general public on the issues
Support programmes that promote ethical practices to tech company leaders
Engage in advocacy to government to ensure inclusivity and parity for all.
The What If? event provided valuable insights into what philanthropy can do to support efforts to reduce discrimination, but it also highlighted that we have a long journey to a fair system and we need to act now to make sure we turn the tide of this discrimination before it is even more entrenched. However, there are tangible actions that philanthropy can take to support the required improvements.
What are your thoughts? Join the conversation using #nextphilanthropy.
Useful resources: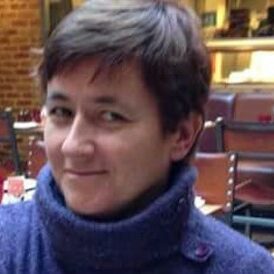 Lisa Rose
Philanthropy Programme Manager, Beacon Collaborative