Attention, Austrian foundations! We've got you covered
In some legal environments, coping with endless requirements and regulations feels like you are inside an Ancient Greek myth – you will not be able to get out of the Labyrinth without an Ariadne's thread. "Lost in a maze" is what some Austrian foundations or Austrians who just wanted to set up a foundation might have felt like, but will not feel anymore – Austrian association of foundations released "Achtung, Stiftung!" (Attention, Foundation!) Handbook to help them out of the maze.
First practical handbook for Austrian foundations
"Attention, Foundation! Non-Profit Foundation Work in Austria: Establish, Lead, Dissolve" – is a one stop shop for Austrian foundations, or to-be foundations, which provides practical insights on how to set up and manage charitable foundations in Austria.
The "Achtung, Stiftung!" was released in September 2020 and was developed by Sonja Jöchtl, Executive Director of the European Forum Alpbach Foundation and Ruth Williams, General Secretary of the Austrian Association for Non-Profit Foundations, together with Austrian legal experts from LeitnerLeitner. It is the first of its kind in Austria and sets a benchmark for contemporary best practices in the work of non-profit foundations.
Katharina Turnauer, President of the Austrian Association for Non-Profit Foundations: "When I founded our own non-profit foundation in 2009, I would have liked to have had "Attention, Foundation!" Many questions were left unanswered at that time, which are now explained and clarified in this book in a factual and lively way with the help of practical insights."
The handbook is both a good governance code and a practical guidance for the 745 foundations which operate in Austria. One of its strengths is a wealth of practical knowledge and benchmark. The authors referred to the best practises of Austrian foundations and philanthropists who have shared their insights, mistakes and advice which are invaluable for those who are just paving their way in the foundations world.
Another major advantage of the handbook is its accessibility to professionals without legal background. There are plenty legal publications on the requirements for setting up and managing foundations in Austria, however they are digestible only for legal experts. The "Achtung, Stiftung!" is exempted from jargon-heavy legal regulations as these have been "translated" and adapted to simple language.
Besides, the "Achtung, Stiftung!" looks very snappy – a bright pink cover of the handbook resembles a fashion magazine rather than a serious publication on the intricacies of the foundation sector. The handbook's creators deliberately wanted it to be an attractive product and worked closely with the Kratkys' design agency from Austria. The cover seems to be saying that it is a hard job to set up and run a foundation, but it is a joyful and worthwhile process.
Ruth Williams, General Secretary of the Austrian Association for Non-Profit Foundations: "There's still a lot to do in raising awareness that a foundation is a viable and sustainable way to frame philanthropy work. The Austrian sector is unfortunately quite complex and there are not that many experts who actually understand the whole picture. The handbook accumulated a great deal of facts and offers different paths on how to create a foundation or how to be able to make good, ethical and sustainable decisions when working in a foundation".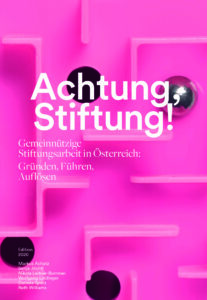 Power of peer exchange
The "Achtung, Stiftung!" handbook has every potential to be a powerful tool which will strengthen the philanthropic sector in Austria – it will increase professionalism of foundation practitioners and enable people to establish new foundations. This is a great example of the added value that national associations bring to the foundation sector.
What is also noteworthy is the multiplier effect of collaboration. Austrian Association of Foundations worked closely with the SwissFoundations (Association of Swiss Foundations) and the Centre for Philanthropy Studies in Basel (Switzerland) which launched their first Foundation Code in 2005. In 2015, they released a third edition of their Code in three languages and their Austrian colleagues refer to this Code as to the "Bible" for professionals in the Swiss foundation sector.
This is the power of peer exchange – the Austrian Association of Foundations related to an inspiring benchmark of their Swiss colleagues and collaborated closely with them to learn from their original experience and take advice on strategic avenues of their handbook.
"Achtung: Stiftung" will hopefully well be the Ariadne's thread for the Austrian foundation sector to make sense of the legal setting in their country. It promises to be an important resource, which will facilitate everyday work of Austrian foundations, and is surely a great example of the vital role philanthropy support organisations play in increasing capability of the philanthropic sector.
Alina Shenfeldt on behalf of Dafne
We would like to thank Ruth Williams, General Secretary of the Austrian Association for Non-Profit Foundations, for her contribution to the article.