Philea launches latest study into European philanthropic funding of arts and culture
Today, Philea released the second volume of its study into European philanthropic funding in the field of arts and culture. As multiple crises have unfolded in recent years, the arts and culture sector has been among the most damaged financially, and its structural fragilities have significantly deteriorated. At the same time, its value to society throughout these crises has been undoubtedly clear.
To address these challenges, key findings from this study revealed a philanthropic sector that is strongly committed to resourcing artistic and cultural organisations to strengthen their resilience; has a cross-cutting and intersectional tendency in its work; and is clearly open to collaborative and participatory approaches. Highlights include:
European philanthropy is committed to resource and strengthen the resilience of the arts and culture sector strategically
Almost 90% of responding organisations indicated that their organisations were not planning to decrease the budgets for arts and culture projects in the following year.
Between 2018-2023, from the first volume of this study to this latest edition, at least 20% of responding organisations have launched new strategies embedding new working models, increased flexibility, new priority areas, diversified philanthropic means, and renewed attention to sustainability.
European philanthropic organisations in this area work across sectors and with a diversity of constituents
Half of respondents (51%) indicated having implemented internal changes or launched a new project/programme to address the issue of diversity, equity and inclusion. Almost half (49%) of responding organisations have incorporated specific actions to support the green transition.
European philanthropy's work in arts and culture is participatory and collaborative
More than half of responding organisations (57%) involve either directly, indirectly or both directly and indirectly their primary constituents.
This edition of the mapping surveyed 64 foundations from 17 different countries. For the 55 foundations that reported expenditure in the field of arts and culture, The cumulative total annual expenditure in the field of arts and culture for the 55 foundations reporting this figure amounted to €447 million (58 foundations reported a cumulative total expenditure of €2 billion).
The report is an initiative of Philea's Arts and Culture Network, which brings together like-minded philanthropic representatives in a safe space to discuss, share and build knowledge on topics around arts and culture. Network members identify new trends, discuss their experiences and new projects, and find new ways of collaboration.
For more information, contact Lucia Patuzzi, Senior Knowledge Development Manager, Philea.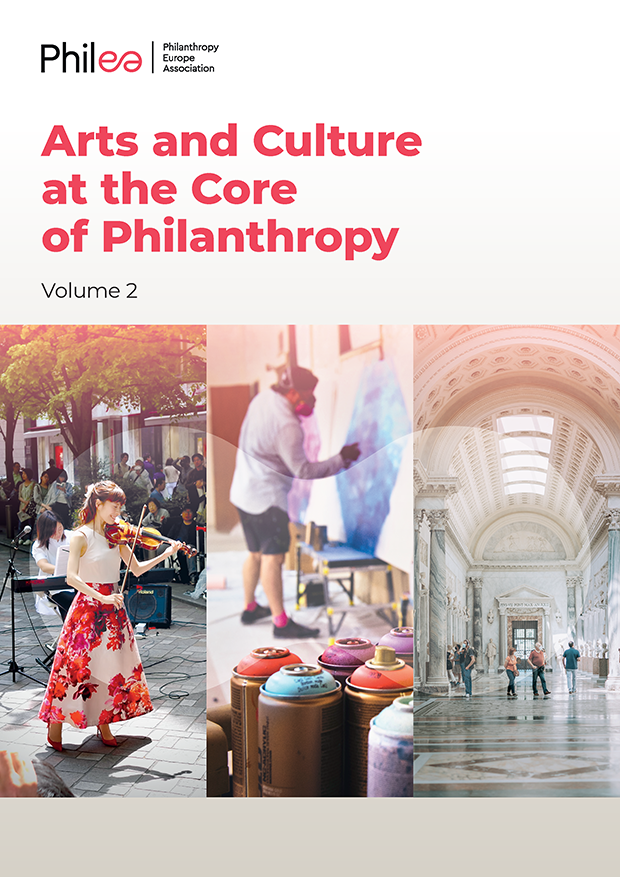 Download "Arts and Culture at the Core of Philanthropy: Volume 2"