An intersectional approach to climate funding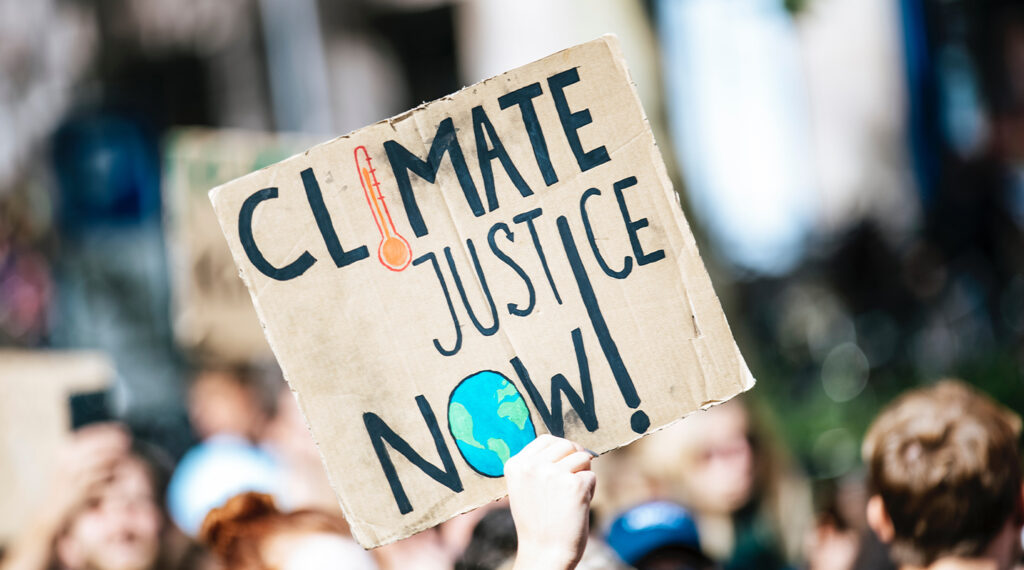 On 23 May, the Gender Equality Network organised a session at the Philea Forum on "Climate justice: Why we can't fight climate change without fighting inequalities". This was Philea's first ever session on climate justice. Both the session and following conversations centred on the need for intersectionality within the climate movement and philanthropic giving.
While "intersectionality" and "climate" are almost buzzwords nowadays, the two fail to come together in a meaningful way in Europe. We have a very active climate field in Europe. However, it is not one that structurally works towards climate justice, meaning work that properly centres the way the climate crisis intersects with different systems of oppression such as racism, ableism, classism, and many more. That is why it is so important for funders to take a true climate justice approach if we are to stand a chance in fighting the climate crisis.
Let me share some examples.
Ten years ago, nine-year old Ella Kissi-Debrah, a Black girl living in southeast London, died following repeated asthma attacks caused by air pollution. Ella became the first person in the world to have air pollution listed on her death certificate following a long legal battle by her mother to get this recognised.
Ella's story demonstrates that environmental conditions are not experienced equally across our societies. Studies conducted in the Netherlands, the UK, France, and Germany have shown that polluting industries are more frequently located in cities and neighbourhoods with higher proportions of migrants. Air pollution disproportionately affects urban areas and has a disparate impact on racialised communities. We do not all breathe the same air.
Disabled people are also among the hardest hit by the climate crisis and face disproportionate impacts on their livelihoods from environmental disaster. Across Europe, one in four adults have some form of disability, totalling 87 million people. Extreme weather events present a higher risk to people with physical impairments, chronic illnesses, and other types of health conditions, and they even present a risk to life. Illnesses such as multiple sclerosis can be exacerbated during a heatwave because of the temperature-dependent sensitivity of these conditions.
Climate policies and solutions can also negatively impact people with disabilities when trying to meet climate targets. This can take the form of seemingly innocent measures, such as the removal of disabled parking bays for cycle lanes or bicycle parking; incentives to use bikes, electric vehicles, and other "environmentally friendly" transport options that are inaccessible to people with disabilities; or carbon pricing schemes or bans on carbon intensive products which can hinder the use of assistive technologies. What we are seeing across Europe are poorly tailored climate policies; governments that develop emergency responses to environmental disasters that consistently ignore the needs of people with disabilities; and a climate movement that excludes disabled activists.
There is also a clear link between the effects of the climate crisis and other manifestations of social inequality, such as housing, social protection, and living conditions. According to a report from the European Environmental Bureau, Europe's Roma communities often live on polluted land that is excluded from basic services such as running water or sanitation – a clear case of environmental racism. A participant in our community roundtable conversations last year shared a story of how this shaped their reality during the early days of the Covid-19 pandemic: everyone was encouraged to repeatedly wash their hands, yet where they lived there was no running water to be found.
These are just a few examples of groups that are in the middle of resisting the harms of the climate crisis. Yet, their perspectives are hardly taken into account by the climate movement that dominates the debate in Europe. This movement is generally white, middle-class, privileged, and focused on engaging with processes and institutions such as COP, the European Commission's Green Deal, and Just Transition mechanisms – all of which have a track record of structurally disenfranchising marginalised groups.
This leads to a certain type of work getting generously supported by funders, while grass-roots, community-driven work is left out. At the moment, the majority of climate funding is exactly that: climate funding, not climate justice funding. This approach results in the exacerbation of inequalities, piece-meal approaches, and siloed work.
So how can funders better support intersectional climate justice work?
First, funders must let go of siloed thinking. The climate crisis is complex and needs a tapestry of activism and different interventions; no one knows which "big bet" will be decisive, so there is a need to invest broadly, by supporting initiatives that think outside the box; and to invest generously, by providing long-term core funding.
Second, a much more structural approach to funding is needed. By this, I mean an approach that focuses on not only supporting ecosystems instead of a few actors, but also on supporting communities instead of institutions. This requires funders to think expansively and get creative about supporting multifaceted approaches: there is not just one way to bring about change.
Finally, funders need to trust those doing the frontline work. In our world things change more quickly than most funding cycles, so funders should not be tying the hands of people at the frontlines with admin-heavy, piecemeal project grants. In the end, the activists you are supporting are the real experts. So trust your grantees to make the right call in adapting to changing circumstances; it will allow them – and you! – to be more effective.
The disability justice movement slogan "nothing about us, without us" critically and urgently applies to how we respond to the single biggest threat to humanity today. Equipping communities to fight back against the impacts of the climate crisis on their own terms will serve us all.
Author photo (c) Tetsuro Miyazaki
Authors

Nani Jansen Reventlow
Founder, Systemic Justice