Arts and Culture Thematic Network – FUTURE – Reimagining arts and culture for social change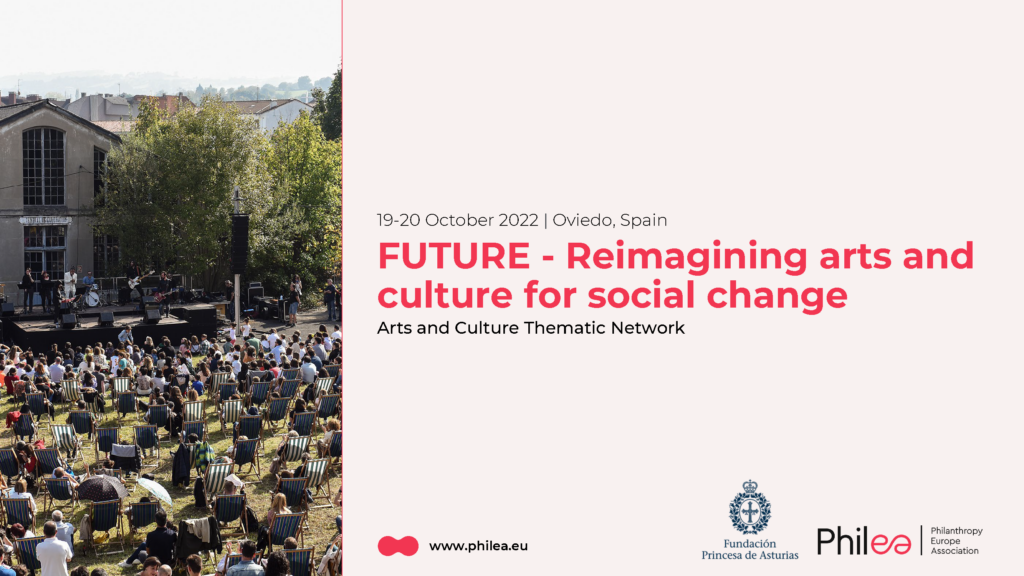 Times of constant uncertainty have blurred the horizon of our future. Against the backdrop of polycrises, our only certainty is that it is almost impossible to find any certitude. However, crisis is the mother of innovation: over the past couple of years, we have seen communities, organisations, and individuals come up with creative responses to complex challenges, often building on artistic and cultural practices rooted in local approaches.
Convinced that creativity, arts and culture are a key driver for social change, Philea's Arts and Culture Thematic Network is convening cultural organisations, innovators and changemakers, artists and cultural practitioners to a European gathering in Oviedo, hosted by Fundación Princesa de Asturias, on 19-20 October 2022.
The aim is to explore a variety of practices in the realm of arts and culture that share a creative drive towards social change. Cultural fablabs for circular economy, innovative design technologies, new formats and ways of storytelling, and artistic experiences for social inclusion will serve as a basis for a bold dialogue amongst participants who wish to reflect on how arts and culture can help us reimagine these challenging times and our uncertain future.
The event will explore how, as philanthropic organisations, we are part of the change by supporting new and audacious practices and narratives, enabling arts and culture to overcome current threats and contribute to a fairer, more diverse, conscious, and sustainable way of approaching the future.
The event is free of charge, with a maximum capacity of 100 participants.