Philanthropic Leadership Platform: China-Europe – Philanthropy and the Levers of Systems Change: Imagine, Understand and Collaborate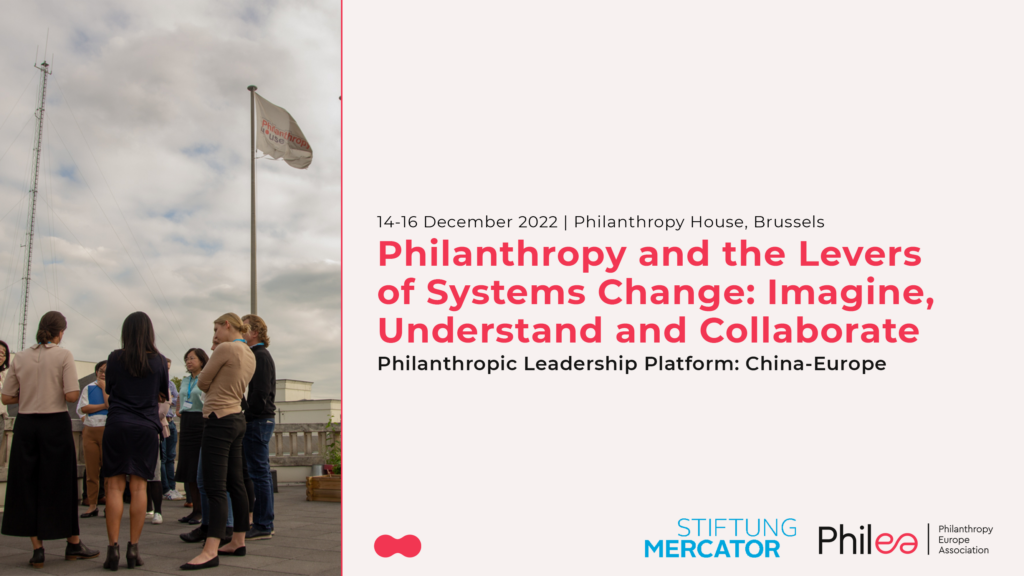 Under the umbrella of the Philanthropic Leadership Platform (PLP), Philea and Stiftung Mercator, will organise a a special session and networking event for the European alumni who participated in one of the past editions of the PLP: China-Europe on 14-16 December in Philanthropy House, Brussels.
Social change is tremendously complex; there are issue interdependencies, the challenges we are facing do not stop at national borders, and it requires working with a large variety of stakeholders and interests. Within this complexity, philanthropic organisations can apply different intervention models to contribute to positive change, each playing out at another level in society: supporting grassroots level, rethinking the mainstream and the rules of the game, or taking actions at the level of the broader landscape.
This approach to understanding complex societal challenges lies at the heart of the multi-level-perspective framework in transition governance – which will form the backdrop for our gathering. With the framework of transition management as a backdrop, the programme aims to offer inspiration for the times we are in, with peer-learning as the main building block.
The Philanthropic Leadership Platform: China-Europe is funded by Stiftung Mercator and led by Philea.