Communications Professionals in Philanthropy Community of Practice – Philanthropy and Storytelling as a Lever of Change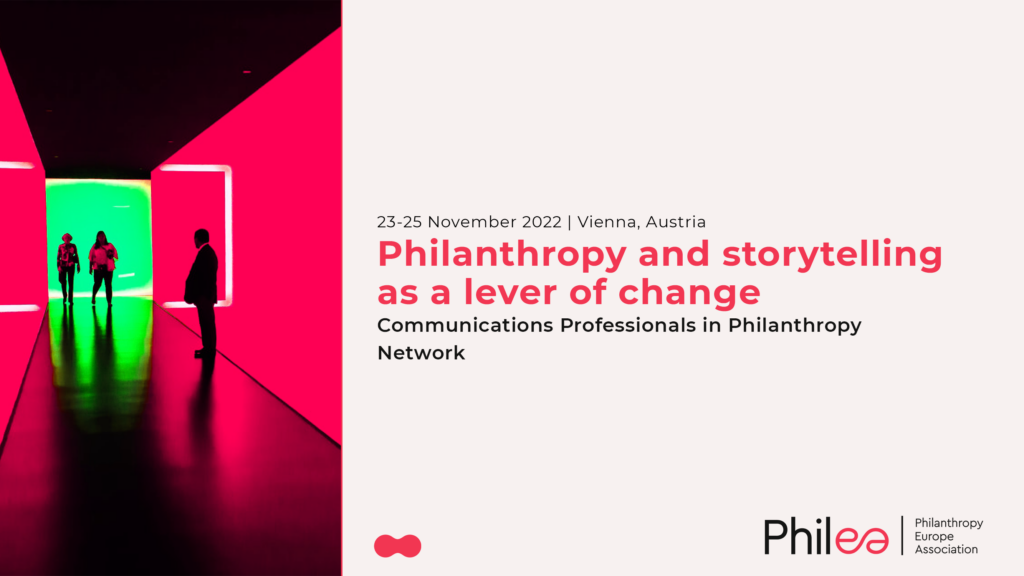 The Communications Professionals in Philanthropy Community of Practice will host its autumn meeting on 23-25 November in Vienna seeking to explore "Philanthropy and Storytelling as a Lever of Change"
"We think we tell stories, but stories often tell us, tell us to love or hate, to see or be seen. Often, too often, stories saddle us, ride us, whip us onward, tell us what to do, and we do it without questioning. The task of learning to be free requires learning to hear them, to question them, to pause and hear silence, to name them, and then become a story-teller." Rebecca Solnit
From time immemorial humanity has been telling stories to explain, disrupt, and inspire. Stories hold the magical power to activate values, compel action, and accelerate transformative outcomes. Often, stories perpetuate biases and reinforce deep seated beliefs – questioning these stories, and reconfiguring them is essential work, as captured in the words of Rebecca Solnit.
While the value of storytelling is evident; the practice is complex and to a great extent, shaped by the medium and context.
In the philanthropic sector, foundations have been experimenting with creative ways to talk about the difference their work is making and how they move the needle. This is essential work, against a shifting backdrop of increased inequalities, where the capacity and legitimacy of private wealth to shape society receives heightened scrutiny.
Philanthropies effect change by predominantly supporting in financial and non-financial ways the work of partners that do the critical work of delivering services and shifting systems. Telling these stories is important, but also very complex as it touches on questions of power and equity. Which stories are for funding organisations to tell, and which better left to the partners to share? Is it about telling partners' stories, or sharing platforms to amplify and uplift their voices? How to connect many different stories into a universe of narratives that helps achieve the lasting positive change philanthropy aspires to?
The autumn meeting of the Philea Communications Professionals in Philanthropy Community of Practice will be placing some of these questions front and centre, and explore the practices and skills that will help communications leaders in the sector be more effective and thoughtful storytellers. Our work does not sit in a vacuum, and therefore the programme will take a nod to some of bigger shifts happening in the world. Ivan Krastev, one of the most profound intellectuals of our time, will join the network to share his thoughts on the current state of democracy in Europe and the world, and invite a reflection on the roles and responsibilities of the philanthropic sector.