Arts and Culture Thematic Network – EcoArts Nexus – Venetian Reflections on Climate and Culture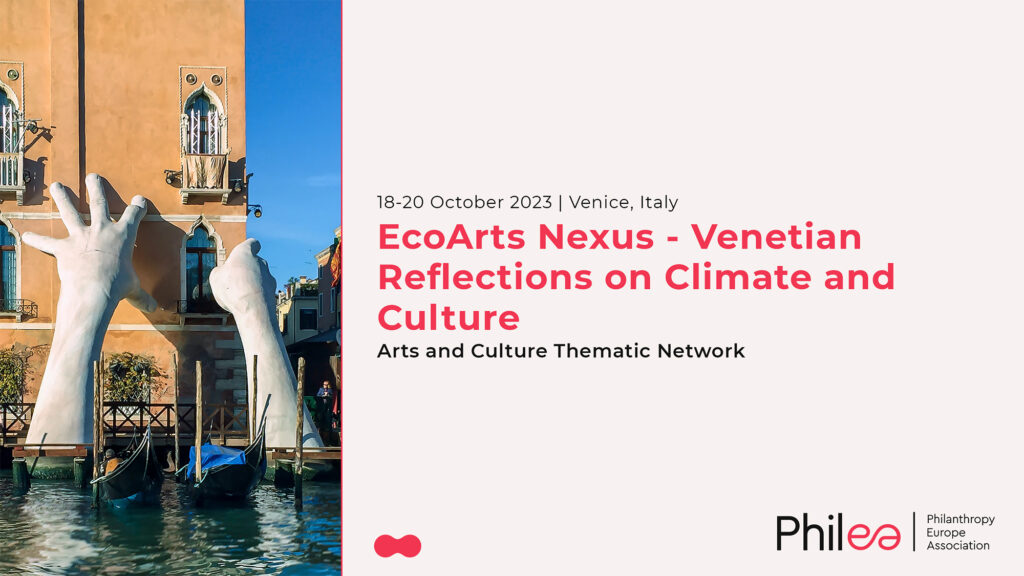 The Arts and Culture Thematic Network will host "EcoArts Nexus – Venetian Reflections on Climate and Culture" on 18-20 October in Venice, Italy.
Climate change is the most pressing challenge of our times. It is deeply cultural both in its roots as well as in the drive that could lead to a collective shift of the behaviours, beliefs and values inspiring mitigation and adaptation efforts.
While there is a mild consensus within the artistic and cultural fields that culture plays a crucial role in tackling climate change, the recognition of the fact that the artistic and cultural sectors share the responsibility of the environmental crisis is less prominent. What tangible steps have been taken by sector representatives to change the way of working and contribute to a just transition? In this context, how do foundations investing in arts and culture support the sector in combating the environmental crisis?
The Arts and Culture Thematic Network feels the urge to invite peer foundations to an experience-based tour of Venice to inspire fundamental transformation and concrete steps towards addressing environmental challenges from an artistic and cultural perspective. Together, we will explore the vital themes of decarbonising arts and culture, uncovering how the arts can inspire broader climate action and examining the indispensable role of philanthropy in shaping the climate agenda within arts and culture. This gathering offers a unique opportunity to engage in thought-provoking discussions, ignite new ideas, and foster collaboration toward a sustainable future.
The choice of Venice is not anecdotal: the fragility of the city's ecosystem, with its catastrophic floods and the constantly rising sea level, exemplifies both practically and metaphorically the complexity of urban challenges in the face of the climate crisis. Yet Venice is also one of the world most renowned artistic and cultural capitals, experiencing for this very reason the lights and shadows of its appeal. Venice is the place in which we wish to interrogate the capacity of philanthropy to transform itself and drive impactful change at the intersection of arts, culture, and climate action. This will be done in dialogue with local stakeholders and critical friends from the cultural and artistic landscape of Venice.