André Wilkens: "Exploring European Philanthropy Identity"
I became Director of the European Cultural Foundation 2 years and 2 months ago. As part of my 100-day plan, I spent quite some time looking into the archive of the foundation. Partly because the foundations 65 anniversary came up but also to understand what the foundations' founding fathers actually wanted to achieve.
I learnt that one of the 3 founding fathers and the foundation's first chairman was Robert Schuman, the man who had set up the Coal and Steel Community in the same year as the foundation, 1954, the blue print for the European Union. Schuman knew that coal and steel would not be enough to unite Europe in the long run. It needed a European Sentiment and this sentiment would need to be based on culture and education. He also knew that European institutions and bureaucrats are not the best in promoting a European sentiment, or at least not the one he had in mind.
This is why he and his co-founders set up the European Cultural Foundation as a Foundation for Europe with the explicit mission to develop a European sentiment through culture and education. In fact, they created the first philanthropic foundation with a European purpose. Or, in reference to the session title, they created a foundation with a European identity to promote a European identity.
The foundation has come a long way in the last 66 years and it has had some notably successes, namely the Erasmus Programme which it co-created and implemented with the European Commission in a public-philanthropic partnership in the mid 1980s and 1990s. If there is a positive European sentiment, some of it can surely be traced back to the Erasmus generation and their children.
At this point you may ask yourself why is he using this panel for self-promoting his foundation. Trust me, this is not my point, or at least not my mainly.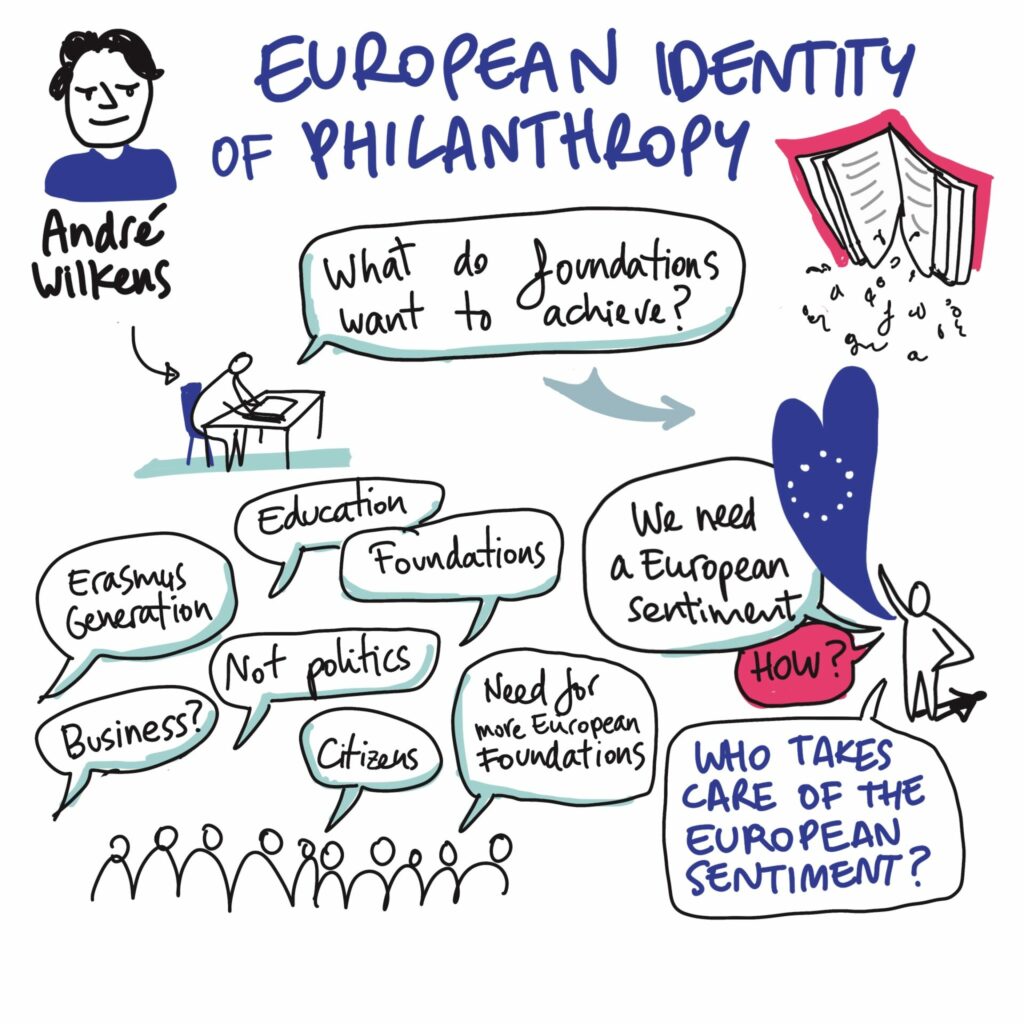 My question is: Why are there not more foundations with a European purpose, like the ECF? Why are they not more Erasmuses co-created by European foundations? Where is the European identity in the European philanthropic sector? In fact, based on a study we commissioned (Imagine Philanthropy for Europe, Amsterdam/Berlin 2020), there are only a handful of foundations with a European purpose and all of them are very small.
Of course, there are many foundations in Europe and some of them also include Europe in its statutes and geographic scope. Still, if one wanted to quantify philanthropy for Europe it would not even make up 1% of the combined funding of foundations in Europe.
Does that mean that the European philanthropy identity is less than 1%? Of course, more than 1% of foundations in Europe have a European identity and pursue this identity through their work at local, national and sometimes European and even international level. There really is a lot to be proud of.
My point is another: Over the last 70 years politicians and bureaucrats have created the European Commission, the Parliament, the ECB and even a European Medical agency. European Broadcasters have set up Eurovision and European Football managers have set up the Champions League. What are the equivalents in the philanthropic sector? In fact, many sectors seem to have developed new models with a European identity. But why are there only a handful of foundations with a European purpose?
You may say: Why does it matter? We think European and act local. Sure, this is a good and valid approach. But does this mean we leave the "Act European" simply to politicians, bureaucrats and business people? Can we? Should we? And will they take care of the European sentiment? And do we want that?
Many questions and big expectations for the discussion at PEX today. I am looking forward to it.
Thank you
… if you want to find out more about Philanthropy with a European Purpose and some proposals for doing more of it, here is a link to our study, co-commissioned with Allianz Kulturstiftung.