Philea publishes "How Foundations Listen – A Qualitative Review by Luisa Bonin"
Philea has published "How Foundations Listen – A Qualitative Review by Luisa Bonin", a review of listening methodologies and frameworks used by 13 European foundations that sets out to help improve listening practices and ultimately support healthy relationships in philanthropy that change systems for the better.
The goal of the report is to take a deep and qualitative look into the listening practices of European foundations and is based on research focused on them. The concept behind the sample was to gather different listening practices and then analyse the various points of view on learnings, challenges and benefits of each practice, taking into consideration how heterogeneous the philanthropic sector is, and understanding that different listening practices attend to different goals and causes. In order to understand and be able to qualify and classify their listening process, the interview script was built upon the work of organisations that are advocating for better listening practices.
The author of the review, Luisa Bonin, German Chancellor Fellow 21/22 and guest researcher at Maecenata Stiftung, attended the Philea Forum 2022 on a scholarship, and during her time at the Forum, was able to develop the idea behind the review with key contacts, including the Philea team, on how funders are consulting with their stakeholders and how they are using the feedback received for strategic decision making. Since that initial connection, the Philea team has worked closely with Luisa, reviewing and contributing to her data analysis as well as advising on how to make this research more accessible to an audience who could benefit the most from these insights. The resulting publication is the first in a new series of publications written with guest researchers.
Talking about listening can sound subjective, but the report shows how this process can be viewed objectively, the key benefits of listening, and how we can use these learnings to start improving listening practices within foundations.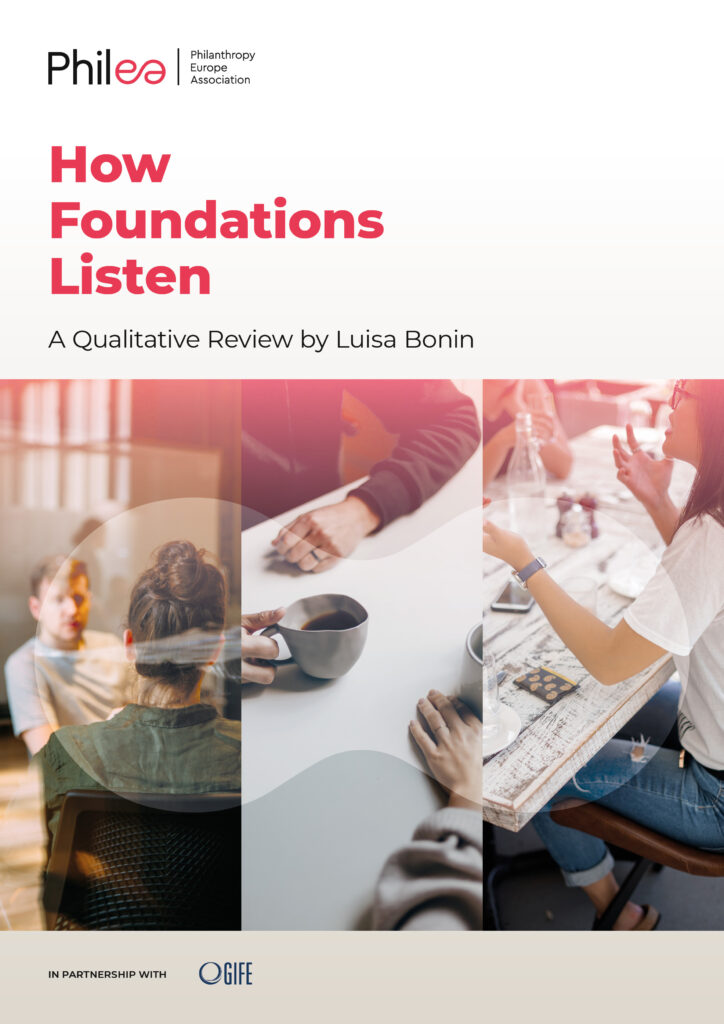 Download "How Foundations Listen – A Qualitative Review by Luisa Bonin"
If you are a researcher looking for help to make your research on philanthropy more accessible and visible to philanthropy practitioners, get in touch.