Youth, democracy and the weight of expectation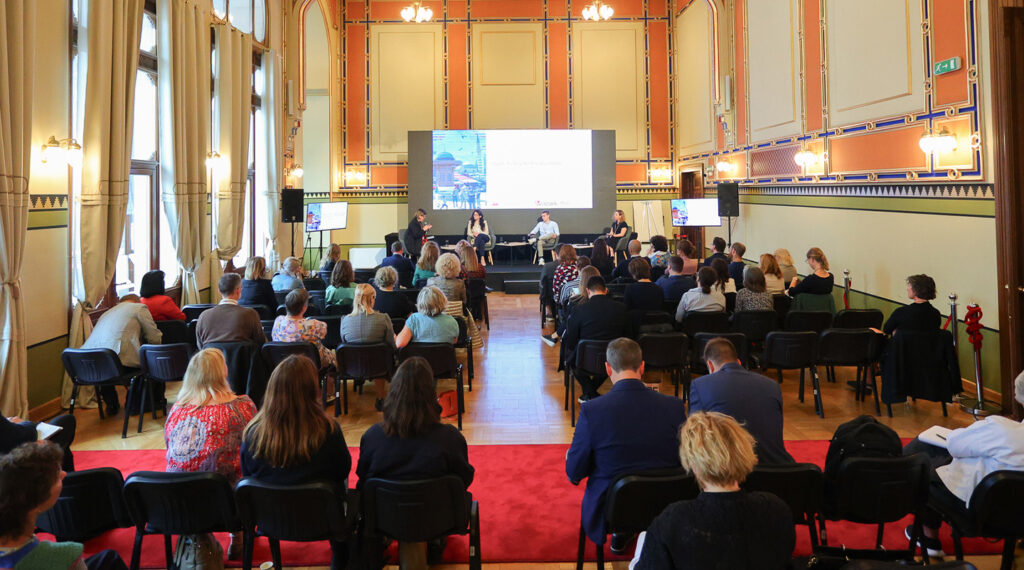 With the scars of the war all around, Sarajevo was a symbolic location for KoneKtor 2023. Bringing together a diverse crowd of Central and Eastern European funders and civil society actors, it was the perfect place to ask the question: have we (not) learnt any lessons? Has the region really advanced towards peace, justice, and democracy, or are we in danger of repeating our past mistakes?
A heartbroken youth
While philanthropy boasts youth as a key to the deadlock of our societal issues, we place an unfair burden on their shoulders that far is too heavy to bear if basic needs and well-being are not being met.
Brutally honest words from Milan Vujic, a former activist, who had his heart broken by his people and country. He, like many young people in the Western Balkans, took the fight for democracy to the streets and was met with brutal attacks and harassment by police. Overwhelmed and disillusioned, securing his economic status and psychological well-being became his priority before all else. Milan left his activism behind and opted for business school instead of a further education in politics.
From past personal experience in the field, I can attest that drop-outs and even burn-outs in the civil society sector are a painfully common sight, especially amongst young professionals and volunteers dealing with polarising topics that invite societal and political backlash. Yet investing in mental well-being, physical safeguarding or even fairly paying workers is rarely an option if the available funding is heavily restricted to direct impact on project goals. If foundations want to advance grand ideals of peace, justice and democracy, the personal well-being of those in the field cannot be overlooked and should be part of the funding strategy.
From humble issues to long term engagement
The morning of the second day, Yves Dejaeghere re-ignited the hopeful spark of democracy in the room. With the Federation for Innovation in Democracy, Yves aims to strengthen our democracies through deliberative methods that reconnect citizens to policymaking. FIDE supports a new wave of citizen's assemblies, even in polarised places such as Northern Ireland or in Mostar, a few miles southwest of the Sarajevo.
Despite the grand societal challenges that plague the news and dominate political discourse, people in Mostar wanted to debate… trash removal. Some audience members questioned the worth of deliberative project if they do not tackle the more systemic issues, or if in the end politicians do not respect the assembly's decisions yet Yves stressed that the impact extends far beyond the scope of the initial project and is truly transformative for participants. Regardless of tangible policy outcomes, the spark of democracy was lit in many, who then actively looked for other ways to engage within their community in the years after. Engagement on everyday issues fosters engagement on broader issues and helps citizens realise that -anyone- can do policy. To advance democracy, foundations need to be prepared to play the long game and not only focus on directly tackling systemic reform, but also on projects that inspire citizens participation via everyday issues in their lives.
A region starved of funding
While the morning plenaries stayed closer to the point-of-view of the everyday citizen, the session on rule of law zoomed out and highlighted why civil society in much of Central and Eastern Europe is so starved for funding. 'Rule of Law' might sound vague and imposing to some, but professor Dimity Kochenov, Central European University assured us that it is not all that complicated. We want rules, we want a fair arbitrator, we want human rights. As one participant beautifully stated: "Rule of Law = Quality of Life".
Dimitry pointed out a worrying evolution in the breakdown of rule of law has emerged; rulers and governments using the legal system itself as a tool to undermine democracy. In many European nations but especially in Central and Eastern Europe, rule of law is being expertly chipped away with new laws that leave the democratic structure itself untouched, but completely erode checks and balances of power.
Where rule of law is breaking down, pockets of independence such as NGO's and CSO's are under constant attack. By far the most popular method is to simply strip them of funding and pit them against the resources of the state, leaving the civil society ecosystem and especially rule of law initiatives in these countries starved for funding. Moreover, some civil society actors in CEE are hesitant to accept EU or US funding as they feel the EU is dishonest in its policies. Local politicians are accused of silencing civil society and free speech, yet their strongman approach to larger crises garners favor from the EU. Accepting EU funding could cause a breakdown of trust within their organisation and a loss of credulity within the region's civil society sector.
As a consequence, philanthropy in Central and Eastern Europe is often the only lifeline for CSO's going against their local governance, yet compared to Western Europe, the philanthropic sector in the region does not have as long a history nor as large a number of foundations. Even more worrying is that a few of the biggest external funders are showing signs of moving out of the region. It thus comes as no surprise that one of KoneKtors main missions is to introduce more funders to the region. If there are any external funders who want to better understand the region and its people, this is the place to start.
Nurturing the foundation
I want to end with a message of kindness to Milan and to many others who have taken a step back from the field. Prioritising our well-being is not at odds with advancing democracy. Democracy is not an entity separate from its people and communities; we are its foundation. The healthier this foundation, the better chance we have of building a structure that lasts. In your own way, you are still working towards that goal.
Foundations that are hesitant about funding democracy should take this to heart as well. Not every democracy programme is about taking a political stance, about revolutionary systemic innovation, defending rule of law or creating mass movements. Working on humble issues, supporting everyday ways of engagement, fostering empathy in local communities, and nurturing the well-being of youth and fieldworkers, is investing in democracy all the same.
Authors

Nils Luyten
Programme Manager – Democracy Collaborations, Philea