The racial justice perspective will only add to the climate conversation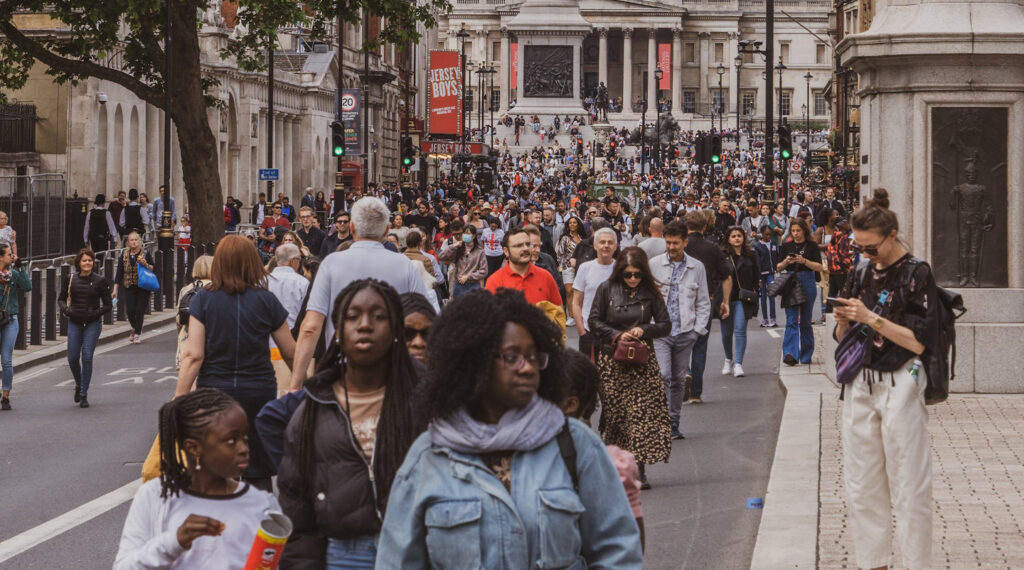 Olamide Raheem on the importance of centring voices of those most affected
Over the past year, Guy's & St. Thomas' Foundation has continued to develop its position on the climate crisis. We're a 500-year-old placed-based foundation, with a mission to tackle health inequalities in the inner-London boroughs of Lambeth and Southwark. These neighbourhoods are home to vibrant and diverse communities in London's melting pot. Conversely, the difference in healthy life expectancy between the richest and poorest neighbourhoods in Lambeth and Southwark is up to 17 years. Such health inequalities fall largely along racial lines with Black and minoritised communities experiencing the poorest health outcomes. It is against this backdrop that we are learning how health outcomes are and will be impacted by the consequences of climate change.
We recognise that people who are most likely to experience health inequalities are seldom decision-makers in developing the solutions that they must live with, so our core principles must devolve power to historically ignored voices. For this reason, we've developed a fund in partnership with Do It Now Now, a social enterprise with a deep set of relationships with practitioners and grass-roots organisations and a commitment to the social empowerment of Black communities. Below we hear from Bayo Adelaja, Founder of Do It Now Now.
Bayo Adelaja on the intersection of climate and racial justice
As the leader of a racial justice organisation, I am acutely aware of the insidious nature of racism and its effects on large and small aspects of each of our lives; from Barbie dolls and artificial intelligence to food consumption and healthcare. Now more than ever, climate justice and racial justice are intertwined and require intersectional approaches for effective management and repair.
In 2019 the international non-governmental organisation community was enthralled by rising star Greta Thunberg. They optimistically believed that the introduction of a young activist like Thunberg at the World Economic Forum was a sign that the next generation would be able to take the lead on the exponentially developing climate crisis. They failed to recognise that, at the time, there was also a nefarious diminishment of the contributions and activism of similarly minded young Black activists working to demonstrate the importance of a global movement towards responsible climate activity in their respective countries and across the African continent. These young people were not only shoved to the side but also mismanaged and under-supported during the conference. In one clear case of derision, a young Black climate activist was cut out of an official press photograph of a group of young activists to centre Thunberg better.
The underlying phenomena affecting all movements are income inequality and racial justice; climate justice is no different. If the children are our future, we cannot allow ourselves to behave in ways that reinforce the underlying belief systems that perpetuate a stance that white children are our future as a point of clarification. We must, as a society, champion all stakeholders in this conversation effectively, recognising the disproportionate effect climate change has on people living in the Global South and people living in lower economic standing in our respective geographies.
None of this is Thunberg's fault or responsibility, of course. The situation, however, is a microcosm of the reality we face as a global community; people with power diminish the voice and contribution of those without it. Power dynamism has removed a significant part of our global population from climate conversations. These dynamics keep Black people at the proverbial kids' table at an event celebrating the polyamorous marriage of a group of "appropriate" climate scientists, climate influencers, and celebrities. A similar thing happened when the pandemic hit. Africa was struggling to engage in fruitful conversations that would ensure that Africans were included and able to acquire the life-saving medication still stockpiled by G7 nations in the billions despite the need across the continent.
In the UK, Covid disproportionately affected the Black community as a significant portion of the community earns under £400 a week and lives in the most economically deprived, densely packed and often not "up to code" housing. This phenomenon of disproportionate effects on Black communities we have seen in multiple circumstances clearly illustrate the necessity of a racial justice lens at the outset rather than something we recognise as we tally the outcome of unfortunate events and practices.
Applying that to our topic today, the intersection between climate justice and racial justice is where the reality begins to come alive, a "climate apartheid", as coined by Archbishop Desmond Tutu. To avoid perpetuating this brutal reality, we must support the individuals and organisations working to make a difference, particularly those working on the problem from an intersectionality perspective. We are working with Impact on Urban Health to launch the Climate, Health and Community Fund. This fund targets people of a global majority background living in the London boroughs of Lambeth and Southwark. Lambeth and Southwark are two of the most racially diverse parts of the UK, with the highest concentration of Black people living in them. It supports them in building on their existing interventions to ensure the climate conversation leaves no one behind.
We worked with Impact on Urban Health to determine what this fund looks like and what types of organisations we would seek to support. In doing so, we considered the demographics of the over 1100 Black-led, Black community-focused charities and social enterprises Do it Now Now and Common Call have supported over the past two years. Few impact organisations focused on the Black community that centre the climate in their communications. We acknowledge that this is due to how the existing climate conversation has cut Black climate activists out of the discussion over time. The Extinction Rebellion is a decidedly white one, and few Black-focused organisations have sought to align themselves with it despite the climate focus of their work.
This fund will ignite ideas and opportunities aligned with our community's particular perspectives. Historically underfunded, Black community-focused organisations in the UK rarely receive funding to build out their interventions, learn from their work and iterate for better outcomes.
Our hope for this work is to identify organisations that understand the communities most disproportionately affected by climate-related decisions at the national and international levels. Through this funding programme, we will champion the interventions that these organisations recognise will help to engage our communities in the climate conversation from a perspective that matters to us; the people in the Black community.
Special thanks to Do It Now Now for the continuous learning opportunities they provide Guy's & St. Thomas' Foundation to build and deepen our understanding of climate justice. The Climate, Health and Communities Fund will open in November 2022. If you are interested to learn more about the fund, please contact us here.
Authors

Olamide Raheem
Portfolio Manager, Impact on Urban Health, Guy's & St. Thomas' Foundation

Bayo Adelaja
Founder, Do It Now Now