Difference Day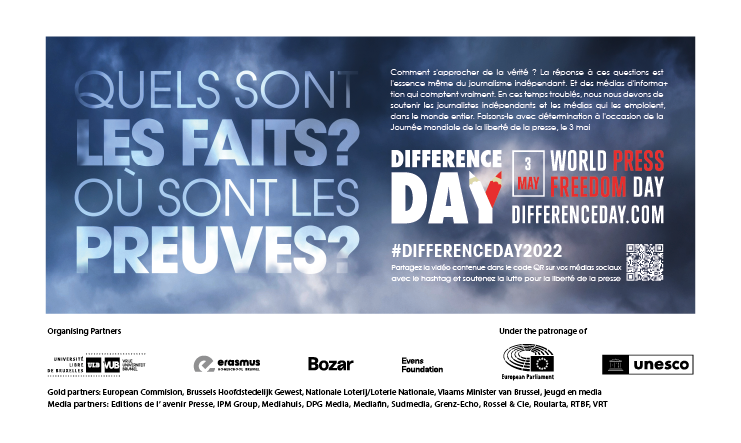 At this point in the history of Europe, it is more important than ever that we can rely on journalists to tell the stories we need to hear, to reveal the truths behind the crises we are facing – from war to environmental collapse. To do this, journalists must be confident that they will be protected and respected as they put themselves at risk to report on the front lines of wars, both visible and invisible. But these forms of trust have never been more fragile.
In 2021, the number of journalists in prison reached a new record. In 2022, 65 journalists are already reported missing (Source CPJ). Reporters are inundated with threats of violence, attacked in comment sections, intimidated and menaced in the field, or controlled through contracts and employment terms that dictate who and what they can report. Difference Day – which revolves around World Press Freedom Day on 3 May – gives journalists a platform to share the challenges within the profession and support the education of future journalists over four days of programming.
This year, the programme will highlight the vital role of the independent media, the risks they face, and the importance of nurturing the next generation of reporters. It includes They Blew Her Up, a play about the murder of Maltese anti-corruption journalist Daphne Caruana Galizia, a panel that will explore the experiences of journalists in Belarus and Ukraine, and a discussion between young and established journalists on the future of the press in Europe. Among the many voices within the programme is Egyptian journalist Ahmed Gamal Ziada, part of the pilot Journalistic Voices Diversified project supported by the Evens Foundation, who will be part of a talk about journalists in exile.
Journalists like Ziada and the new voices who will stand up and take the stage at Difference Day's Students' Speakers Corner are part of the reason to have hope for the future. They need the support of organisations like the Evens Foundation and Difference Day more than ever. It takes more than one initiative to help rebuild the trust that these journalists need. Without it, we will lose the free press and, with it, freedom of speech
Authors

The team, Evens Foundation