Journalism Funders Forum – Breakfast Bite: Why Climate Philanthropy Needs Journalism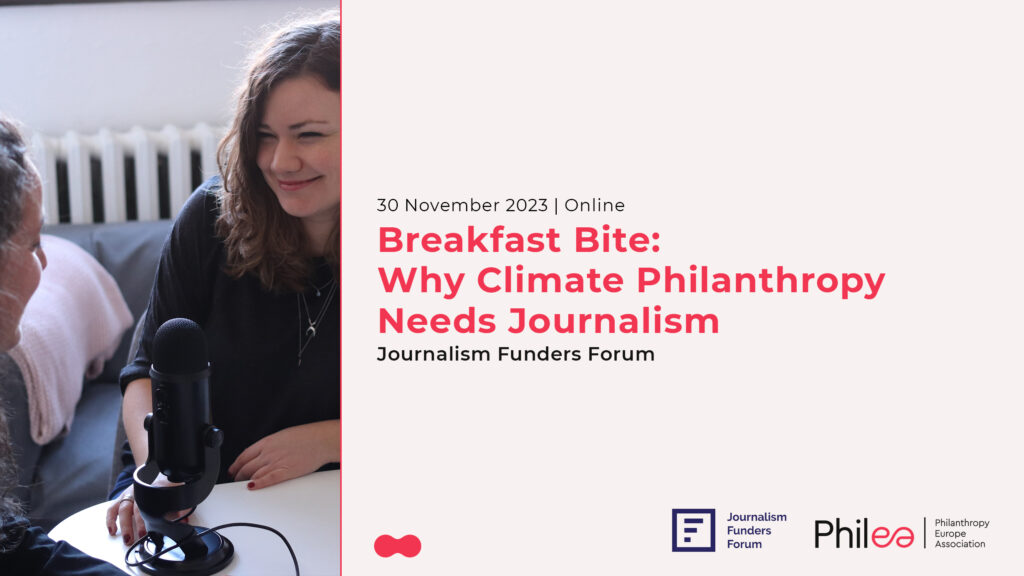 The Journalism Funders Forum will host its next Breakfast Bite on "Why Climate Philanthropy Needs Journalism" online on 30 November.
Journalism plays a crucial role in addressing climate issues. Independent public interest media highlights the consequences of climate change, amplifies the voice of scientists and experts, and combats climate disinformation. Investigative reporting helps uncover environmental issues and holds policymakers and industries accountable. If philanthropy wants to achieve meaningful environmental impact, safeguarding our media is key to keeping public opinion on side and promoting informed decision making. Yet how do we avoid instrumentalising journalism for our own goals and endangering the very independence we are trying to safeguard?
The session will feature Sven Egenter, Executive Director, Clean Energy Wire and co-author of "The Case for Philanthropic Support of Climate Journalism" and representatives of the European Climate Foundation share with us why and how to fund climate journalism.
The Journalism Funders Forum Breakfast Bites are a series of online conversations that offer funders an informal way to connect, learn from each other's practices and share strategies. We heavily encourage foundations not active in the field to join and get a taste of funding journalism in an informal setting.