FOODPathS Funders Forum 2023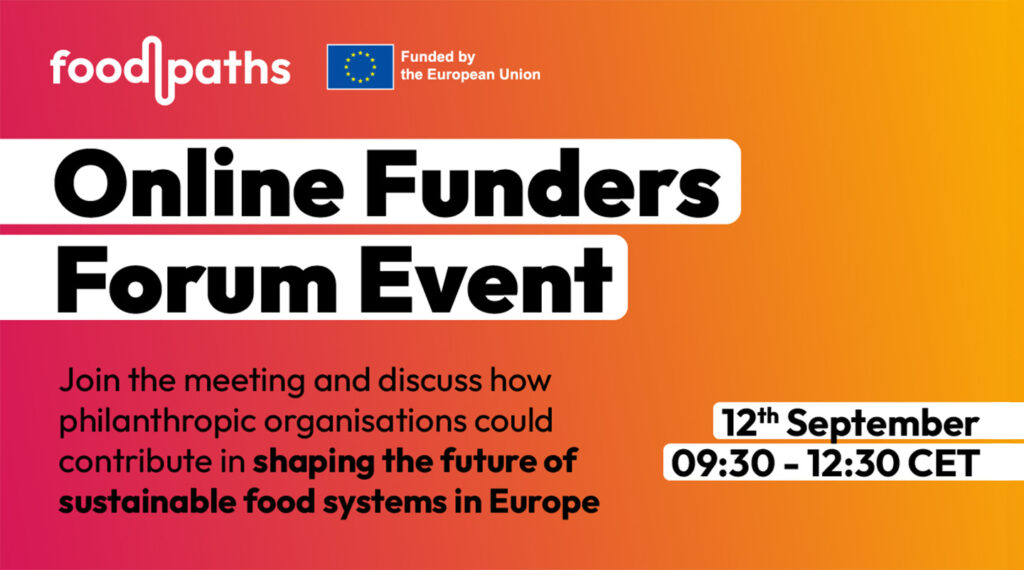 Philea and Fondazione Cariplo, working as affiliated partners within Work Package 3 of the FOODPathS project, will host the "FOODPathS Funders Forum 2023" online on 12 September.
The European Commission and Member States recognise the urgent need for an accelerated transition to sustainable food systems due to the multiple challenges faced by the food sector, such as climate change, biodiversity loss, and social inequality. To address these issues, they aim to establish the 'Partnership for Sustainable Food Systems (SFS) for people, planet, and climate,' which will be launched in 2024 and will receive an estimated €175 million of funding from the European Commission.
The FOODPathS project, executed by a consortium of 17 organisations under the coordination of National Research Institute for Agriculture, Food and Environment, is working to design the 'Prototype SFS Partnership' through eight interconnected Work Packages, focusing on co-creating funding mechanisms and strategies that maximise the impact of research and innovation towards sustainable food systems.
The project will engage actors from across the food system to create the framework in which the partnership will operate, including the philanthropic sector. Philanthropy has a crucial role to play in promoting more sustainable food policies and practices, in addition to financial resources, philanthropy is well positioned to think "ahead of the curve", to act flexibly and to provide strategic support, direction, and expertise to the field both at a regional, national, European and global level.
The webinar will provide an overview from different actors (European Commission Directorate General for Research, FOODPathS coordinator and partners) of the objectives, and the process towards the Sustainable Food Systems Partnership (SFSP) as an emerging instrument aimed at accelerating the transition preparations. It will feature discussions with FOODPathS partners, EC representatives and peers on how the philanthropic sector could contribute and benefit from this new instrument and create a space to share information on FOODPathS activities and how foundations can get involved.