EEFG Webinar Series – The Just Ecological Transition – The critical role of transport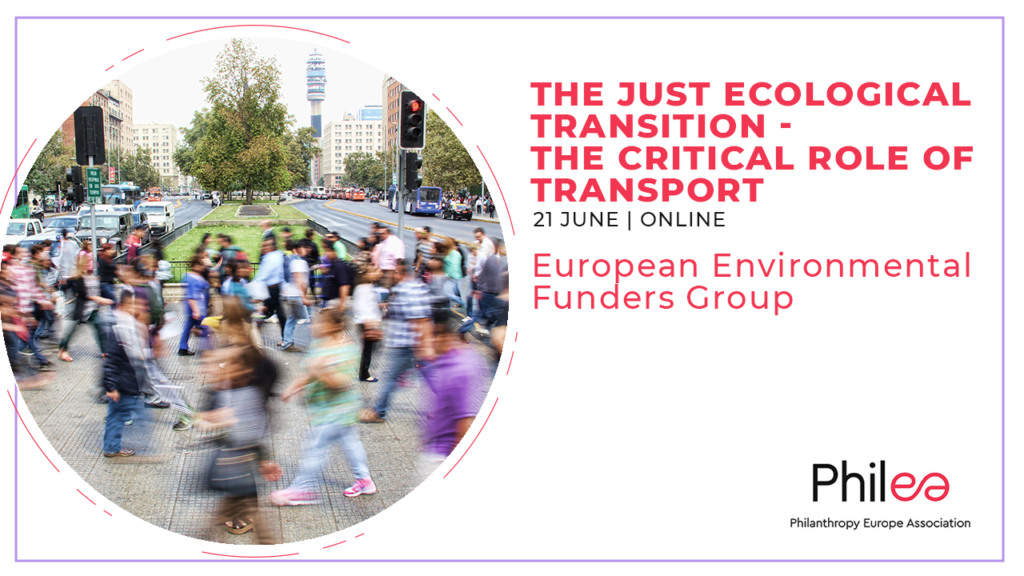 The European Environmental Funders Group (EEFG) will host the first webinar in a new series on "The Just Ecological Transition" exploring "The critical role of transport" on 21 June.
The webinar will investigate the role of the transport sector in a just ecological transition. Transport is a major source of greenhouse gas emissions in Europe and undermines the long-term sustainability of Europe's cities, however, as per the latest edition of 'Environmental funding by European foundations', it occupies one of the bottom five places in terms of philanthropic funding. There is a need for a collaborative dialogue including different stakeholders and voices from the philanthropy sector, who can play a major role in determining the role that the transport sector plays in an environmentally sustainable transition. The webinar will look into these gaps by exploring how foundations can speed up the just transition in the mobility sector, in an environmentally sustainable and fair way. The webinar would broadly look into the themes of understanding carbon emissions and combatting inequalities and to do this, we would be taking inspiration from different foundations that are already working on these themes.
Opting to pursue a dialogue and support action on just ecological transition is not only important for leading towards a climate neutral economy, but also brings interconnected and multidimensional solutions to the social, economic, and environmental challenges that our society faces today. The webinar series will build on the key messages and lessons learned at the 2021 EEFG Autumn meeting, where topics of systemic resistance towards sustainability were examined, and role of foundations in triggering social and political changes were presented. Echoing the need for a funders collective and systemic action.