Active Philanthropy and the Philanthropy Europe Association launch the Climate + Philanthropy Compact Learning Journey
Online course equips philanthropy sector with tools to climate-align grantmaking, investment portfolios and operations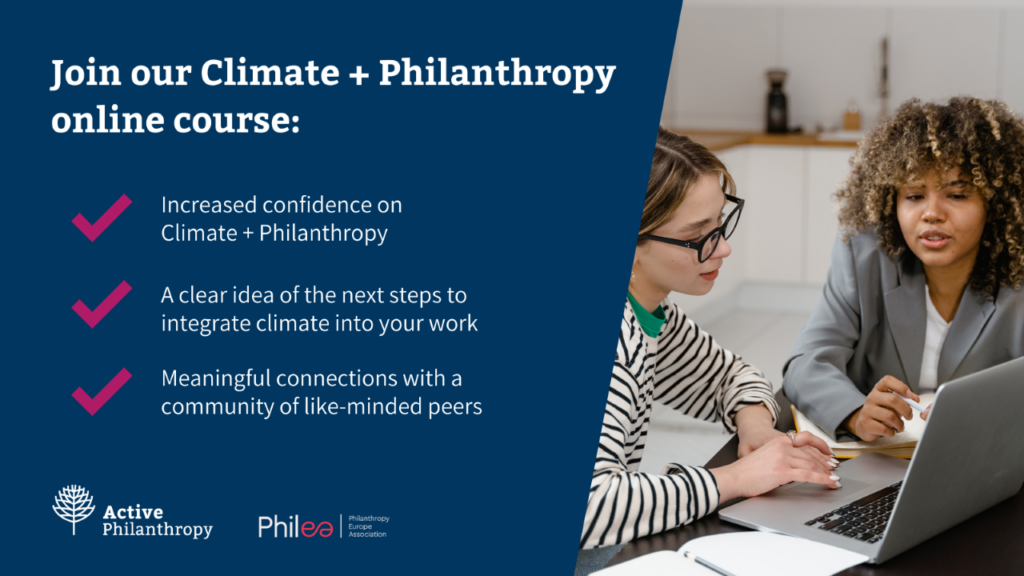 Berlin, Brussels, 19 May 2022 – Today, Active Philanthropy and Philanthropy Europe Association (Philea), launched an online interactive course – Climate + Philanthropy: A Compact Learning Journey – to equip foundation staff with the knowledge and confidence they need to drive climate action within their organisation.
With only 2% of foundation funding going to climate mitigation, the philanthropy sector needs to do more to proactively tackle climate change and champion societal progress. Both organisations share a commitment to encouraging all foundations regardless of mission, geographic location or areas of work, to take meaningful climate action.
"The climate crisis affects all areas of philanthropic work. All foundations and philanthropy infrastructure organisations, regardless of mission, have the opportunity to take action and ensure a more sustainable future for the planet and the people who inhabit it," stated Delphine Moralis, CEO of Philea. "This Learning Journey is an important piece in empowering foundation staff with the know-how and self-assuredness they need to make a difference on climate."
"Many funders wonder what they can do to counter the climate crisis. We designed the Learning Journey as an easy way to understand how you can integrate a climate lens in your existing giving strategy or get started as a climate philanthropist," stated Dr. Felicitas von Peter, Founder and Managing Partner of Active Philanthropy. "The time for funders to act is now, and philanthropy can play a crucial role in ensuring a just and liveable future for all. Let's all look back in 10 years and feel we used the opportunities we have to make a difference!"
In this 8-week course that blends multimedia digital modules, philanthropy professionals will learn from more than 20 climate and philanthropy experts how a climate-aligned grantmaking strategy, investment portfolio and operations can create more resilient charitable foundations, benefitting people and the planet.
By the end of the course, participants will have developed a climate action plan for taking the next steps to drive climate action in their foundation. No prior knowledge of climate and sustainability is required. Some knowledge of the topic will help participants build on what they already know while gaining new insights into the relationship between climate change and philanthropy. Participants will receive a certificate upon completion of the course.
Interested foundations and philanthropy infrastructure organisations can learn more and register for the upcoming cohorts here.
Philea member organisations (foundations and philanthropy infrastructure organisations) are eligible for a discounted fee. Please reach out to Karalyn Gardner (karalyn.gardner@philea.eu) for more details.
Active Philanthropy supports philanthropists, donor families, philanthropic organisations and social investors who wish to engage in climate action. We offer expertise and expeditions to learn about the climate crisis, as well as opportunities and grant services for effective climate philanthropy. As a non-profit organization, Active Philanthropy is non-partisan and independent from governments, financial institutions and NGOs. We are funded by donations and grants from individuals and non-state organizations as well as service fees. www.activephilanthropy.org
Philanthropy Europe Association (Philea) nurtures a diverse and inclusive ecosystem of foundations, philanthropic organisations and networks in over 30 countries that work for the common good. We unite over 10,000 public-benefit foundations that seek to improve life for people and communities in Europe and around the world. We are the voice of European philanthropy. Our purpose is to harness its immense multidimensional potential – including when it comes to fighting the climate crisis. www.philea.eu