500 foundations around the world commit to climate action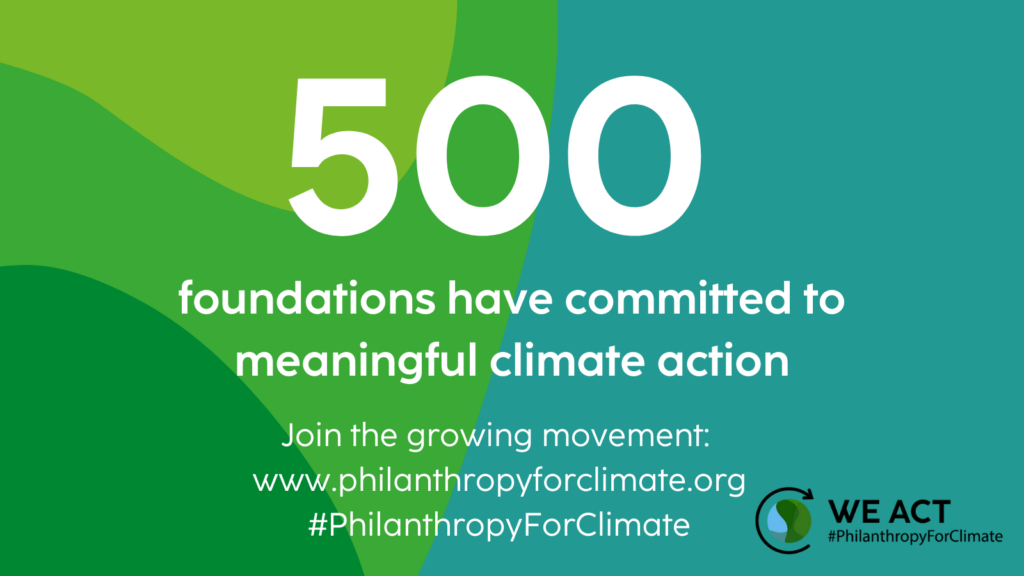 We are delighted that 500 foundations worldwide have committed to taking meaningful climate action by signing a #PhilanthropyForClimate commitment. This milestone is evidence of philanthropy's contribution to the implementation of the Paris Agreement ‒ the first-ever universal, legally binding global climate change agreement. Our heartfelt thanks go to all of the philanthropic networks, foundations and individuals who have involved themselves in this work and have made it possible for us to reach this milestone together.
What this means in practice
Although these foundations differ in terms of their missions, geographic locations, size and scope, they have pledged to take climate action by:
Creating opportunities for those involved in their work, including staff, board members and other stakeholders, to learn more about the causes, impacts and solutions to climate change
Looking at their own operations, endowments and assets
Assessing their programmes using a climate lens
Dedicating resources to tackling climate change
Philanthropy recognises climate urgency
The latest IPCC report published on 4 April reiterated the urgent need for transformative action across all sectors but also highlighted that, if we act now and with sufficient urgency, we can still move towards a fairer and more sustainable future. Reaching this 500-signatory milestone highlights a growing recognition among philanthropic organisations of the urgency of climate action and of the risks the climate crisis presents to all areas of philanthropic work. The #PhilanthropyForClimate movement brings together national commitments in Canada, France, Italy, Spain and the UK as well as several individual foundations under an international commitment.
Join us!
We encourage all foundations to join us in this movement for change and commit to meaningful climate action today. In an online Open House gathering on 10 May 2022, we will bring together all signatories across the #PhilanthropyForClimate commitments as a community. Later this month, we will publish the "Implementation Guide for the International Commitment", which will provide straightforward guidance to philanthropic organisations on how they can take action as a signatory.
We warmly invite you to show your leadership and support, celebrate with us on social media, and share your foundation's climate journey using #PhilanthropyForClimate. Please don't hesitate to let us know if you would like to get involved as a foundation or philanthropic network.
For more information, and to sign on to a commitment, visit:
www.philanthropyforclimate.org
****
Contact:
climatecommitment@wingsweb.org
About the partners:
The #PhilanthropyForClimate movement is led and supported by:
ACF: The Association of Charitable Foundations (ACF) is the membership body for UK foundations and grant-making charities. We support foundations to be ambitious and effective in the way that they use their resources for public good, which includes hosting the Funder Commitment on Climate Change to support funders in the UK to act on the climate crisis.
AEF: The Spanish Association of Foundations (AEF) is a private and independent national Spanish association. It brings together 875 Spanish foundations of the most diverse dimensions, purposes and fields of action. It is the most representative entity in the sector at the state level and the second most important in Europe. Its mission is to work for the benefit of the foundational sector as a whole in favor of its development and strengthening.
Assifero: Assifero is the Italian association of grantmaking foundations, bringing together 131 family, corporate, and community foundations across the country. Its mission is to strengthen and promote the Italian philanthropic system to be recognised as a key partner, at all levels, for sustainable human development.
CFF: The French Coalition of Foundations for Climate (CffC) is a project of the Centre Français des Fonds et Fondations (CFF). CFF's purpose is to promote the development of foundations in France.
Philea's European Philanthropy Coalition for Climate co-initiated the #PhilanthropyForClimate movement jointly with WINGS. The EPCC is the European champion of the #PhilanthropyForClimate movement and supports the development and implementation of the commitments across Europe. Philea nurtures a diverse and inclusive ecosystem of foundations, philanthropic organisations and networks in over 30 countries that work for the common good. We unite over 10,000 public-benefit foundations that seek to improve life for people and communities in Europe and around the world.
WINGS: WINGS is a global network of philanthropy development and support organisations committed to ensuring philanthropy reaches its fullest potential as a catalyst for social progress. Our growing community of thought leaders and changemakers includes more than 190 member organisations across 58 countries. WINGS coordinates the #PhilanthropyForClimate movement and hosts the International Philanthropy Commitment on Climate Change.